Kyra Sedgwick's Daughter Is In Her 30s And Looks Just Like Her Mom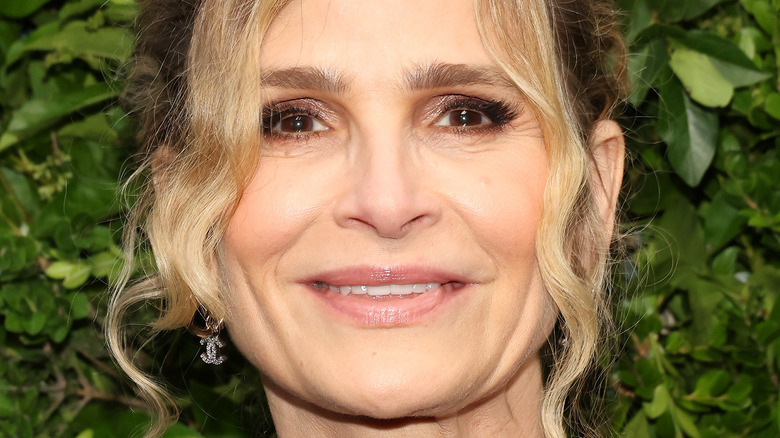 Taylor Hill/Getty Images
Actors Kevin Bacon and Kyra Sedgwick have one of the most enduring marriages in Hollywood. Although many celebrities are seemingly divorcing and remarrying at light speed, the "Footloose" icon and "The Closer" star have been husband and wife since 1988. (That's 34 years!) So how do they keep the home fires burning? According to Sedgwick, they've never lost that loving feeling. "Sex is really important. That desire is there," she told Redbook in 2012. "The essence of it hasn't changed. When he walks into a room, I'm still ... I mean, my heart gets a little fluttery, and I think, Oh! He's so cute. He's so hot. That's the first thing I think." Bacon, for his part, has a more comical view on the whole thing. "Whatever you do, don't listen to celebrities on advice on how to stay married. That's my secret," he joked to Entertainment Tonight. 
Whatever it is they're doing, their years together (and surviving quarantine together) show they are in it for the long haul. They've welcomed two children, son Travis and daughter Sosie — and one has followed in their famous parents' footsteps.
Sosie Bacon is turning heads for her uncanny resemblance to her parents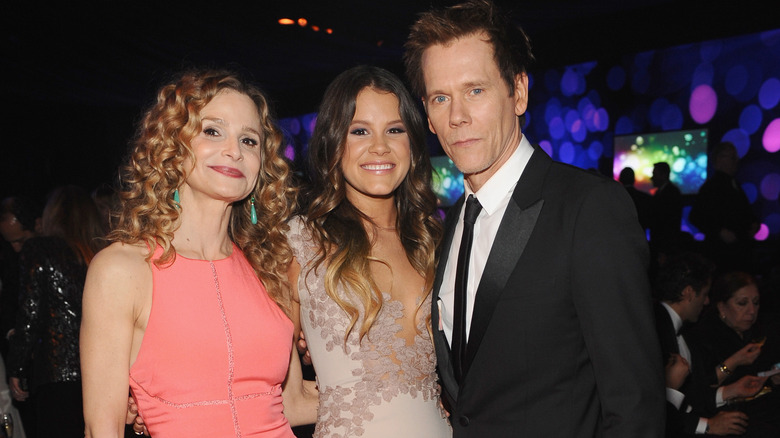 Stefanie Keenan/Getty Images
Sosie Bacon is 30 years old and she appears in the hit HBO Max series, "Mare of Easttown," which also stars Kate Winslet, per Today. Sosie first rose to prominence in 2014 when she was Miss Golden Globe 2014, per Parade, and since then has acted in "13 Reasons Why" and "Here, Now." But we're betting those acting credits aren't exactly why her face is familiar. 
Fans of the entire Bacon family cannot get over how much she looks exactly like her famous parents, Kyra Sedwick and Kevin Bacon. While one Twitter user called her resemblance "a little uncanny," another person tweeted that they were "stunned." Yet another Twitter user is convinced she looks just like her famous dad. Perhaps our favorite tweet is the one who said, "Sosie Bacon looks like Kevin Bacon and Kyra Sedgwick had a baby." Indeed, Sherlock.
While Sosie is taking part in the family business, even her old man likes to pretend he's shocked. The "Apollo 13" star joked in an Instagram video that he really liked that "Mare of Easttown" star whose name he couldn't recall. "I especially like that actress, what's her name? Sosie something? I don't remember her last name but it's like Sosie, I don't know, Sosie Hoagie or Sosie Wawa." Naturally, Sosie found her way into the comments section, writing, "HAHAHAHHAHAHAHA."
Sosie Bacon wasn't exactly encouraged by her parents to join Hollywood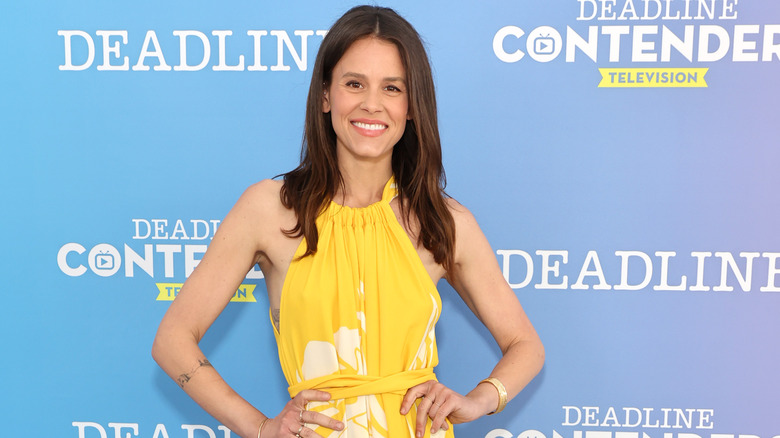 Amy Sussman/Getty Images
Actor Sosie Bacon might seem like a natural thespian, considering her famous parents, Kyra Sedgwick and Kevin Bacon. As it turns out, her mother and father weren't exactly sold on her joining the Hollywood ranks. The "Tremors" star told The Telegraph that he had advised his daughter against following in his footsteps. "You're only as happy as your least happy child," he told the outlet. "We were only thinking about the struggle. And you want your children to live a life with as little struggle as possible. You never want bad things to happen. But of course, that's just not possible."
The "Phenomenon" star agreed with her husband in a 2017 interview with Good Housekeeping. Kyra told the publication, "As an actor, there is so much rejection. Kevin and I have had some painful experiences, and you don't want your kid to go through that. But I want [Sosie] to follow her passion, and acting has become her passion."
Sosie herself was reticent to being acting, telling Parade in 2014, "I was sort of a little bit resistant to it — almost in a typical teenage rebellious way. And then once I actually started doing it, I realized that it's just what I love."