How Kevin Bacon And Kyra Sedgwick's Marriage Was Tested During Quarantine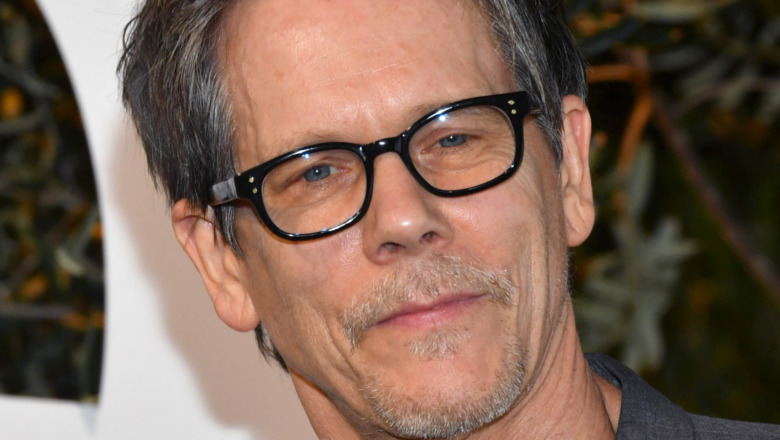 Amy Sussman/Getty Images
Kevin Bacon and Kyra Sedgwick have been married since 1988, and in Hollywood years, that's a few lifetimes worth of happiness. The acting couple has two adult children, Travis and Sosie Bacon, and live an idyllic life on a Connecticut farm which they share with some goats and alpacas, per Hello!. Those who follow the "Footloose" actor know that he often shares clips of the farm on his social media pages including a series called "Goat Songs" such as his rendition of the Backstreet Boys' classic "I Want It That Way." As for Sedgwick, she's currently starring in "Call Your Mother," per The Hollywood Reporter.
Bacon appeared on "The Tonight Show Starring Jimmy Fallon" and dished about his marriage. He shared some surprising insights about how the COVID-19 pandemic quarantine affected his relationship. He also revealed how they coped during the period, as well as how Sedgwick is a "constant source of entertainment." Previously, she hinted at her daring side when she revealed why she has never been invited back to Tom Cruise's house after pressing a mysterious button. So how has their marriage fared over the past year?
Kevin Bacon and Kyra Sedgwick came to a surprising conclusion
Joe Scarnici/Getty Images
Kevin Bacon and Kyra Sedgwick seem to have it all, but 2020 hit them with a curveball. Even though they have been married for many decades, they realized that the quarantine would affect their relationship. 
"My wife and I realized that we've been married for a really long time, and quarantine really was an amazing, kind of, test for our marriage because I mean, we were really isolated," Bacon told Jimmy Fallon (via People). He also shared that they came to a surprising conclusion about the amount of time that they needed to spend together. "I think after a while we realized that we would kind of have to, even in our place, go away from each other," the 62-year-old star revealed. It seems as if the veteran actors realized that they needed their own space even amid a pandemic. 
Sedgwick also "always has some amazing thing to say or some observation," the enamored spouse shared. "She came in the other day and went, 'Oh my god. I had the craziest dream. We were in this really old house and we were going from room to room having sex in every room.' And I'm like 'Okay, wow.' And she goes, 'At least I think it was you?'" Never a dull moment with the Bacon-Sedgwicks.