Why Taylor Swift Clashed With Her Father Over Politics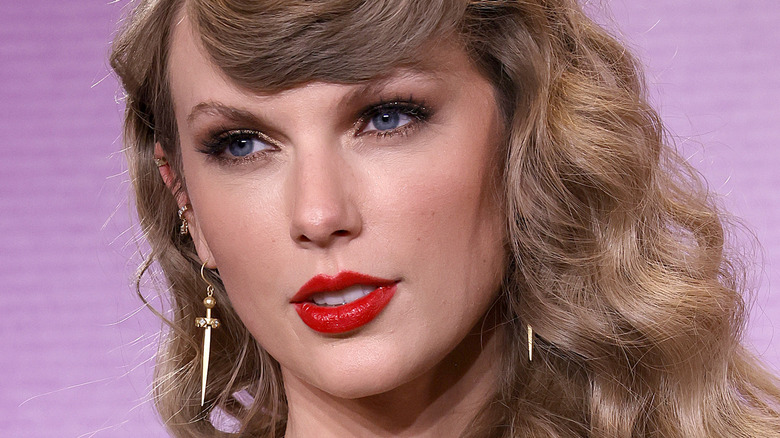 Frazer Harrison/Getty Images
For the longest time, Taylor Swift remained neutral on all topics of a political nature. Unlike many other celebs, Swift — for the first decade of her career — shied from endorsing political candidates or taking stances on hot-button issues. As Swift told David Letterman in a 2012 interview, she felt that "it's my right to vote, but it's not my right to tell other people what to do," garnering a now-viral fist bump from Letterman (via Taste of Country). In 2016, even after some white supremacists declared her their "Aryan goddess," mistaking Swift's political silence for secret support of the alt-right, she remained mum, per NPR. 
The "Anti-Hero" singer finally broke that silence in 2018, in the weeks leading up to the midterm elections. In her first political endorsement post on Instagram, Swift threw her weight behind two Tennessee Democratic candidates, while condemning the Republican candidate, Marsha Blackburn, for her history of voting against women's and LGBTQIA+ rights.  "In the past I've been reluctant to publicly voice my political opinions," Swift admitted in her caption, crediting "events in my life and in the world in the past two years" for changing that attitude. Although Blackburn eventually won that election, Swift's sway did help register tens of thousands of young voters in her home state, per Variety.
While the emergence of Swift's political voice was an exciting development for many, some, like the singer's father, had their share of concerns about it.
Taylor Swift's father feared for her safety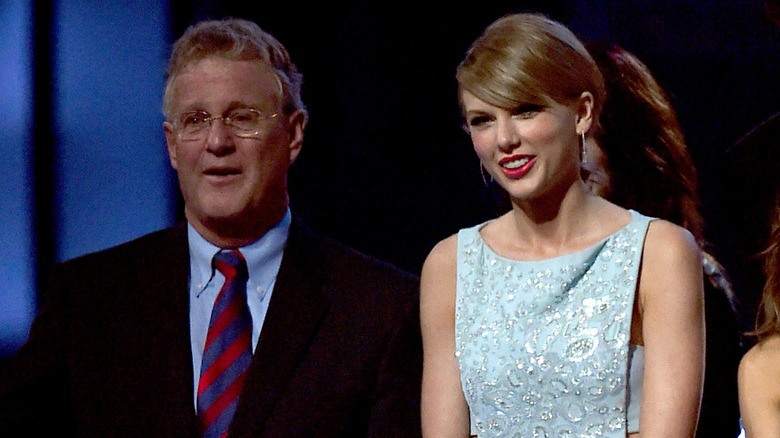 Ethan Miller/Getty Images
Unsurprisingly, Taylor Swift didn't release her first political endorsement without undergoing much internal deliberation (and pushback). In a candid scene from her 2020 Netflix documentary, "Taylor Swift: Miss Americana," Taylor argues with her dad, Scott Swift, and members of her team over her Instagram statement opposing Marsha Blackburn for Senate in 2018. "I've read the entire [statement] and... right now, I'm terrified. I'm the guy that went out and bought armored cars," a worried Scott tells his daughter, adding that celebrities like Bob Hope and Bing Crosby wouldn't have taken such a stand. Meanwhile, an unidentified business associate noted the potential toll on Taylor's popularity. "For 12 years, we've not got involved in politics or religion," they said, telling the pop star that this could "halve the number of people that come to your next tour." 
Ultimately, Taylor remained steadfast in the decision to out herself politically. Choking up in tears, she told Scott in the documentary, "I need to be on the right side of history... Dad, I need you to forgive me for doing it, because I'm doing it." 
In a January 2020 Variety interview, Taylor expressed empathy for her father's vantage point, understanding that "he has to see how many stalkers we deal with on a daily basis." In this situation, however, the songstress decided her morals weighed heavier on her than the danger. "I really didn't care about repercussions," Taylor stated plainly.
Taylor Swift has been accused of faux feminism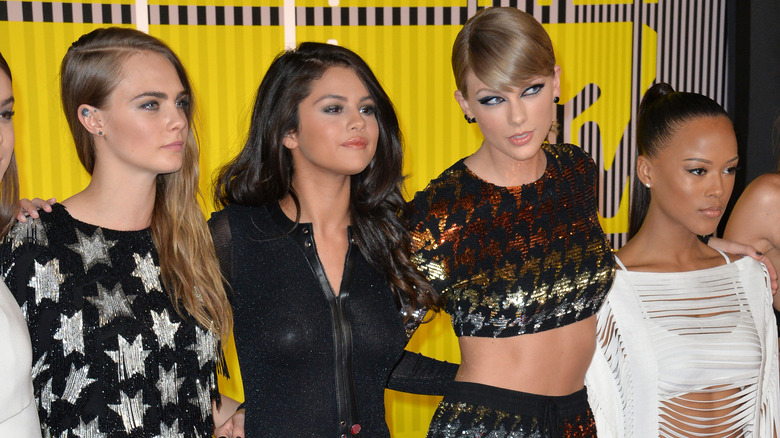 Jaguar PS/Shutterstock
Between her post-"Reputation" era lyrics (see: 2019's "The Man") and rousing award show speeches, Taylor Swift's newfound political voice is overtly feminist. The "Bejeweled" singer, however, has been accused of misappropriating gender politics for personal gain. In 2015, she inserted herself into the midst of a Nicki Minaj Twitter rant about the MTV Video Music Awards, with Minaj bemoaning that her "Anaconda" music video was snubbed, per The Guardian. As she dryly quipped in one tweet, "If your video celebrates women with very slim bodies, you will be nominated for vid of the year." Swift, whose "Bad Blood" video received such a nomination, fired back, "It's unlike you to pit women against each other. Maybe one of the men took your slot.." After Minaj, seeming genuinely confused, clarified that her laments were about biases against Black female artists, Swift's words read pretty tone-deaf to some.
Allegations of Swift's flawed feminism didn't stop there. Advocating for the Women's March For Our Lives movement in March 2018, Swift wrote in a since-deleted tweet (via Grazia), "So much love, pride, and respect for those who marched. I'm proud to be a woman today, and every day." Many Twitter users at the time wondered why Swift didn't attend the marches herself, especially when peers such as Rihanna and Miley Cyrus did. "Taylor Swift is only a feminist when it's convenient for her," one user harshly wrote, while another accused her of fueling a "fake girl power narrative."