What We Know About 'Weird Al' Yankovic's Wife, Suzanne Yankovic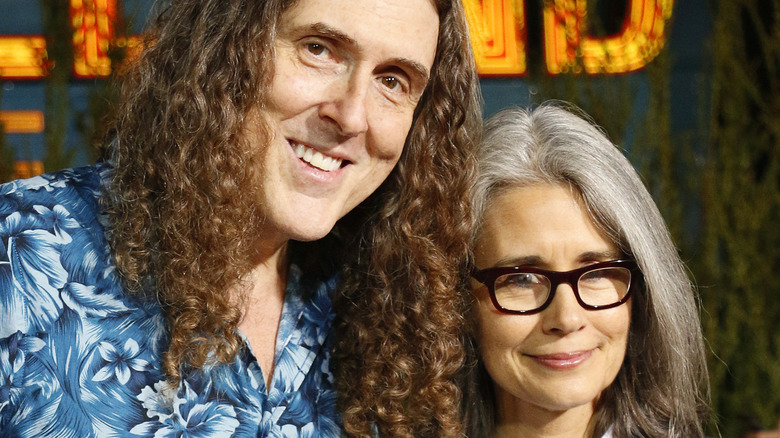 Tinseltown/Shutterstock
"Weird: The Al Yankovic Story" has brought renewed attention to the famous king of parodies. Yankovic, known for his viral parodies of pop hits, has now brought his life's journey to the big screen — with the likes of Daniel Radcliffe and Lin-Manuel Miranda helping to tell the tale.
In true Weird Al style, the biopic is rife with exaggerations and outright fabrications when it comes to Yankovic's life. In one of the movie's scenes, Radcliffe as Yankovic is seen hooking up with Evan Rachel Wood, playing Madonna. Yankovic later appeared on "The Tonight Show with Jimmy Fallon" to clarify that this A-list affair never occurred. "Our relationship is platonic," he said with a laugh. "I talked to her for maybe, like, 45 seconds backstage."
The elimination of Madonna as a love interest has many fans wondering about Yankovic's real-life wife, Suzanne. The pair married in 2001 and share a daughter together, according to Romper. But who is the woman who captured the same heart that wrote romantic hits like "Polka Face" and "Like a Surgeon?"
Suzanne and Al Yankovic met through a mutual friend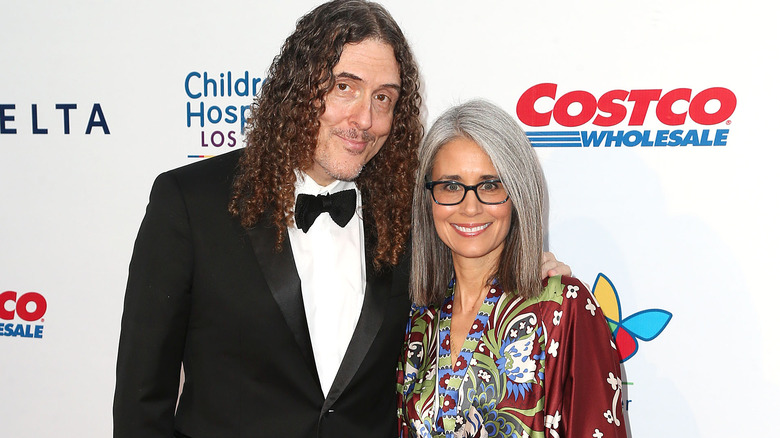 Frederick M. Brown/Getty Images
In a 2014 interview with the Rolling Stone, Suzanne and Al Yankovic gave exclusive insight into their romance ... and it's one for the ages. At the time, the couple had already been together for over a decade, but Suzanne recalled having hesitations about the comedy star. The pair was introduced through mutual friend and actor Bill Mumy, but Suzanne was originally turned off by Al's professional character. "Then I thought, 'That's kind of shallow of me.'" She was right to change her mind. Suzanne shared that they "clicked immediately," while Al noted having a "major crush" on the artist before even meeting her.
Al was in his early 40s when the duo settled down in 2001, but he welcomed the lifestyle change. "I enjoyed being single," he admitted to the magazine. "But when I got married I found I was even happier, and when I had a kid I was even happier, still."
Suzanne was an employee of 20th Century Fox, being promoted to the Senior Vice President of Marketing in 1998, according to Variety. Although little is known about her career at this point, she is — at the very least — her husband's No. 1 supporter.
Suzanne Yankovic has stuck around for all of Al's weirdness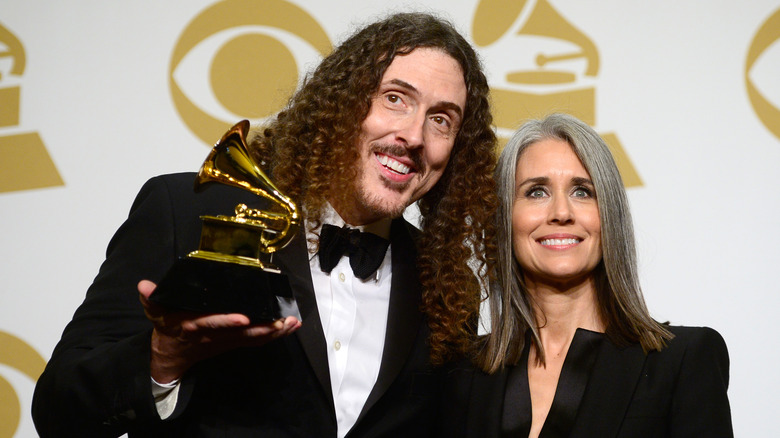 Frazer Harrison/Getty Images
Although Suzanne and Al Yankovic may not be the most high-profile celebrity couple, their love for each other is obvious. Suzanne frequently shares fan content related to her husband, like that time she tweeted out a link to a Weird Al "wholesome moments" compilation on YouTube. And despite Al being a world-renowned funny man, their relationship has not been without its challenges ... but she's been sure to stick by his side.
In 2018, TMZ reported Suzanne calling the police after their home received a series of ominous calls and a creepy visitor. On a more humorous — but still slightly creepy — occasion, Al stole a mock-up of his own gravestone for the "Weird" movie set and hid it in the garden. Suzanne discovered it two weeks later.
Fortunately, Suzanne has some quirks of her own that keep Al on his toes (and seem to make her a better fit for him than even Madonna would have been). In an interview with the Chicago Tribune, Al revealed that Suzanne has a "long-standing tradition of keeping the phone book in the refrigerator so she'll always know where it is." Sounds about right.