Keke Palmer Surprises SNL Audience With Monologue Pregnancy Reveal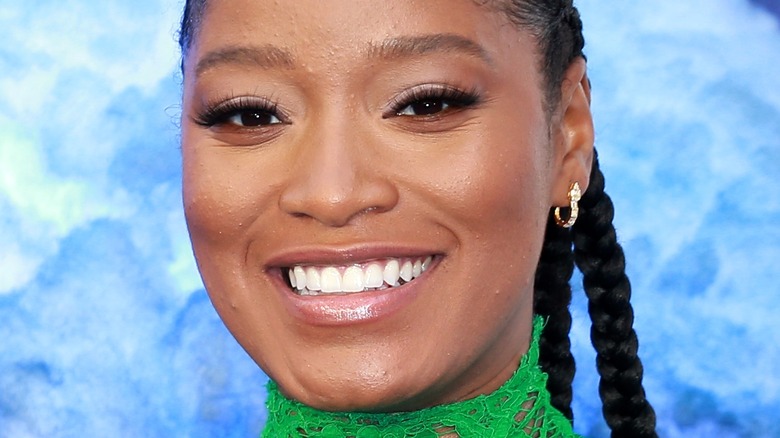 Fred Duval/Shutterstock
For years, Keke Palmer has stunned audiences with her charisma and talent. In 2006, she skyrocketed to fame for her lead role in the film "Akeelah and the Bee." Palmer, a former child actor, has had plenty of experience in avoiding public scrutiny. In a 2020 interview with Harper's Bazaar, Palmer revealed that she tries to keep her love life as private as possible. Palmer shared, "I don't really do relationship stuff online, mainly because I don't know how I would do it without looking, like, cheesy or something, you know? Yes, I'm a hundred percent authentic, but there is stuff that I do save for family and friends."
However, in 2021, Palmer decided to disclose her relationship with football player Darius Jackson on Instagram. In an appearance on the "Tamron Hall Show," Palmer explained that the romance became increasingly difficult to keep under wraps. She added, "I'm not going to hide something that makes me happy." Now, there's something else that Palmer is no longer hiding, and both Palmer and fans are elated!
Keke Palmer's expecting her first child
Surprise! During her "Saturday Night Live" hosting debut, Keke Palmer confirmed rumors that she's pregnant. She's awaiting her first baby with boyfriend Darius Jackson. Palmer expressed her excitement and showed off her baby bump. In a lighthearted monologue, she teased, "Even though some people feel a little weird about me having a baby 'cause I was a child actor, I just wanna say, look, I'm 29, I'm grown, I have sex, I own a home, I stormed the Capitol on January 6, you know? Things adults do."
Fans couldn't be happier for the star and took to Twitter to share their reactions. One user was thrilled the reveal happened on "SNL," tweeting, "It's one thing to see your crush pregnant. It's another thing to see your crush announce her pregnancy while hosting the comedy show you always wanted to be on." Another person wasn't even aware that Palmer is taken, but was impressed nonetheless. They wrote, "The fact that someone like Keke Palmer could announce her pregnancy and we didn't even know she had a man! Babyyyy, that's a masterclass right there!" Congratulations, Keke!