The Heartbreaking Story Of Eric Church's Younger Brother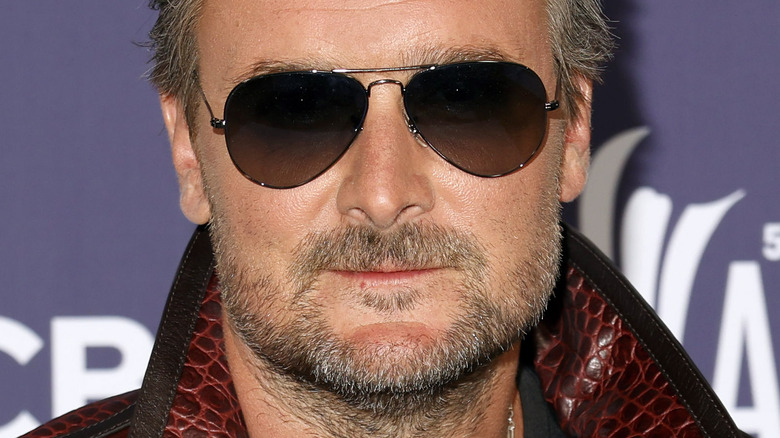 Brett Carlsen/acma2021/Getty Images
This article contains mentions of substance abuse.
On June 29, 2018, country music singer Eric Church suffered a heartbreaking loss when his younger brother Brandon died. The Church family released an official statement, saying (via People): "It is with great sadness that the Church family confirms that Eric's brother, Brandon, passed away. In lieu of flowers please leave a message for the family and/or make a donation to a Scholarship Memorial Fund created in Brandon's memory." Brandon's cause of death was not immediately revealed, his and Eric's father Ken told TMZ that Brandon suffered "multiple seizures" before he passed away — first at his North Carolina home, then while being transported to the hospital. The second episode, according to the outlet, seems to have sent Brandon into cardiac arrest and ultimately caused his death.
Born Brandon Eugene Church, Brandon was an accomplished chef and award-winning songwriter. He and Eric had worked together on several musical tracks, including Eric's 2007 single "How 'Bout You," for which Brandon earned an accolade from the American Society of Composers, Authors, and Publishers (ASCAP). He also co-wrote "Without You Here" from Eric's 2009 album, "Carolina." Moreover, Brandon was a doting father — he left behind a young daughter, MacKenzie, who was the light of his life. "Brandon was always good at connecting with people and loved being of service, and fatherhood only amplified that," read a tribute to Brandon in the wake of his passing. 
Ahead of his first death anniversary in June 2019, the official cause of Brandon's unfortunate death was finally determined — revealing a heartbreaking truth about Eric's late younger brother. 
Brandon Church struggled from alcoholism
Brandon Church's autopsy report revealed that he died from "consequences of chronic alcoholism", Radar Online reports. In the official document obtained by the outlet, it was stated that Brandon — who passed away at just 36 years old — had a clinical history of "alcohol withdrawal-induced seizure disorder", which was explained by his primary care provider as binge drinking followed by "episodes of seizure activity upon the withdrawal of alcohol use." His medical examiner ruled that Brandon had suffered coronary artery disease, myocardial hypertrophy, and steatosis (or fatty liver disease) due to his excessive drinking. It was also noted that, aside from medications used to treat depression and bipolar disorder, no illegal substances were found in his system at the time of his death.
Per The Boot, a representative for Eric Church said his family declined to comment on the autopsy's findings. Meanwhile, the Churches decided to honor Brandon by establishing The Brandon Eugene Church Legacy Foundation to continue "his desire to be of service to those in his community." The foundation aims to provide educational grants and scholarships, community projects, and sponsorships to citizens of their hometown of Caldwell County, North Carolina through donations."Brandon always wanted to give back to the community; to help provide opportunities and memories like he had growing up," read a message in the foundation's official page. "Unfortunately, we lost 'Big B' in 2018, but his desire to make a difference still endures to this day." 
Eric Church honored Brandon with emotional tribute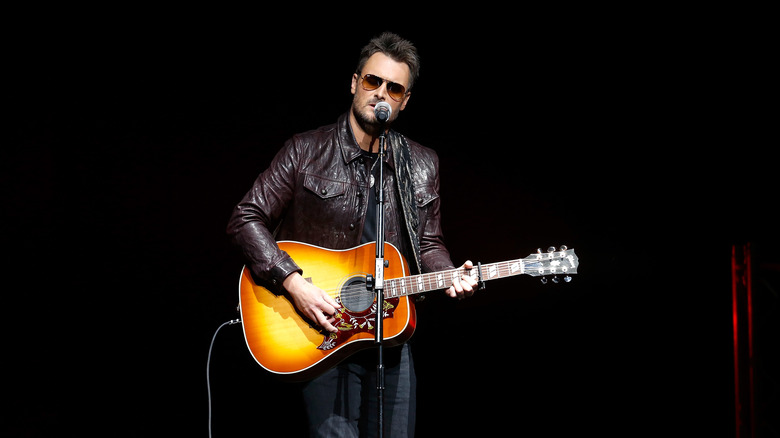 Brian Ach/Getty Images
In 2018, just over a week after his tragic death, Eric Church returned to the stage to honor his late brother Brandon with an emotional tribute. At the Country Concert in Ohio, the country singer performed a moving rendition of "Amazing Grace", and a stripped-down version of his 2006 song "Sinners Like Me," per People. Then, he sang "How 'Bout You", a song he co-wrote with Brandon, in honor of his younger brother. "It's been a tough week," Eric reportedly told the crowd, according to a tweet. "But I need this. I need my people." 
Holding a flag, he continued to address the audience by reminding them just how short life is. "We're only here for about this much time," he said, as seen in a Facebook video posted by Whiskey Riff. During the speech, Eric gave insight into his decision to return to the stage so soon after his brother's passing. "The greatest thing about music is it freezes those moments [we share]. Tonight, the person next to you – look right; look left. That's life guys," he was quoted as saying by Country Music Family. "You'll remember this forever. I'll remember this forever. I'll remember tonight forever. That's why I picked up a guitar for the first time."
If you or anyone you know needs help with addiction issues, help is available. Visit the Substance Abuse and Mental Health Services Administration website or contact SAMHSA's National Helpline at 1-800-662-HELP (4357).