Why Charlie Sheen Changed His Tune About Ashton Kutcher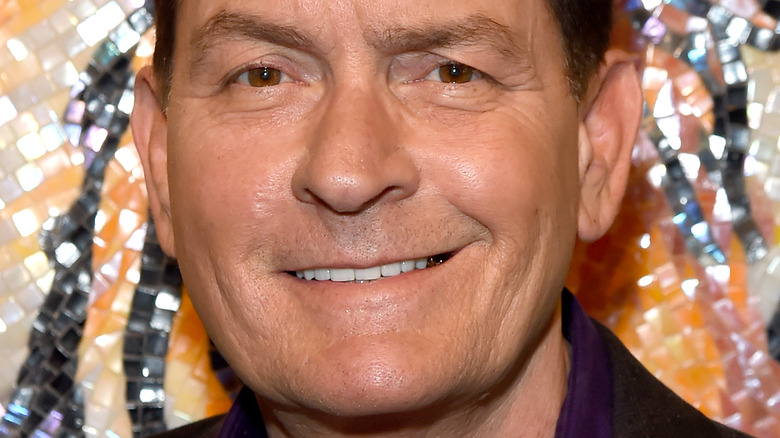 David M. Benett/Getty Images
When "Two and a Half Men" premiered in 2003, it featured Charlie Sheen and Jon Cryer, along with Angus T. Jones, as the leading stars. However, after eight years on the popular show, Sheen launched a series of attacks against CBS and the series creator Chuck Lorre. "I violently hate Chaim Levine (Chuck Lorre)," Sheen told TMZ in February 2011. "He's a stupid, stupid little man and a p**** punk that I'd never want to be like ... That's me being polite."
Shortly after the actor's remarks, Warner Bros. announced that they had officially ended their relationship with Sheen. In a letter obtained by TMZ, the production studio explained that they were firing Sheen due to his "self-destructive" behavior. "Your client has been engaged in a dangerously self-destructive conduct and appears to be very ill," the letter read. The company further explained that Sheen's ongoing substance abuse issues, combined with his inconsistent work ethic, had made it impossible to continue the production.
Following the "Mad Families" actor's exit from the popular sitcom, the show tapped Ashton Kutcher to join the fold, to which Sheen had an unwelcoming response.
Sheen apologized for calling Kutcher lame
Frederick M. Brown/Getty Images
In May 2011, Warner Bros. announced that Ashton Kutcher would be replacing Charlie Sheen on "Two and a Half Men." "I can't replace Charlie Sheen but I'm going to work my ass off to entertain the hell out of people," Kutcher said in a statement to Entertainment Weekly. However, Sheen was far less kind to his replacement. "Hey Jon!!! u r a GENIUS!!!" Sheen tweeted alongside a photo of himself and Cryer (via The Wrap). "I effin love and MISS YOU old pal! Q; who's your lame side-kik?" Shortly after, Sheen doubled down on his criticism of the "Punk'd" star, adding, "I meant REALLY lame."
Years later, Sheen seemingly had a change of heart and admitted he should have been "nicer" to Kutcher. "I was stupidly mean to him because I overlooked the reality and difficulty of taking over a show," he said during an appearance on "Kyle & Jackie O," per Entertainment Tonight. Adding, "So, I should have been nicer." Sheen went on to reveal that the two ultimately made amends, after a chance encounter at a Los Angeles Dodgers game.
Charlie Sheen took time to get over his feud with Chuck Lorre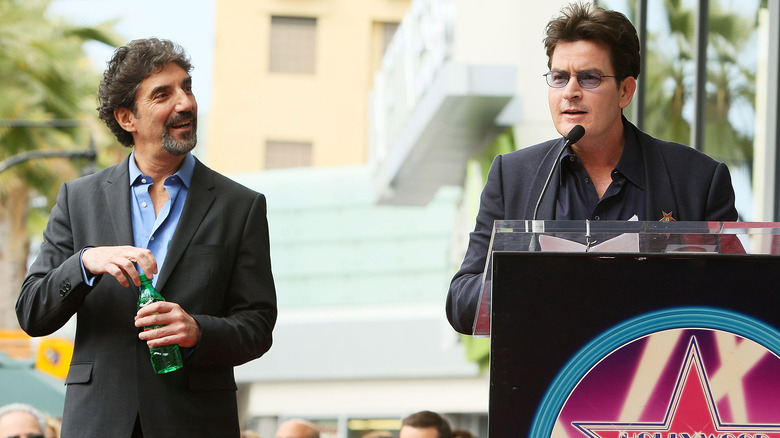 Vince Bucci/Getty Images
Despite resolving his issues with his "Two and a Half Men" replacement, Ashton Kutcher, Charlie Sheen appears to not be over his feud with the show's creator, Chuck Lorre. During his 2017 interview with "Kyle and Jackie O." "I made four billion for that studio, and I got fired," Sheen exclaimed (via Page Six). "The most ridiculous impostor, Chuck Lorre, I hope you're listening. Hey Chuck: Suck my f***ing butt."
However, that wasn't the first time since his infamous firing that Sheen took aim at Lorre. When asked by TMZ how he felt about being killed off in "Two and a Half Men," Sheen made a startling threat against this former boss. "To be that stupid... in my face, really? You must feel safe m***********" Sheen said.
Despite his previous attacks, Sheen eventually changed his feelings about Lorre. "You know I was really stupid and juvenile," he said on the "Kyle and Jackie O" show in 2018. Adding, "He's one of the best and the brightest that this industry has ever had the pleasure of witnessing."