How Connie Chung Really Felt About Working With Dan Rather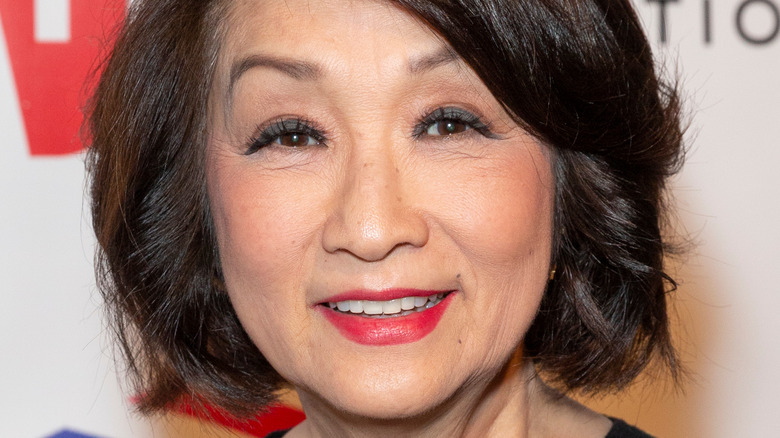 lev radin/Shutterstock
For nearly five decades now, Connie Chung has been one of the most recognizable faces in American news media. Starting out as a Washington-based correspondent for CBS News with Walter Cronkite in the early '70s amidst the Watergate scandal, Chung later served at four other big-name news channels throughout her career: NBC, ABC, CNN, and MSNBC. Over the years, she has made headlines for her interviews with the likes of basketball legend Magic Johnson after he revealed he was HIV-positive in 1991 and U.S. Representative Gary Condit after his intern Chandra Levy disappeared and was later found dead (though he was never formally a suspect in the case). 
By 1993, she became the first Asian and second-ever woman to co-anchor a newscast — after Barbara Walters in 1974 — when she co-hosted the "CBS Evening News" with Dan Rather from 1993 to 1995. So, how did the famous professionals really feel about working with one another? Well, as it turns out, despite their on-air cordiality, the reality behind-the-scenes was much more complex. 
Connie Chung compared working with Dan Rather to Psycho
Connie Chung and Dan Rather were only the second-ever male-female network news anchors when they worked together on the "CBS Evening News," starting in 1993. However, they did not last long together, as SF Gate reported that Chung was removed from the position and subsequently left the network in mid-1995. 
In a December 2020 appearance on Andrew Goldman's "The Originals" podcast, 25 years after she worked alongside Rather at the network, Chung made a few shocking admissions about what it was like working with her former co-host. "For being such a wizened old news person, particularly even today, there's this incredible naiveté about me, [where] I think, 'Oh, this is great! This is gonna work just fine!'" She said on the podcast. 
Chung went on to say, on the surface, Rather is "a Texas-friendly kind of guy. He's very Texas gentlemanly, and everything is always just fine, 'How are you?' and 'You're looking very good today!'" Chung said, jokingly imitating Rather's native Texas accent. However, she added ominously, "there were a lot of 'Ratherisms' back here," she said, pointing to the back of her head. "There was a lot going on ... somewhere back there, there were things going on."  While she didn't go into many specifics, she added, "maybe if I turned my back, I felt like I might be in a scene of 'Psycho,' in the shower!"
Connie Chung and Dan Rather's rivalry goes back decades
2020 was not the first time Connie Chung has spoken out against Dan Rather. Back in 1995, when Chung left CBS, she hinted at some acrimony between the two. According to the Los Angeles Times, she said at the time, "I've read comparisons to Barbara Walters, and I think there's validity there," referring to the fallout between Walters (America's first female news co-anchor) and her co-host Harry Reasoner in 1978, largely due to the latter's resentment toward her. Chung added, "I think it was always difficult for Dan any time I was assigned to cover a big story."
At the time, Rather disputed this, saying that while "the dual-anchoring did not work ... I do not see this as a gender issue." He said that while Reasoner "made no bones about how violently opposed he was" to being paired with Walters, that was not the situation with him and he believed the record showed that.
This dispute arguably grew out of a then-famous disagreement between the two over the April 1995 Oklahoma City bombing. At the time, it was reported that Rather was furious that Chung was asked to cover the major event, especially given that he was in his nearby home state of Texas at the time, while she was moved in all the way from New York. After Chung left the network, Rather said that he was "supportive and encouraging of the arrangement, even when [he] had some reservations about it."