How Did Harrison Ford Get The Scar On His Chin?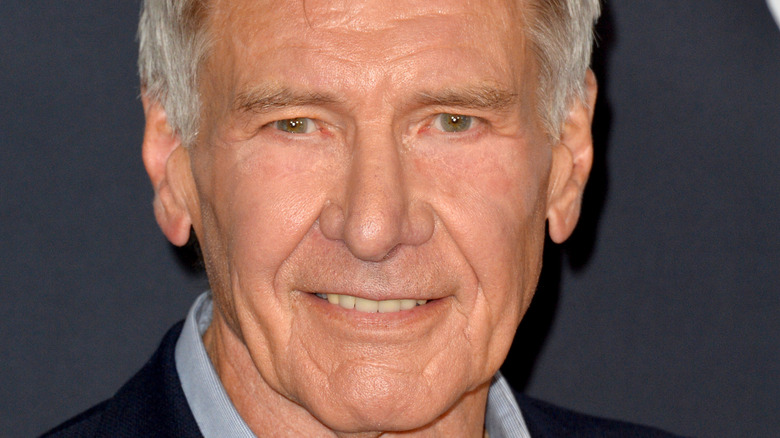 Featureflash Photo Agency/Shutterstock
Harrison Ford has been acting since the 1960s and has almost 80 movies under his belt, according to IMDb. However, the New York Daily News reports that Ford almost gave up his Hollywood aspirations before he was cast as Han Solo in the first 1977 "Star Wars" movie. Following his turn in "American Graffiti," Ford primarily turned to his carpentry work in lieu of acting. However, he was given the chance to audition for the role of Han Solo and ultimately decided to give his Hollywood dreams another shot. After the success of "Star Wars," the leading man went on to star in various action-packed films such as "Raiders of the Lost Ark" in the "Indiana Jones" franchise.
Ford is so dedicated to his craft that he often performs his own stunts — once, he insisted on jumping off a ledge during a hair-raising scene in "The Fugitive," as Slash Film reports. The 80-year-old even went into the water during the dam scene despite its 40-degree Fahrenheit temperature. The actor was not just known for his daredevil ways, though, but also for his handsome good looks. The long scar on his chin only added to his charm. However, despite many people believing he got the scar from a movie stunt gone wrong, the actual story is much tamer.
Harrison Ford's scar was from a car accident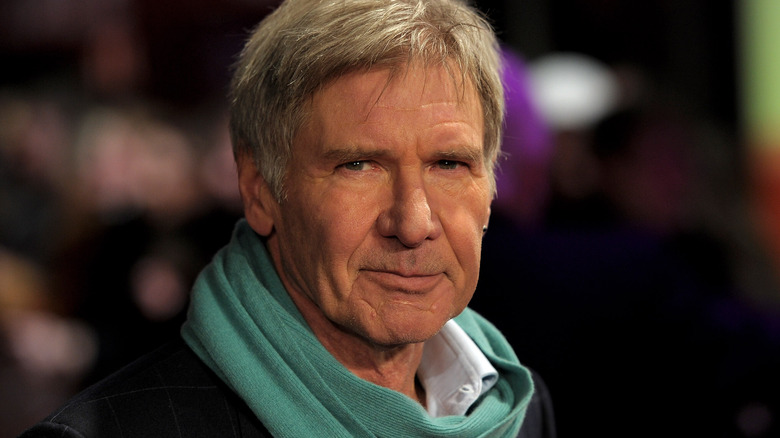 Ian Gavan/Getty Images
While it may seem exciting to think Harrison Ford performed a dangerous stunt that resulted in a scar on his chin, he actually provided a reasonable explanation for the injury. "A fast car crash, a real mundane way of earning it," he shared (via Parade). Before his movie career, Ford was driving his car on the way to his job at Bullock's department store in California. While driving and trying to put his seatbelt on, he crashed into a telephone pole and hit his face on the steering wheel. The following "inept emergency surgery" contributed to his scar.
Ford has used the scar to his advantage and made it part of his characters' storylines, per AmoMama. In "Working Girl," his character Jack Trainer explained in the movie that when he got his ears pierced, he fainted and hit his chin on a toilet. In "Indiana Jones," he said he got the scar while practicing with his whip. Although a car crash is a pretty gnarly way of earning a scar, the Illinois native has definitely made his story more interesting in his movies. That scar may have been from a "mundane" event, but there were plenty of instances on set where Ford injured himself performing stunts.
Harrison Ford got injured on the set of several movies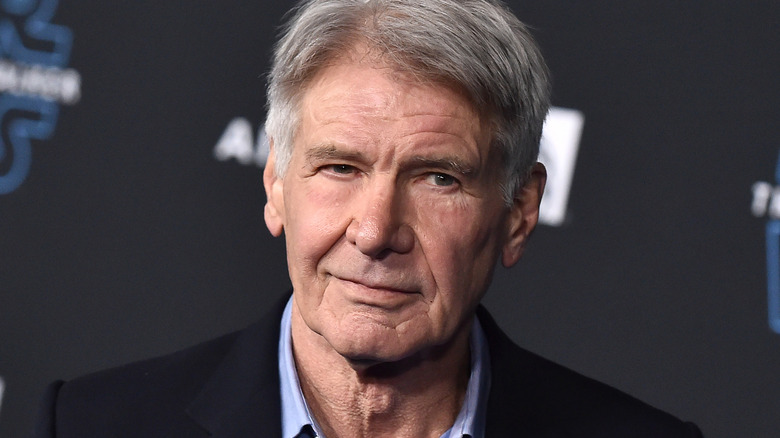 DFree/Shutterstock
According to Newsweek, Harrison Ford has acquired a long list of injuries on set over the years. During "Raiders of the Lost Ark," the daredevil bruised his ribs and tore his ACL while performing his own stunts. His time in "Indiana Jones and the Temple of Doom" caused a herniated disc from consistently sitting on elephants to film scenes, and was exacerbated by physically demanding actions. One of the most serious injuries happened on the set of "Star Wars: The Force Awakens," when a hydraulic door fell on him, breaking his ankle. Ford was taken to a hospital and needed two months to recover.
Years later, Ford still insists on doing his own stunts. The action star was 78 years old when filming began for "Indiana Jones 5," but unfortunately, he got hurt while practicing a physical scene, per Variety. "In the course of rehearsing a fight scene, Harrison Ford sustained an injury involving his shoulder. Production will continue while the appropriate course of treatment is evaluated, and the filming schedule will be reconfigured as needed in the coming weeks," a Disney rep stated.
In the past, there were rumblings that Chris Pratt would be taking over Ford's "Indiana Jones" role. However, when asked about it on the Today show, Ford scoffed, saying, "Nobody is going to be Indiana Jones, don't you get it? I'm Indiana Jones. When I'm gone, he's gone. It's easy." Nothing will stop Harrison Ford, not even an injury!