Is Hailee Steinfeld Still Friends With Taylor Swift?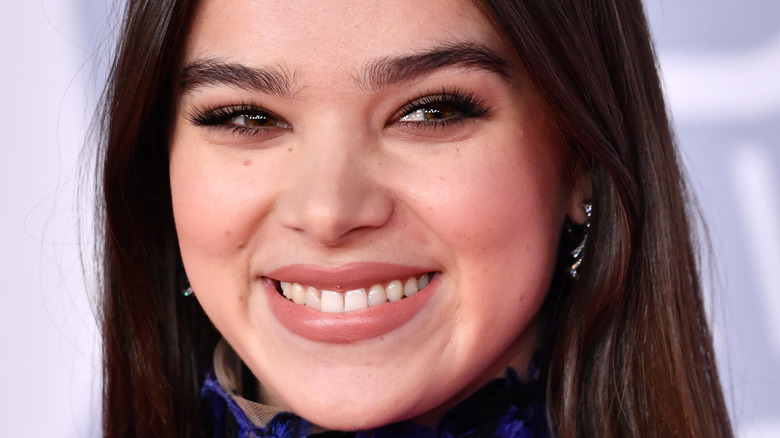 Gareth Cattermole/Getty Images
When you're Taylor Swift, it's common for your name to constantly be in the headlines. But in 2015, it wasn't just Swift in the headlines, it was her girl squad, too. For those who need a refresher, 2014 was the beginning of Swift's drama with fellow celebrities. At the time, the "Maroon" singer was feuding with fellow pop star Katy Perry after it was revealed that Perry tried to hire Swift's backup dancers, per Glamour. The Pennsylvania native obviously wasn't too happy with Perry and reportedly released "Bad Blood" in response to the feud. 
However, it wasn't just Swift who had "bad blood" with Perry — Swift's girl squad also got in on the action. At the time, the group of females was notorious, and featured stars such as Karlie Kloss, Gigi Hadid, Lily Aldridge, Selena Gomez, and Hailee Steinfeld, per InStyle. In response to the Swift versus Perry feud, the women starred in the "Bad Blood" music video to show their solidarity with the "1989" singer. As Swift's feud with Perry died down, though, and her feud with Kanye West and Kim Kardashian picked up, the girl squad was no longer around. It left fans wondering if there was any "bad blood" between the once inseparable group — especially between Steinfeld and Swift. 
Are Hailee Steinfeld and Taylor Swift still friends?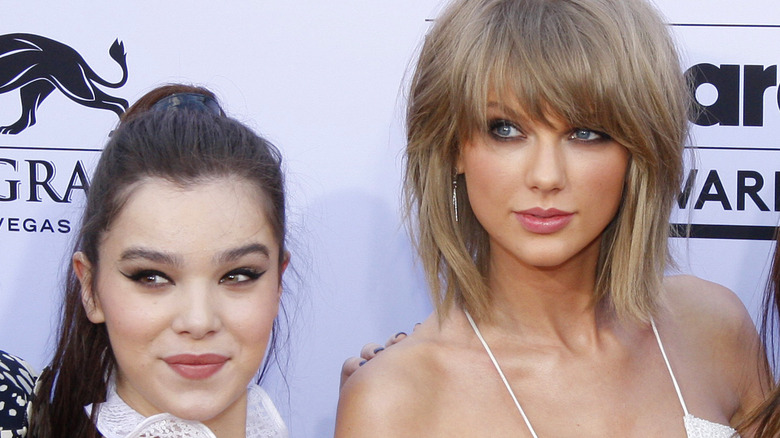 Tinseltown/Shutterstock
Taylor Swift is known for giving fans easter eggs in her music, but it seems she also does that for her friends. Following the release of the singer-songwriter's ninth studio album "evermore," Swifties were convinced the record was about Emily Dickinson. A few signs pointed fans to that theory. First, Swift announced the album's release on Dickinson's birthday, December 10, per Rolling Stone. From there, the 32-year-old honored Dickinson's birthday again when she said the album was like "sleepwalking through the forest in a nightgown in 1830." That was the year Dickinson was born. Then, after remembering Swift's bestie Hailee Steinfeld plays Dickinson in the latest Apple TV+ series, fans were even more sure the album was about the famous poet — and about Steinfeld. 
However, if fans thought Steinfeld would reveal whether that theory was correct, they were ultimately mistaken. Instead, following the girl code she has with Swift, the 25-year-old said she would have to figure the theory out herself. "The clues are lining up," the "Hawkeye" actor said, per Capital FM. "I don't know [if 'evermore' is based on Emily Dickinson,] but I'm dying to know."
Hailee Steinfeld and Taylor Swift keep their friendship private nowadays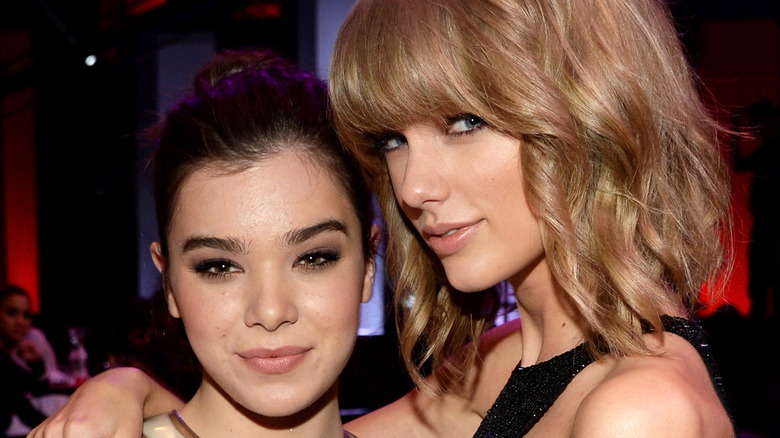 Kevin Mazur/Getty Images
While Hailee Steinfeld said she was "dying to know" if the "evermore" theory about Emily Dickinson was right, we can only imagine that she called up her friend, Taylor Swift, to find out. Even if she did, though, Steinfeld wouldn't tell fans what Swift said, because nowadays the two seemingly keep their friendship under wraps.
It's not because of any ill will — rather, the two were so loyal to one another, it apparently gave people the wrong impression. Steinfeld was part of Swift's girl squad in 2014, and while the group was supposed to resemble the beauty of female friendship, Swift revealed the girl squad came off the wrong way to others. "I never would have imagined that people would have thought, 'This is a clique that wouldn't have accepted me if I wanted to be in it," the "Speak Now" singer told Rolling Stone. "Holy sh**, that hit me like a ton of bricks. I was like, 'Oh, this did not go the way I thought it was going to go."
After realizing the group came off the wrong way, Swift said she began to prioritize her friendships and keep them private. That includes her relationship with Steinfeld. Have no fear! While they aren't always together anymore, we're sure there's no "bad blood" between these two. "I think people think we spend a lot more time together than we actually do," Steinfeld said, per Seventeen Magazine. "She's amazing though."