Are Taylor Swift And Gigi Hadid Still Friends?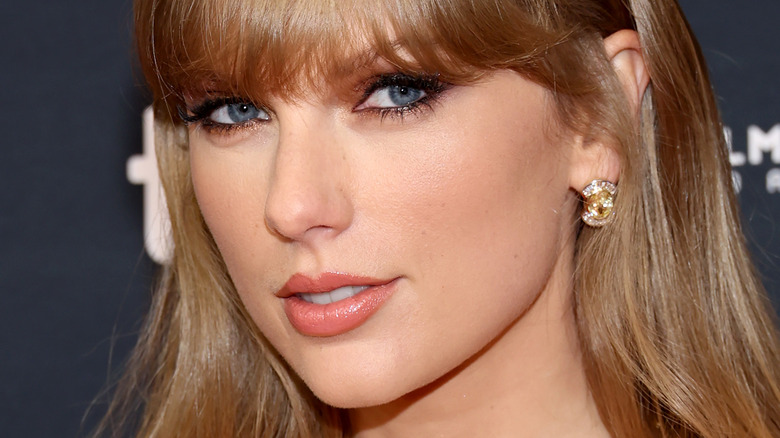 Amy Sussman/Getty Images
Taylor Swift had the friendship group everyone wanted to be in. Quickly dubbed "Taylor Swift's Squad" by fans, the group featured some of the most famous women in the industry. Some familiar faces included BFF Selena Gomez, Blake Lively, and Karlie Kloss. Whether it was hanging out with one another, walking the red carpet, or attending the singer's show, all of the girls supported Swift in everything she did.
One famous model who was part of the group was none other than Gigi Hadid. Although she is familiar with walking fashion runways, Hadid took part in another type of runway. Capital FM shared that the model joined the "All Too Well" singer during her 1989 stadium tour. Hadid wasn't alone when she walked on stage and was joined by other models and members of the squad. Hadid joined the singer on stage just a couple of months prior when she walked with fellow model Martha Hunt at the Detroit stop of the tour (via the Daily Mail).
Hadid continued to support Swift, even appearing in the "Bad Blood" music video. In an interview with W Magazine, Hadid spoke on creating the "squad goals" everyone at the time wanted. She shared, "For her [Taylor], it was just ... a way to show she supports her friends so much, and that we support her back." Since then, there have been a couple of fallouts from the group — most famously, Zendaya. So, is Hadid another one that bit the dust with Taylor's friendship?
Taylor Swift gets advice from Gigi Hadid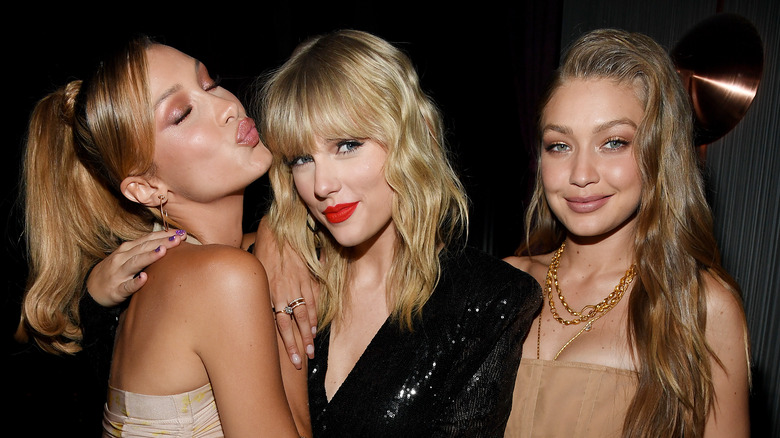 Kevin Mazur/Getty Images
Taylor Swift has written about love, friendship, and general growth in her songs. Her vulnerability is showcased in her incredible songwriting abilities. Not only is the pop singer vulnerable with fans, but the singer is lucky to have friends that she too can be vulnerable with. Gigi Hadid has become one of the core people that the songstress can turn to when she needs some good advice. In fact, she's the "one of the first people" she goes to, per Harper's Bazaar.
Swift told the outlet, "[Gigi] has this incredible ability to see all sides of a situation and simplify it for you, to see the complexity of people." The singer also noted that "Gigi's #1 rule is to treat people the way she'd want to be treated, so she's on time (or early) to work, says hello to everyone on set, asks them how they are, and actually listens to their response." Swift also called Hadid an "innately kind and inclusive person" and shared that as the model grew to become a businesswoman she never let go of that kindness.
And although she may not realize it, Swift in a way also provides advice to her supermodel friend. In 2019, Hadid told Variety, "An amazing thing about my friendship with Taylor has been that she is a songwriter that I've connected to through my childhood into my adult life, and us becoming friends has given me an insight into the mind that creates those lyrics."
Taylor Swift and Gigi Hadid continue to support one another
It's no secret Gigi Hadid has supported Taylor Swift on tour, she even revealed she attended 10 of the "1989" and "Reputation" shows in support of the singer, per Capital FM. Hadid even took to Instagram to express her love for Swift's performances. She captioned one story, "If I could find the words, I would explain how happy it makes me to watch you perform @taylorswift" (via Us Weekly). "I'm so proud to experience this celebration of clarity & strength with you. WHAT A SHOW. You did it again. Love you to the moon." A year later, the model continued to show Swift support in a series of tweets while Swift was battling with Scooter Braun over her catalog ownership.
In the following years, the friends shared holidays and celebrated birthdays. Swift showed love to her friend after she gave birth to her first child. W Magazine reports the singer gifted Hadid and Zayn Malik's daughter a personally-knitted pink blanket. The model posted a photo of the baby to her Instagram story tagging "auntie swift" in the post.
In September 2022, the "Blank Space" singer supported Hadid as she launched her new business (via Capital FM). Derek Walker, one of Hadid's friends, posted a photo of the singer at the event. Swift was pictured smiling and throwing her hands in the air as she supported her friend. Looks like the two celebs' friendship has continued to last all these years.