What Allen Iverson's Life In Prison Was Really Like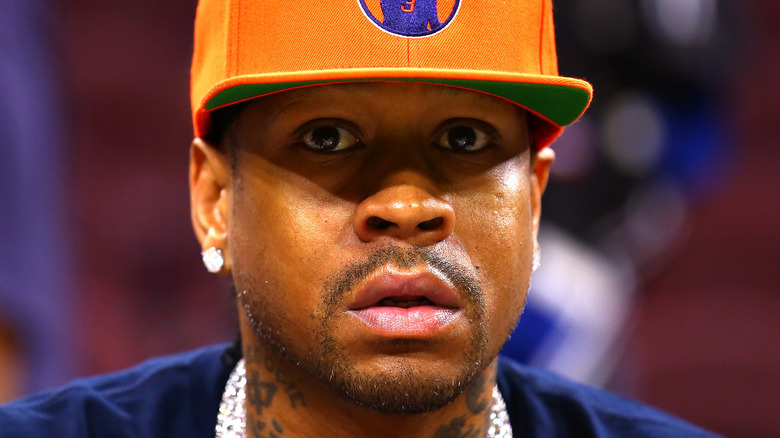 Mitchell Leff/Getty Images
Basketball star Allen Iverson hasn't always made the wisest decisions with his millions, but his name and skills are solidified in NBA history. However, he almost didn't make it to the league. 
Iverson's future basketball career was looking bright until a brawl broke out at a bowling alley in 1993 while he was still in high school in Hampton, Virginia. According to The Versed, the fight allegedly began because a group of white men thought that Iverson and his friends, who were all Black, were being too loud in the bowling alley. The story garnered attention because Iverson's name was tied to the case. Iverson and his friends were arrested while the group of white men did not face any charges. As a result, it was believed that the arrests were racially motivated.
Per The Sports Rush, Iverson was charged with "maiming-by-mob" and later convicted. He was sentenced to 15 years in prison at just 17 years old. The Philadelphia 76ers star was ultimately granted clemency after only serving four months due to insufficient evidence. However, it was certainly a time that he will never forget.
Allen Iverson matured during his time in prison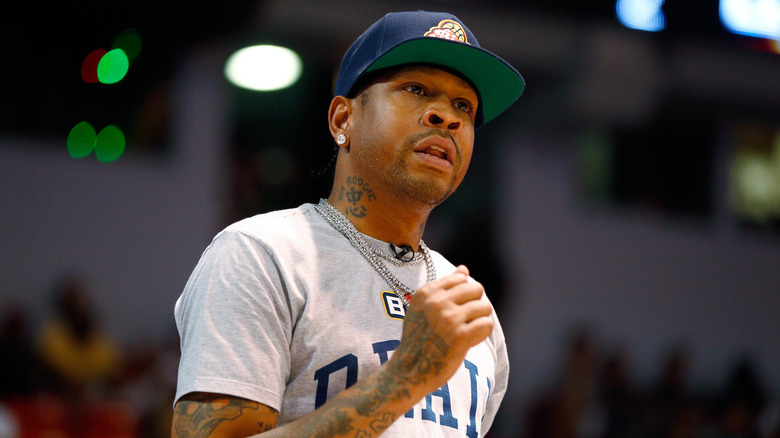 Michael Hickey/Getty Images
During his prison sentence at the Newport News City Farm, Allen Iverson was determined to stay strong, especially around other inmates. He later told ESPN, "Going to jail, someone sees something weak in you, they'll exploit it. I never showed any weakness. I just kept going strong until I came out." And instead of harping on the situation afterward, Iverson used the experience as motivation to keep going with his basketball career.
Behind bars, Iverson worked at the bakery shop, according to the Roanoke Times, and lived in a cell with three other men. He also studied several subjects, including geometry and English, per The Washington Post. In an interview with Daily Press, Iverson shared, "I think I've handled more stress than a lot of people have handled in their whole life. I've become wiser and stronger, and that'll probably help me out in the long run."
Iverson was released from Newport News City Farm in 1995 after four months, per Open Court Basketball. Although he was released, his freedom did come with conditions. Iverson could not play organized sports and was ordered to focus on his education. He had to complete his senior year of high school at Richard Milburn High School, a school for at-risk students. However, Iverson's mother was determined to see his son still succeed in basketball. 
Allen Iverson's mother fought for him during his prison term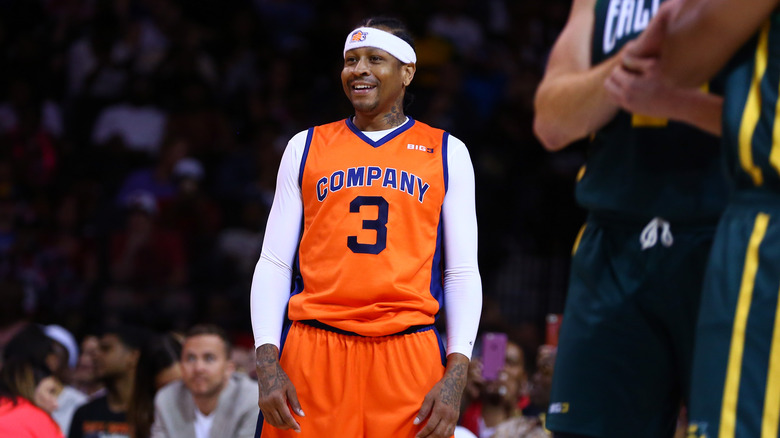 Mike Stobe/Getty Images
After Allen Iverson was sentenced to prison, his mom, Ann Iverson, was understandably heartbroken and shocked at his conviction. At the time, she told The Washington Post, "It's just unfair to say my son is a threat to society. I can't believe he won't even get to finish high school." One of Iverson's former basketball coaches, Boo Williams, agreed. "There's no question. This thing was blown way out of proportion. If they're going to prosecute everyone who goes out and hits someone, they couldn't build enough jails," he shared.
However, Ann remained focused on her son's future and basketball career. In fact, she even prioritized meeting with Georgetown University basketball coach, John Thompson and asked him to visit Allen, per The Versed. "She was the reason why I helped her child," Thompson revealed to ESPN. Allen was later offered a scholarship to play at Georgetown and his professional basketball career took off shortly afterward. He became a part of the 1996 NBA draft class alongside greats like Kobe Bryant and Steve Nash. Iverson went on to play 17 seasons of professional basketball and is now remembered as one of the highest scorers in NBA history, according to the Naismith Memorial Basketball Hall of Fame.