What Really Happened Between Sharon Osbourne And Jay Leno?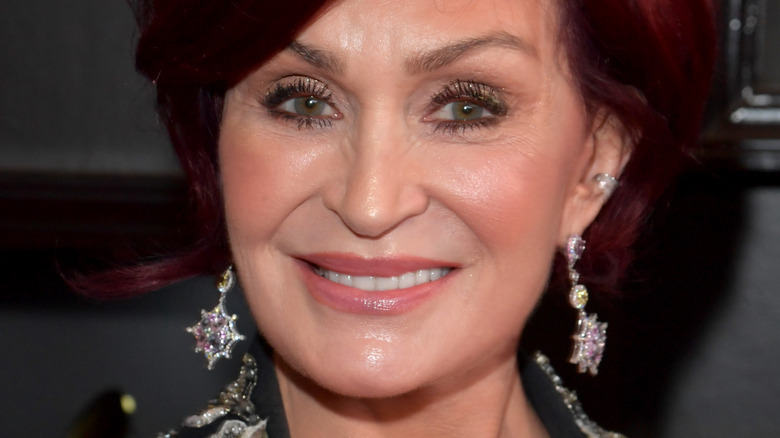 Lester Cohen/Getty Images
Having a fling with someone is fairly common in Hollywood. Since celebrity circles run small, it's no secret that stars hook up for a short period of time. Even talk show host Sharon Osbourne revealed she had flings prior to her marriage. What raised people's eyebrows was who she had a fling with. According to USA Today, Sharon and Jay Leno had a brief romantic connection. The fling comes as a shock as the two have been in long-term relationships.
Now, when you think of Sharon, you automatically think of her husband and musician, Ozzy Osbourne. In 1979, Sharon and Ozzy started their relationship, per Us Weekly. From that point, the couple quickly fell in love and exchanged vows in 1982. The couple had several tests on their relationship but have overcome the struggles and are still together. Talk show host, Jay, has also been in a long-term relationship. He and wife Mavis tied the knot in 1980, per People. Jay remains a private individual, so there isn't much known about his personal life, but he has remained with Mavis for over 40 years.
With Jay and Sharon being in long-term relationships, it's hard to believe they were ever in any other relationships before their marriages, especially with each other. It turns out, however, the two shared their fling right before they got into their marriages. While the romantic relationship was years ago, the two still have fond memories from the fling.
Sharon Osbourne spilled the tea on how her 'fling' with Jay Leno started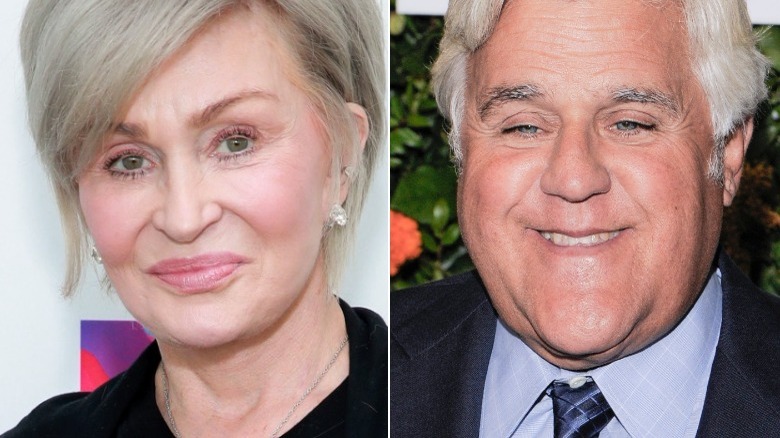 Rich Fury/Getty & lev radin/Shutterstock
Being a host on "The Talk," Sharon Osbourne had to open up about her personal life — especially her love life. As many may know, Sharon married famous musician, Ozzy Osbourne. For Sharon, the thought of being without Ozzy is "unthinkable," per ET. However, before she married Ozzy, Sharon was living her best single life with someone you may not expect. 
In a 2013 episode, Sharon revealed in a shocking secret that she and comedian, Jay Leno, had a fling (via People). Sharon said, "When I was 25, I just moved to America. I didn't know many people." She had met Ozzy, but they weren't an item yet. She continued, "I never did date a lot at that time, anyway, because I was not very dateable." The talk show host explained how she went to a comedy club and saw Leno performing. She told her friend that Leno was "very nice, very funny." Because they were young, Sharon flirted unusually — by prank-calling Leno.
Sharon, who continued to call Leno, shared, "He liked my voice." According to People, the flirtatious calls turned the friendship into something a little more. Sharon said, "He came to my house and met me, and then we had a little fling. The fling was more fling for me and not fling enough for him." Sharon didn't detail how the relationship fizzled out, but it seemed like it was for the best.
Jay Leno opened up about his fling with Sharon Osbourne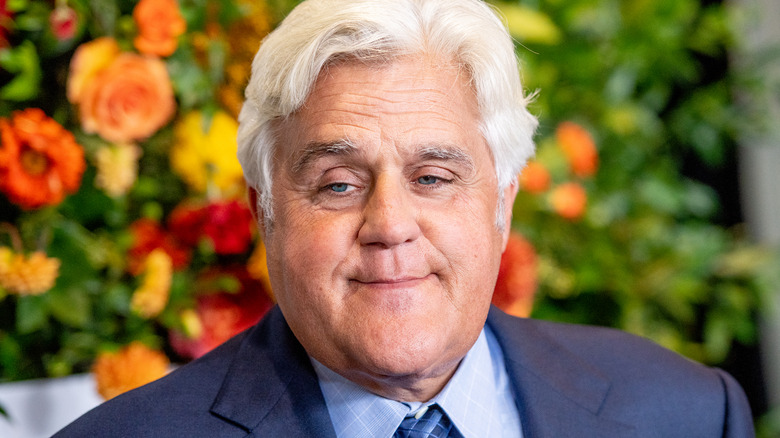 Roy Rochlin/Getty Images
When two celebrities get together it can be difficult to avoid questions about the other, and for Jay Leno and Sharon Osbourne, this was true. In 2013, the comedian had to come face to face with his relationship with Sharon. Joy Behar, a cohost on "The View", pushed Leno to talk about the fling while she was a guest on his show. Leno caved and said, "Gentlemen never discuss! First of all, this happened when we were both single" (via  Yahoo! Entertainment). 
Leno went on to talk about Sharon's prank calls to which Behar joked that Sharon was stalking the comedian. The comedian shared, "No, she was just calling me, but she didn't say who she was. But she had this British accent, and she was really intelligent." Neither Sharon nor Leno spoke on how the fling ended, but Sharon did share that she had met the "love of his life" just a couple of months later (via USA Today). The memory of the two is now just something they can laugh about as they are both in loving marriages.
After their fling, Sharon went on to marry Ozzy Osbourne and Leno went on to marry his wife Mavis Leno. Both couples have been married for 40 years and Leno has the perfect secret for a long-lasting marriage. He said, "Marry your conscience. Marry someone who you wish you could be and it works out OK" (via Closer Weekly).