Why Jim Bob And Michelle Duggar Didn't Follow Their Own Courtship Rules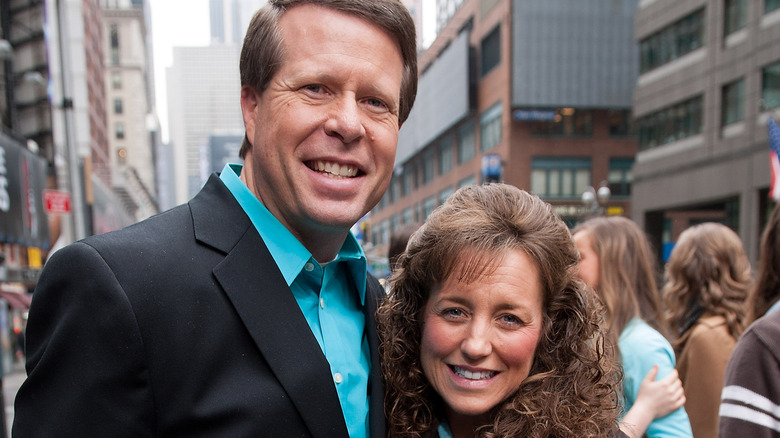 D Dipasupil/Getty Images
Jim Bob and Michelle Duggar had their hands full with 19 kids. That's why the Duggar family played no games in their household, especially when it came to dating.
In the Duggar household, dating wouldn't even be the correct term. That's because instead of dating, each of Michelle and Jim Bob's 19 kids had to go through a courtship — complete with a strict set of rules from their mom and dad. Compared to dating, courtship is a God-centered relationship, where the couple focuses on their future as a married couple with God's direction. "Courtship is really waiting for the one God has for you and praying through the whole process," Jim Bob said, per Today. On the other hand, dating is viewed as a time-filler for fun with little to no accountability toward marriage, according to the Duggars. This is why, to the Duggars, a courtship is more appropriate and successful.
Yet, despite expecting their children to follow the rules of courtship, Jim Bob and Michelle Duggar came under fire with their kids after revealing they didn't follow the courtship rules in their relationship.
Jim Bob and Michelle Duggar kissed before they were married
Do as they say and not as they do — because, believe it or not, Jim Bob and Michelle Duggar didn't court in their relationship. That's right, the parents known for strict courting rules for their children didn't even follow the rules themselves.
Michelle and Jim Bob's relationship mirrored more of a dating situation — something that is particularly off-limits for their kids. And their daughter, Jill (Duggar) Dillard, was the one to spill the news of her parents' unconventional courtship. "So my parents, they um, did the traditional dating," Jill said in a now-deleted clip from "19 Kids and Counting," via In Touch Weekly. "So when they were engaged, they spent a lot of time alone together. They said they saved intimacy for marriage, but they kissed." But it seems like the Duggars gave their kids such strict rules for marriage because Jim Bob and Michelle regretted the way they went about dating, according to Jill. "They wish they would've saved more of each other for themselves," she said. 
On The Duggar Family blog, Jim Bob and Michelle explained that during courting, it's important for the couple to have strong God-centered relationships to look up to. It seems like Jim Bob and Michelle didn't have a relationship mentor when they were dating — so they wanted to ensure their kids weren't in the same position when they began courting.
What rules did the Duggar family create for courting?
With Jim Bob and Michelle Duggar's dating history not being a perfect example for their kids to follow, the parents decided to implement a strict set of rules for their kids before they began dating.
The first rule is there is no dating — only courting. And another thing is for sure: There is no alone time. In fact, there is always another person (chaperone) around the couple. According to the Duggars, none of their kids are allowed to be alone with their future partner for accountability. "Having that accountability really keeps things from going in the wrong direction," Jim Bob said, per Today. Not only that, when the couples are together, kissing and hand-holding are to be saved for marriage and engagement, respectively. "We believe it's best for them to save the physical part for marriage," Michelle said. "That way, there's no regrets." 
While the Duggars follow other specified rules, like no texting without their parents in the chat, the most significant rules stem from what Jim Bob and Michelle learned in their relationship. And that is the best way to do it because the Duggars believe that parents know best when it comes to who their child is marrying. "A parent that loves and cares for their children, they want the best relationship for their child," Michelle told Today. "It's fun to be involved in the whole process [of] choosing it."