This Is How Pat Sajak Really Met His Wife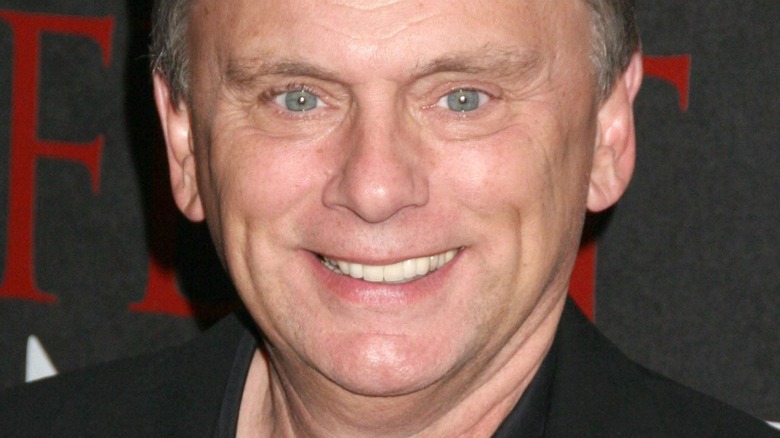 Everett Collection/Shutterstock
Pat Sajak has been spinning our wheels since 1975. The game show host just will not quit, or we can't quit "Wheel of Fortune." We're not sure which one it is. Sajak has been a longtime colleague of Vanna White and the two used to get rowdy before hosting "Wheel of Fortune." Sajak told Dan Le Batard and Bomani Jones on "Highly Questionable" that he and White were often drunk. "Vanna and I would go across and have two or three or six [margaritas] and then come and do the last shows and have trouble recognizing the alphabet. They're really good tapes to get a hold of," he said. Those would definitely be entertaining.
Things have changed, though, and Sajak became a family man, so margaritas on the job aren't really an option anymore. Speaking of family, Sajak welcomed his children with wife Lesly Brown and what's so good about their relationship is what an unconventional story they have.
Pat Sajak said 'there was no electricity' upon meeting his wife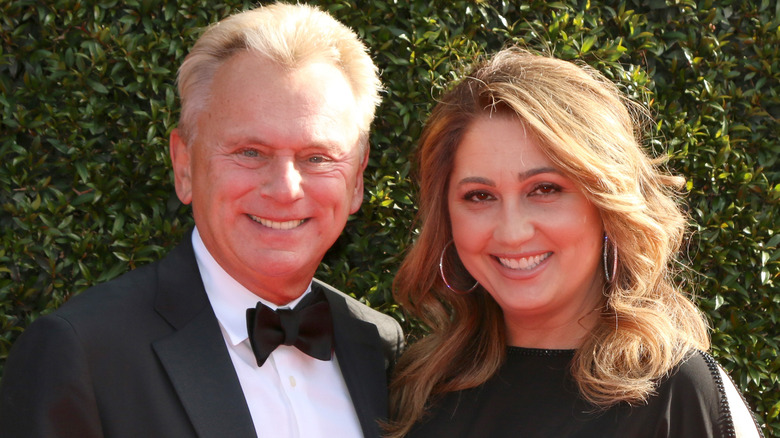 Kathy Hutchins/Shutterstock
Pat Sajak was first married to Sherrill Sajak, but the two divorced, according to Closer Weekly, leaving Sajak single but not necessarily ready to mingle. He met Lesly Brown shortly thereafter, in 1988 at a sports bar in California, according to People. Brown, a graduate of the University of Maryland, had previously posed for "Playboy" in the issue called "Women of Washington," according to The U.S. Sun. So, she wasn't nearly as famous as Sajak, but she had her own moment of fame. When Brown asked Sajak if he'd consider marriage again, the "Wheel of Fortune" host said, "No, no, no, no, no, no, no!" Sheesh, Sajak!
To make matters even less romantic, Sajak later told People that things didn't really gel when he first met Brown. "There was no electricity in the air," Sajak said of meeting her. He then spoke to her, and added, "The subject of you didn't come up in my car ride home." Okay, man, don't kill us with romance! But all was not lost.
Pat Sajak and Lesly Brown found their happily ever after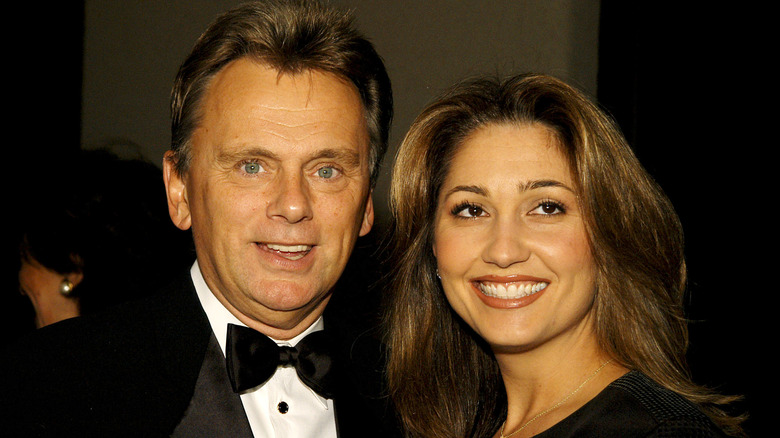 Gregorio Binuya/Getty Images
While Pat Sajak and Lesly Brown didn't exactly see stars when they first met each other, they did stay in touch through phone calls, and even had a few in-person hangouts. "He was fun and easy to talk to," Brown told People. "But it wasn't romantic." Sajak added, "Often the calls were, 'Well, I have to hang up now. I'm going out on a date.'" The two continued talking and Sajak said that things started to develop, but both were being a little coy. 
However, things finally heated up when Brown appeared on the game show "The Dating Game." She was picked by the bachelor and the two went on a vacation to Mexico — a prize from the show. "Frankly, I was a little annoyed at that," Sajak admitted. The jealousy proved to be the right thing for them and shifted them into high gear. How perfect that it was another game show that got things moving for Sajak? After she returned from her baecation, Sajak flew to see Brown. "I knew she was the woman I wanted to spend the rest of my life with," he said. The two married in 1989 in Annapolis, Maryland at St. Mary's Roman Catholic Church, according to The U.S. Sun, and welcomed two children, Maggie and Michael Sajak.