Inside The Young And The Restless Stars' Eric Braeden And Peter Bergman's Real-Life Feud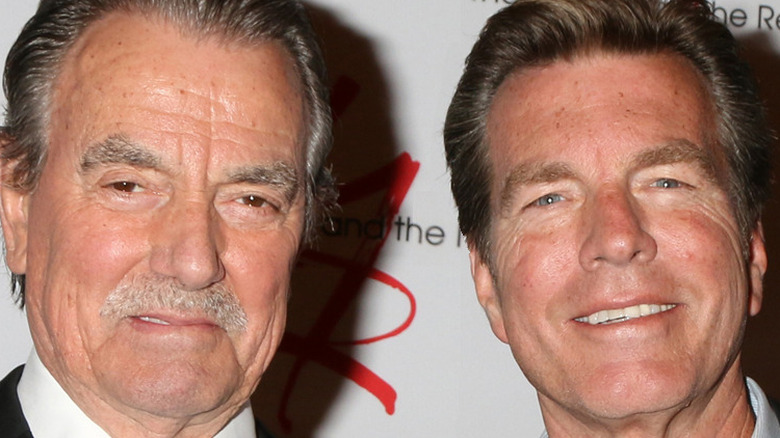 Kathy Hutchins/Shutterstock
Soap operas have been home to several fan favorite character feuds. Viewers can't get enough of such rivalries, especially when they last for decades, as Livingly points out. Soaps She Knows ranked the antagonism between Victor Newman (Eric Braeden) and Jack Abbott (Peter Bergman) on "The Young and the Restless" as the number one male soap feud of all time. TV Season Spoilers explained that the rivalry between Jack and Victor started when Jack's company, Jabot Cosmetics, was stolen by Victor. The hostility between the two men got so heated over the years that at one point, Jack was willing to let Victor die when he had a heart attack, and another time Victor replaced Jack with a lookalike that caused havoc for Jabot.
Bergman explained the enmity of these characters to Soaps She Knows, saying, "There are people who are that different from one another [like oil and water]. They may be able to see for a moment here and there one another's perspective, but generally speaking, 'I don't get that guy. And I don't like what guys like that stand for.'" Regarding the character of Jack, Bergman told Entertainmeny Weekly, "I get to play one of the truly great characters in daytime television."
While Braeden and Bergman are nothing like their characters in real life, the actors still ended up getting into a physical altercation behind the scenes.
Tension between two domineering actors escalated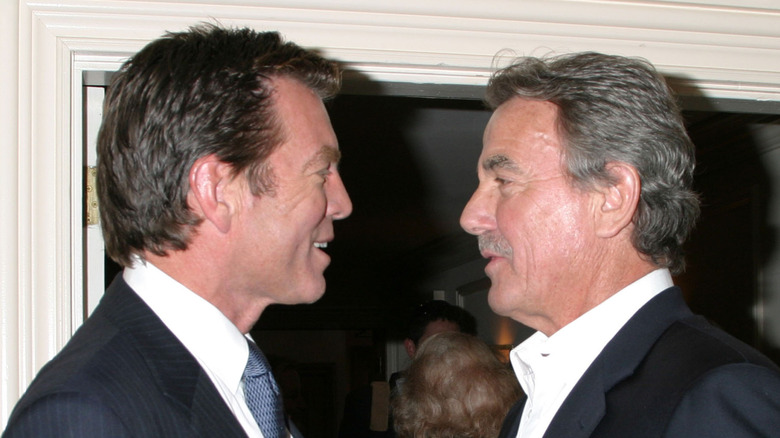 carrie-nelson/Shutterstock
Eric Braeden — who initially had disdain for the soap opera medium – has played the ruthless Victor Newman on "The Young and the Restless" since 1980. In an interview with Soap Opera Digest, he admitted that in 1991 while his character had a feud with Jack Abbott, he and Abbott's portrayer Peter Bergman didn't get along either. According to Showbiz Cheat Sheet, because both actors were overbearing, their acting styles clashed, making shooting scenes with both characters difficult. The stress from the characters' interactions didn't help and caused both actors to erupt into a physical fight.
The creator of "Y&R," William Bell, couldn't take the antagonistic environment anymore and told both actors that they would be fired if they didn't stop the nonsense. As Livingly reports, that squashed their real-life squabble and the actors have remained civil to each other ever since. On Air On Soaps (via Soaps She Knows) spoke with Bergman about the incident and he mentioned that there was tension at the beginning between the actors that "climaxed in an ugly situation." However, he stated that after patching things up eventually, "We work together just fine."
"Y&R" co-star Trevor St. John told Michael Fairman TV that he enjoys working with Braeden because he finds him to be a very "genuine" person, while fellow soap actor Mathew Ashford considers Bergman "an amazing man and friend," per Instagram.
Eric Braeden and Peter Bergman are friends in real life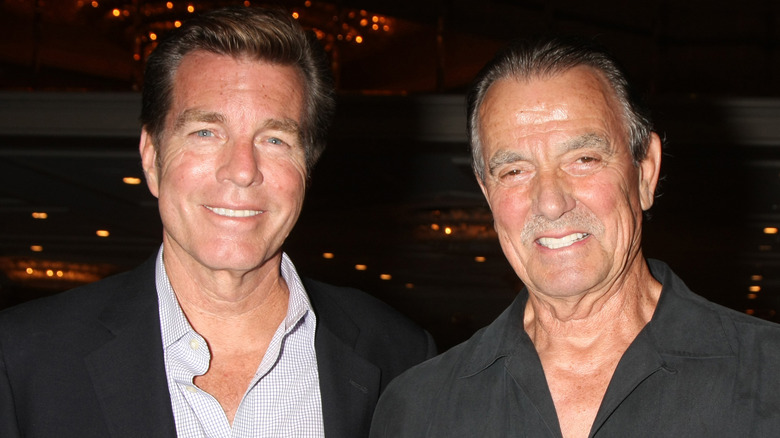 Kathy Hutchins/Shutterstock
"The Young and the Restless" star Eric Braeden (Victor Newman) wrote in his autobiography about the real life physical altercation he had with co-star Peter Bergman (Jack Abbott). Soap Opera Digest asked Braeden why he was open about discussing the fight with Bergman, who said, "Because it was such a big thing at the time, and something that obviously I wish one could have avoided, and also to show how it is possible to get beyond something like that and develop enormous respect." He went on to say that he told Bergman that while they didn't get along in real life, the conflict would be "good for the show." The actor also cited his sports background, which involved fights on the field, "and then afterwards you shake hands and have a beer ... I felt the need to not gloss over that because I have such respect for Peter."
Bergman told Soaps She Knows, "I love that I am part of one of the oldest enmities in the history of television, if not the oldest. I'm so proud of that, and I'm so grateful to Eric [Braeden] for that. I'm so grateful to the show for that. It has sustained a lot of things that have provided drive for Jack for years." TV Season Spoilers points out that Victor and Jack have mellowed over the years — even having drinks together — and so have their portrayers.