Michelle Williams From Dawson's Creek To Hollywood Star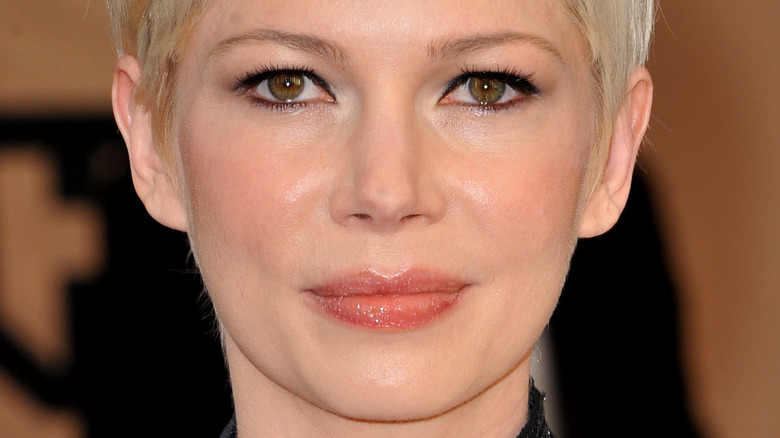 Tinseltown/Shutterstock
Michelle Williams is a critically acclaimed actor who has been blowing away audiences with her nuanced performances since the late 1990s. The one-of-a-kind performer has been acting since she was roughly 11 years old, yet she really rose to fame during her time on "Dawson's Creek," where she played the role of Jen Lindley. But despite the TV show being a terrific learning experience for Williams (as well as her claim to fame,) she revealed on Variety's "Actors on Actors" that her six years on the beloved teen drama series weren't always ideal.
One of the reasons the starlet had a challenging time on the TV show was due to the fact that she wasn't allowed to put in any of her own creative input into the role. Since Williams herself is an incredibly inspired individual, it's no surprise that she gravitates toward roles that allow her to be as creative as possible. This is one of the main reasons why Williams tends to seek out starring in indie films as opposed to more commercial and blockbuster projects. She said in an interview with Vogue that when it comes to her creative choices, "I don't feel scared to have an idea and express it."
While Williams has an illuminating resume due to her show-stopping performances in film and TV, there are many aspects of her personal life that are incredibly fascinating. Keep reading to learn more about the talented actor.
She moved out of her home at 15 to pursue acting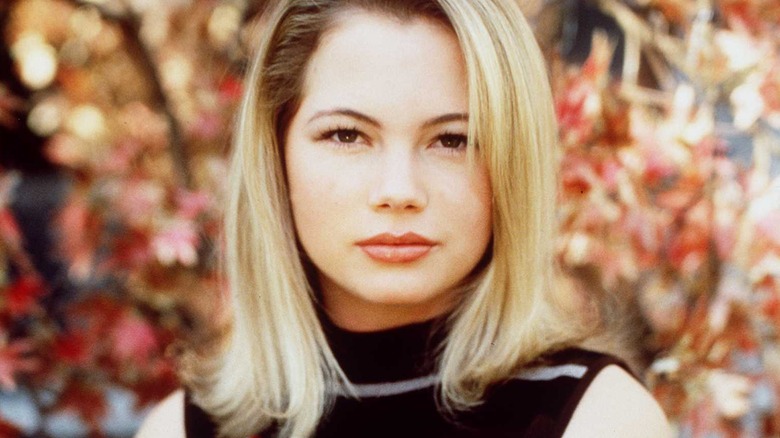 Getty Images/Getty Images
When Michelle Williams was only 15 years old, she made the bold choice to leave her home in order to start a life in Hollywood. The situation led to her emancipation from her parents so she could pursue a more independent lifestyle in the entertainment industry. Fortunately, she didn't become legally separated from her parents due to any kind of falling out. According to the "Dawson's Creek" alum, it was more of an act that was done to jumpstart her career. "You [didn't have to have] a social worker or a teacher with you, which makes you more cost-effective as a hire," she told the The New York Times. "So I didn't have to have anybody looking out for me."
According to the "Blue Valentine" star, because she was so young, she had quite a challenging time adjusting to living on her own. She recalls surviving off of pizzas for breakfast and dinner since she didn't know how to cook, for example. "It felt like somebody was withholding all the secrets," she said of her teenage years while speaking with GQ. "How to take care of yourself and where to get the things that would help you take care of yourself." 
Despite her struggles, Williams claims that she is a lone wolf by nature, so living by herself was almost natural for her. Hey, all the power to her!
She wasn't a fan of being a child actor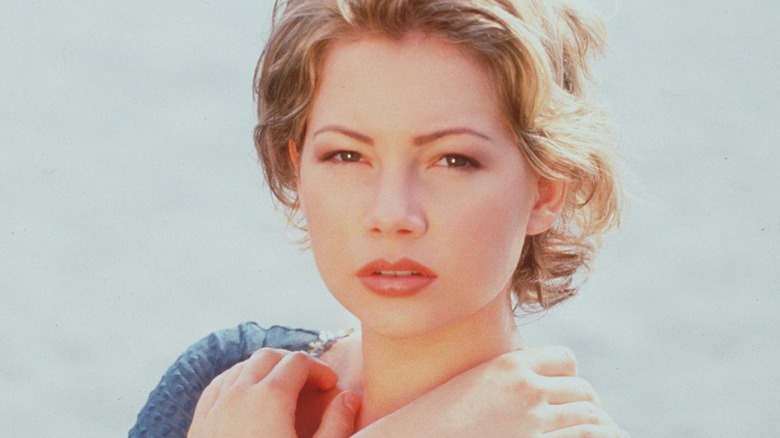 Getty Images/Getty Images
During an "Actors on Actors" session with Variety, Natalie Portman and Michelle Williams discussed their experiences as child actors. Just like Portman, Williams also got her start in the entertainment industry at around 11 years old. The star is extremely passionate about acting, partially because it allows her the opportunity to step into an identity whenever she struggles to understand her own. "Pretending to be other people gave me at least somebody to be," she further explained to The New York Times.
While Williams admits that acting and performing is extremely cathartic for her, she isn't the biggest fan of being a part of the media circus. And although she has a bit of an easier time navigating her way through the limelight as an adult, she says that it was a lot harder to grapple with as a child star. Speaking of her experience in the spotlight during her childhood years, she looked back at the time with bittersweetness. "It worked out okay," she told Portman in the Variety interview. "It's a really long way and not necessarily a very nice one. It's a hard childhood to have — or a lack of a childhood to have."
Williams went on, saying, "I do love doing it ... and I can't really imagine doing anything else. I want to keep doing it. But when I see kids on the set, or when I work with kids in movies, I feel really torn about their role there."
She isn't a huge fan of her work on Dawson's Creek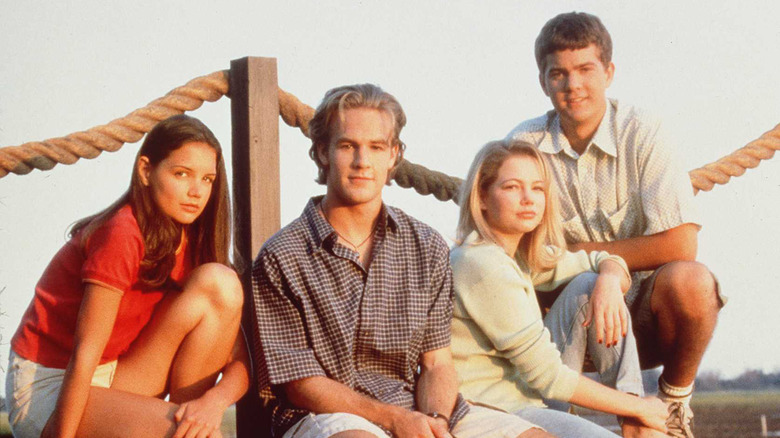 Getty Images/Getty Images
Despite "Dawson's Creek" being a career-defining show for Michelle Williams, the actor doesn't look back at her time on the teen drama with too much nostalgia. Although the star regards her time on the series as a professionally educational experience, the six years she spent playing Jen Lindley wasn't as fulfilling for the celeb as she would've liked. 
During an "Actors on Actors" interview with Variety, Williams expressed how her time on the show made her feel like she was a product as opposed to an artist involved in a creative pursuit. She elaborated to fellow actor Patricia Clarkson, saying, "You had zero input," adding, "I didn't want to be told what to do." She went on to add that she hasn't taken on any roles in television since then due to "a fear of loss of input." Clearly, Williams has a great head on her shoulders, and she is unafraid to use her voice when it comes to creative decisions!
Although she eventually left the show due to creative differences, some great things came out of her experience on that show. Not only did it aid in her rise to stardom, but it also ignited the beautiful lifelong friendship she shares with her former co-star in the film, Busy Philipps. As she shared on Instagram, Philipps and Williams are best friends for life, and she can't wait to grow old with the movie star.
Inside her beautiful relationship with the late Heath Ledger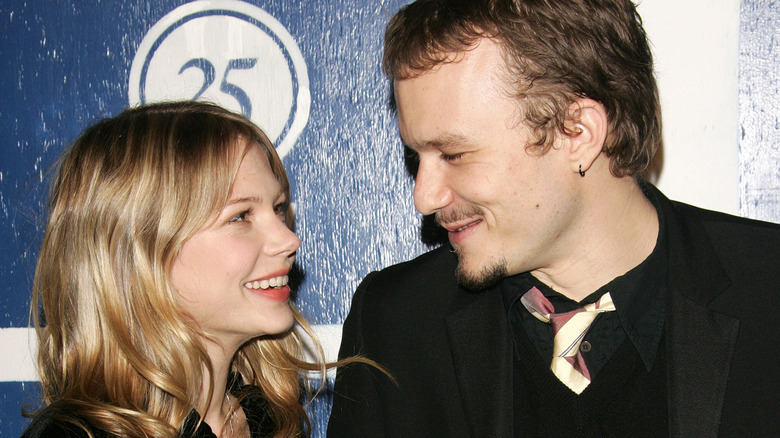 Evan Agostini/Getty Images
The late Heath Ledger and Michelle Williams got close while playing husband and wife in the Oscar-winning hit, "Brokeback Mountain." The pair became romantically involved behind the scenes of the indie film, and it was clear to everyone involved on set that they were falling in love. "I remember being in rehearsal, and the two of them had googly eyes with each other," said Jake Gyllenhaal, who also starred in the film (via E! News). "There were sparks immediately." And before the film even premiered in theaters, the happy couple welcomed their lovely daughter into the world.
Although things didn't end up working out for Ledger and Williams, they shared a beautiful and loving relationship for several years. Yet, tragedy struck Williams and her daughter when Ledger died from an overdose in 2008. Williams, who still had a tremendous amount of love for her former partner and the father of her child, was overwhelmed with grief following his loss. According to a source close to Williams who spoke to People, they believe that Ledger and Williams' breakup was circumstantial as opposed to the two ever falling out of love. "In the end, there were too many differences," the insider shared. "She kind of turned her head to those at the beginning, but when Matilda was born was really when she started to reevaluate things." Another friend revealed, "I don't think they fell out of love; it was probably tough love."
If you or anyone you know needs help with addiction issues, help is available. Visit the Substance Abuse and Mental Health Services Administration website or contact SAMHSA's National Helpline at 1-800-662-HELP (4357).
Why she gravitates toward indie films over blockbuster hits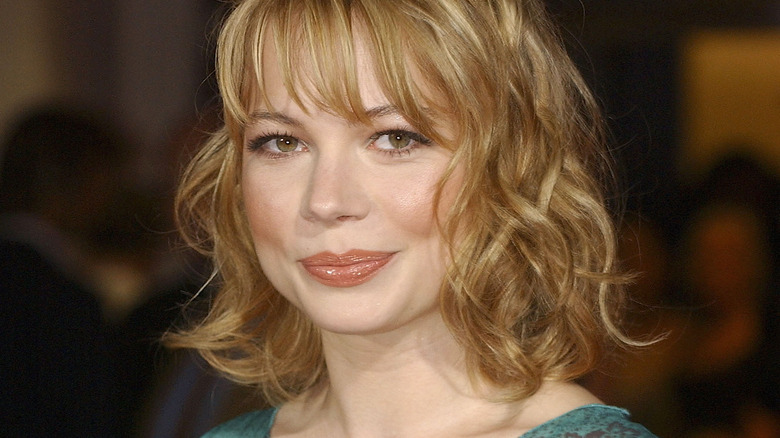 Franco Origlia/Getty Images
While Michelle Williams is one of the most high-profile stars in the entertainment business, she can rarely be spotted in hit blockbuster films. The celeb has undoubtedly been offered some incredibly lucrative movie roles in more commercial films throughout her film career, yet Williams is extremely selective and careful about the projects that she chooses to do. And according to the "Manchester by the Sea" star, she tends to gravitate toward smaller-budget independent films as opposed to the more lucrative and popular blockbuster hits.
Another reason Williams loves working in the indie genre as opposed to something more high-budget and popular is because of the sense of community found on indie sets that she believes just doesn't appear in more commercial films. ​​"I like working on movies where it feels like a family," she revealed in an interview with Time. "One thing I found very hard about acting is all the transients, and sometimes I feel like I just live my life in a circle of hellos and goodbyes, and that's not really my... I wouldn't pick that for myself. That's not really my nature. And so I liked making independent films because it's a very close-knit bunch of people and there's a lot of continuity within that world."
Indie movies Williams has shined in include (but are not limited to): "Blue Valentine," "Wonderstruck," "The Station Agent," and "Meek's Cutoff."
Michelle Williams reveals her most important role of all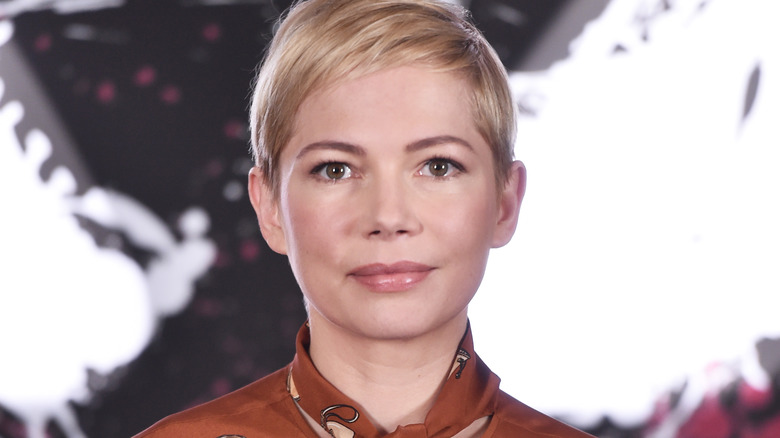 Alberto E. Rodriguez/Getty Images
Michelle Williams has offered so many sparkling performances throughout her decades in the spotlight. Yet, when she was asked in an interview with Time what her most important role of all time is, she didn't hesitate to come up with an answer: being a mother. According to the actor, being a parent has flipped her entire world upside down and has altered every single aspect of her waking life. "I feel reborn as a human being," she says of the transition from being childless to being a parent. She added, "there's not a part of my life that it hasn't touched."
The talented performer has an incredibly close bond with her brood, even refusing to do movies if it means being forced apart from her children. While getting ready to shoot "Blue Valentine" alongside Ryan Gosling in 2010, she initially backed out because she wanted to be with her daughter following the tragic death of Heath Ledger. Fortunately, though, they altered filming locations so Williams could still shoot the film while being near her kid.
Williams welcomed her third child into the world in November of 2022. Speaking on her adoration for motherhood, Williams told USA Today, "Being a mother is not only who I am in my relationship with my daughter, but it's a part of the kind of work that I wanna make and the relationship with the person that I want to be for her."
The star is a huge introvert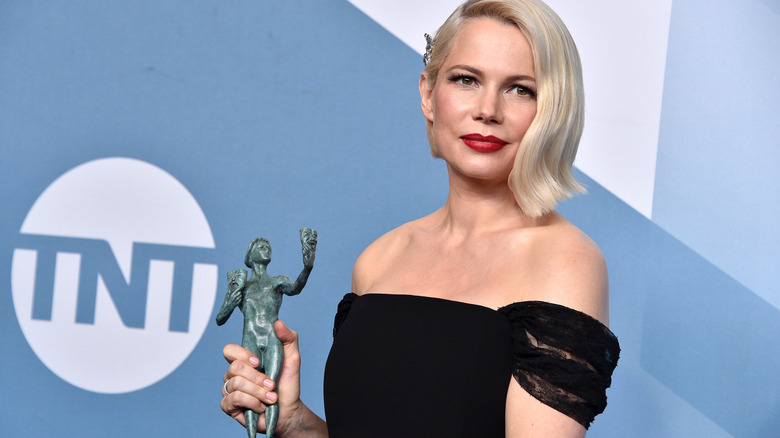 Gregg Deguire/Getty Images
While it may be hard to believe that such a daring performer like Michelle Williams could be an introvert, the brilliant actor is much more fond of keeping to herself than spilling all the details about her life story to the press. Yet, according to Williams, portraying the role of Marilyn Monroe in 2011 while shooting "My Week With Marilyn" had played a hand in altering her persona. 
Because the iconic Hollywood legend was known for being a daring, bold, ultra-confident bombshell, stepping into the role was almost liberating for the usually soft-spoken and reserved Williams. She said of her personality while speaking to Natalie Portman in a Variety "Actors on Actors" session, "I'm very much a shrink and hide kind of person," so when she got to portray Marilyn, it was quite an exciting transition. While speaking to the Daily Mail, she said of playing the character, "At a certain point, something else does take over. I don't quite feel myself these days."
Furthermore, her "Dawson's Creek" co-star Jensen Ackles says that he had to put in extra effort to get Williams to open up to him. "Michelle Williams wasn't overly welcoming," the actor revealed to Us Weekly. "She was more of an introvert. You had to earn her respect a little bit." Fortunately, Ackles was able to warm up to the starlet over time by getting into the same music as her. Following the initial awkward phase of their relationship, Ackles says that over time they ended up having "wonderful conversations."
She has lived with several famous actors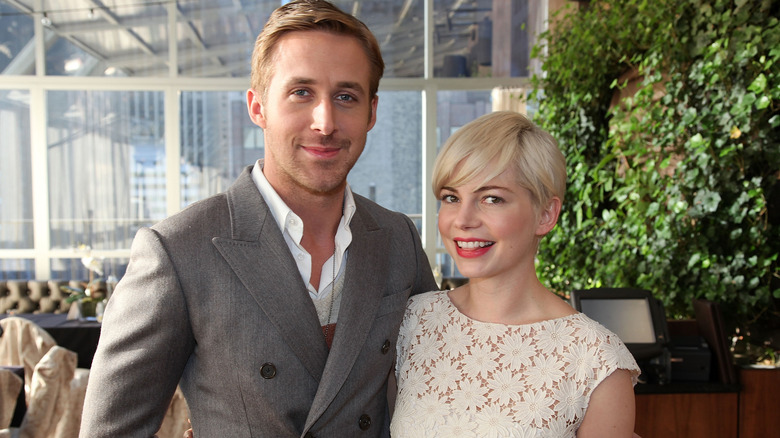 Donald Bowers/Getty Images
Over the years, Michelle Williams has lived with a handful of high-profile actors. She may be introverted, but that doesn't mean she isn't interested in forming close bonds with others whom she shares lifelong friendships with. Interestingly enough, the "Manchester By The Sea" star was roommates with fellow Oscar winner Jessica Chastain, who she "became like sisters" with while both acting in an Anton Chekhov play, according to an interview Chastain had with Marie Claire. 
But that's not the only time Williams has lived with a beloved actor. While preparing for her hit "Blue Valentine," where she stars alongside love interest Ryan Gosling, the two decided to take their dedication to the film a step further when they moved in together for a whole month. They even lived with the young actor who played their daughter in the film. Although Williams would leave the home to spend time with her real-life daughter, we admire her dedication to her role! The "La La Land" actor dished of the experience to NPR, "We all worked really hard to create this love story portion, when they're falling in love. We wanted it to feel genuine and real and true."