What Really Went Wrong Between Heath Ledger And Michelle Williams?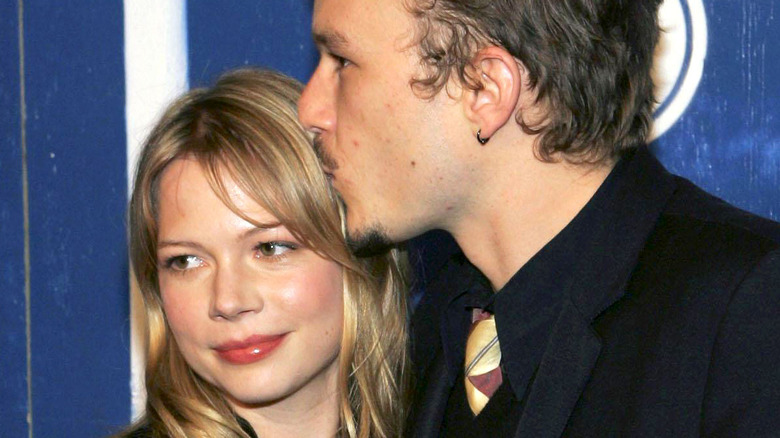 Everett Collection/Shutterstock
It's been more than a decade since Heath Ledger's abrupt death, but the world continues to mourn his loss, but likely none more so than his ex, actor Michelle Williams. The two met on the set of "Brokeback Mountain" in 2004, and according to the people around them at the time, it was love at first sight. "I remember being at rehearsal and seeing the two of them sort of, like, googly-eyed looking at each other," Jake Gyllenhaal said in an interview with Oprah Winfrey. "Then I left for two weeks and came back—and they were in love! So there were four trailers, and then there quickly became three trailers."
They were engaged within months after meeting, and in October 2005, they welcomed a daughter, Matilda. "Our initial meeting, the circumstances of how we first met, were cosmic or something. Yeah, a lot of things happened at once," Williams herself told GQ in 2012. "It's a bit like, we had a lot of things to do because we didn't have a lot of time, or something."
Unfortunately, their relationship didn't last long, and the two split in 2007. And a few months later, Ledger died due to an accidental drug overdose.
Heath Ledger's drug problem led to his split with Michelle Williams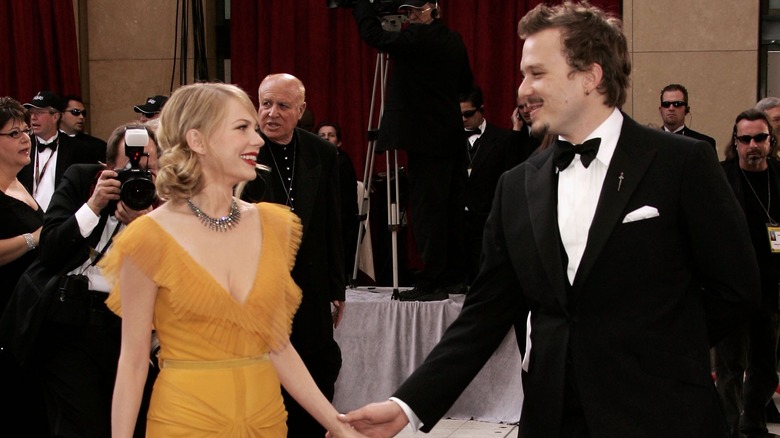 Vince Bucci/Getty Images
There was a time when Heath Ledger, Michelle Williams, and their daughter, Matilda, were the definition of a picture-perfect family. They fell into a life of domesticity, something Ledger had been incredibly happy with. "When Michelle is working, I'm the manny," he said of their setup at the time, per E! News. "And when I'm working, she's the nanny." He added that his family was "everything to me — the most important thing I do," underscoring that they gave him purpose. "Before, I felt like I was floating through life, like a ghost; I may not have even existed."
However, things turned sour as Ledger struggled with excessive drug use. As a mother, Williams did not want to expose Matilda to that. "Heath's drug use was something that affected them profoundly," a source close to the star told People. "Michelle didn't want their daughter around that. She was very clear that Heath loved his daughter and was a good father," but, "she couldn't always rely on him."
While Williams loved Ledger wholeheartedly, his party lifestyle was apparently a dealbreaker for her. "He had a lifestyle that really wasn't — at least in Michelle William's eyes — compatible with raising a child and continuing in that relationship," an insider told Access Hollywood. "Even though their relationship did not work out, she did love Heath — she loved him very much."
Michelle Williams and Heath Ledger would probably have gotten back together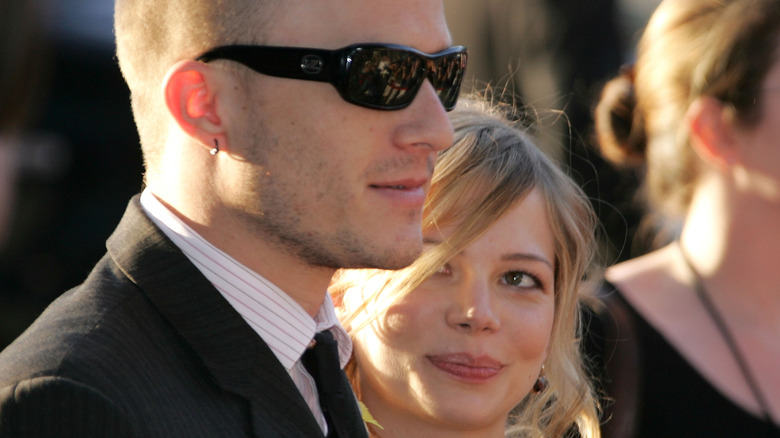 Kevin Winter/Getty Images
Busy Philipps, Michelle Williams' longtime BFF, believes that if Heath Ledger hadn't died, he would have likely reconciled with Williams at one point. In her memoir "This Will Only Hurt a Little," the "White Chicks" actor wrote that the former couple would have eventually found a way to get back in each other's arms.
"He and Michelle were in the process of separating at that point, and I felt sad for both of them but weirdly like something would be figured out and it wasn't the end of the story for them," she penned (via People). "They were so young and that baby was the light of both of their lives. They were just working all the time and it was complicated... S*** is always complicated. Especially when you're twenty-eight. And movie stars. With a baby."
And, while they never got the chance to reconcile, it's clear that Ledger would always have a special place in Williams' heart. In a 2018 interview with Vanity Fair, she admitted that she found it challenging to find love again and would always tell Matilda how she was treated by her late dad. "I never gave up on love," Williams noted. "I always say to Matilda, 'Your dad loved me before anybody thought I was talented, or pretty, or had nice clothes.'"
If you or anyone you know needs help with addiction issues, help is available. Visit the Substance Abuse and Mental Health Services Administration website or contact SAMHSA's National Helpline at 1-800-662-HELP (4357).