Inside Derick Dillard's Tense Relationship With Jim Bob Duggar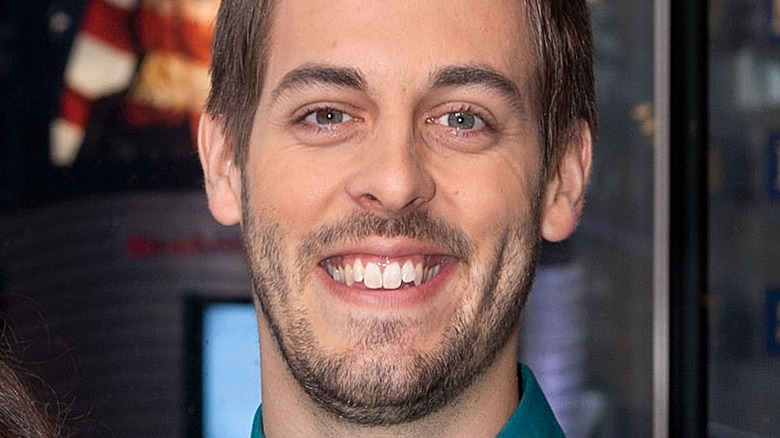 D Dipasupil/Getty Images
The following article includes allegations of sexual assault.
Following years in the headlines, members of the Duggar family are finally speaking out. Over the past few years, the Duggar family has faced scandal and changing relationship dynamics while in the public eye. And now, the former TLC stars have revealed how the family's struggles all arise from the patriarch, Jim Bob Duggar.
The family's reality TV show, "19 Kids and Counting" — which aired from 2008 to 2015 — became one of the most beloved on TLC. But despite the picture-perfect appearance of the Duggar family on TV, it was far from their reality. Reports began circulating that Michelle and Jim Bob's eldest son Josh Duggar molested young girls, including several of his sisters, per The Washington Post. While the family bypassed the speculation against Josh for years, their show was canceled due to those allegations in 2015. The spinoff series, "Counting On," ran from 2015 to 2020 before it too was canceled. By 2021, Josh was arrested and charged in relation to child pornography.
Many of the Duggar children chose to separate themselves from the family following the revelations regarding Josh. This included Jill Duggar and her husband, Derick Dillard. Now, the two have opened about why their relationships with Josh and Jim Bob led them to leave the Duggar family behind.
If you or anyone you know has been a victim of sexual assault, help is available. Visit the Rape, Abuse & Incest National Network website or contact RAINN's National Helpline at 1-800-656-HOPE (4673).
Jill and Derick Dillard accuse Jim Bob Duggar of manipulation and abuse
Following Josh Duggar's conviction on child pornography charges and sentencing to 12 years in prison, Jill and Derick Dillard have spoken out about their estranged relationship with the Duggar family — and how it stems from patriarch Jim Bob Duggar.
In a scathing Facebook post during Jim Bob's run for Arkansas State Senate, Derick accused Jim Bob of manipulating the family "for his own gain" and "at the expense of others." Derick wrote (via People): "When he says he cannot be bought, the truth is that he has a history of being a sellout to anything that he can personally profit from ... If he has lied and continues to lie to his best friends and his own family, will he lie to you?"
Jill and Derick were estranged from the Duggar family for years at that point — and it seems that Josh Duggar's conviction and Jim Bob's political run were the final straw. Months before Derick's comments, Jill had revealed to fans that she "distanced" herself from the Duggar family and hinted they were not on good terms. "We've had some disagreements, but we're working towards healing, definitely, and restoration," she explained in a YouTube video. Though now, it seems that following her husband's comments, reconciliation does not look to be in either family's future.
Jill and Derick Dillard's issues could be related to Josh Duggar's past
Jill and Derick Dillard's comments against Jim Bob Duggar might seem unexpected. But in recent years, the couple has grown more at odds with the Duggar family. Much of their dissolution has come from Jim Bob's lack of action in response to Josh Duggar's crimes. 
When Josh first revealed to his parents that he had molested young girls, Jim Bob and Michelle Duggar chose to sweep the allegations under the rug and work on the issue with Josh themselves, according to In Touch Weekly. The Duggars sent Josh to a counseling program and failed to report his actions to police until a year after the incident happened. Based on Jim Bob's pattern of secrecy regarding Josh, it seems Derick believes Jim Bob would act the same way in his political career — and Derick wasn't okay with it. 
In October 2020, Jill opened up about the complicated feelings of loving her former family. She explained that although she loves her parents, she has to put her new family first. "I never expected this to happen or for it to get to this point," Jill said, per People. "But I'm realizing I can't put a timeline on healing. I really just have to follow God's lead and take it one day at a time."
If you or anyone you know has been a victim of sexual assault, help is available. Visit the Rape, Abuse & Incest National Network website or contact RAINN's National Helpline at 1-800-656-HOPE (4673).