The Truth About Jill Duggar And Derick Dillard's Marriage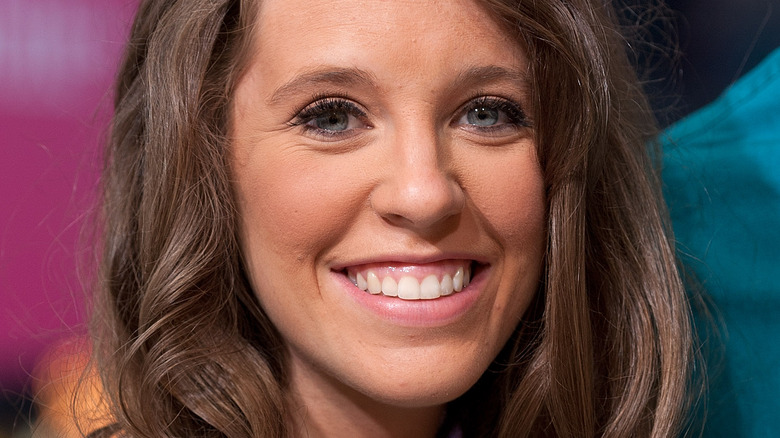 D Dipasupil/Getty Images
The following references sexual abuse.
The Duggar family has fallen from grace, due to the conviction of eldest son, Josh Duggar. As per The Sun, he was sentenced to over a dozen years in prison after being convicted of possession of child pornography. He and his wife, Anna Duggar, share seven children, and fans have had mixed reactions to her decision to stay with Josh in spite of his charges. Some feel that she should leave him and raise her children alone, while others, of the more conservative mindset, see her marital vows as indissoluble. Josh will serve out his sentence at the Federal Correctional Institution Seagoville in Dallas, Texas, which prohibits conjugal visits, as per a later publication by The Sun.
But Josh and Anna aren't the only married couple amongst the many Duggar children. Justin Duggar had fans worried when he proposed to now-wife Claire Duggar when he was only 17. Mind you, matriarch Michelle Duggar was only 17 when she married Jim Bob Duggar. John David and Abbie Duggar, less in the spotlight than the rest of the family, seem to be solid though they followed the family tradition of a quick engagement. Meanwhile, Jed Duggar and Katey Nakatsu got married with much less fanfare than many of their siblings. In fact, a huge population of their fan base didn't even know it was happening. Jeremiah Duggar married Hannah Wissmann in a sumptuous wedding packed with family, as we would expect of this crew. Meanwhile, there's Jill Duggar Dillard and Derick Dillard, who have a style that's veered away from Jill's conservative family.
Derick Dillard met Jim Bob Duggar first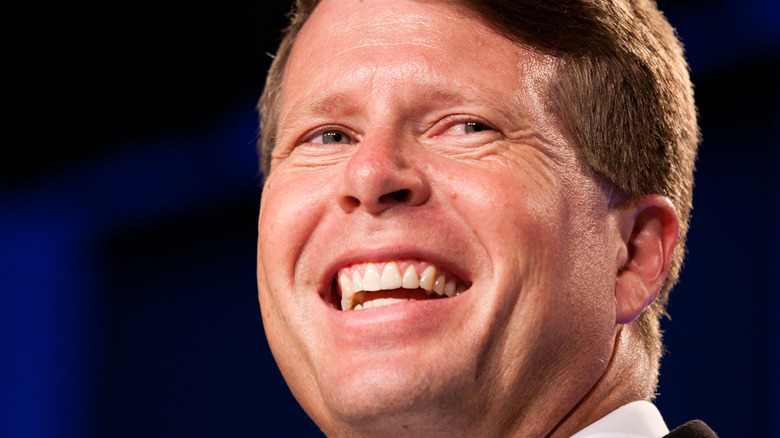 Brendan Hoffman/Getty Images
Jill Duggar Dillard met Derick Dillard through her dad, Jim Bob Duggar. Derick and Jim Bob connected over Derick's mission work. "I had gotten an email from Derick a few years ago and gave him my phone number so he could share the work he was doing in Nepal," Jim Bob told People. "I was impressed with him as I got to know him over the years. He sounded like an amazing young man. I felt like from the beginning, they had similar personalities and goals. I thought they would hit it off."
Thanks to this introduction, Jill and Derick began a courtship in 2013. They were stuck in a long-distance relationship, but they had access to technology that made staying in contact relatively easy. "We talked a lot and started texting and emailing," Jill told a later publication of People. "And we Skyped a lot. I got to know some of his friends and family. And then, we met in person months later. I was in love with someone I had never met in person." Hilariously, Jill actually met Derick's mother in person before meeting him IRL.
Anyone who's familiar with the Duggars' courtship rules knows that parents Jim Bob and Michelle Duggar are very much involved in the process, mostly to keep things above board and while this might prove too invasive for some, in this case, Jill was grateful that Jim Bob vetted Derick before she got serious with him.
Their traditional courtship
To kick off the courtship, Jill Duggar and dad Jim Bob Duggar flew to Nepal together to meet Derick Dillard. The initial meeting was actually chronicled on their since-dropped TLC show, "19 Kids and Counting."  Of the first meeting, the future Mrs. Dillard said in People. "I traveled over 36 hours to meet him and we had a film crew filming and jet lag so it is a different dynamic than most people have. But it was really special. We enjoyed the first several days getting to spend time together and getting to see things together."
Jim Bob's presence on the trip certainly set a precedent for their courtship rituals, namely that none of it would be done alone. With as huge a family as the Duggar crew, coming up with a date babysitter wasn't a problem. "We have a large pool of chaperones," Derick said in a later issue of People. "It has been such a huge blessing to get to see her a few times a week."
Jill and Derick's courtship followed the lines laid out in "Growing Up Duggar," a book written by Jill and three of her sisters. This meant that Jill and Derick weren't physically intimate while they were discerning marriage. "When we say true love waits, we mean that couples should not act like they're married when they're not or share physical intimacies that married couples share," the Duggar women wrote. They didn't even hold hands until they were engaged.
They got married in front of 1,000 people
Jill Duggar Dillard and Derick Dillard got married on June 21, 2014, in Arkansas, with her huge family present and supportive. Her family wasn't the only group that attended their wedding; there were over 1,000 guests present, according Us Weekly.
To celebrate their fifth wedding anniversary, the couple uploaded their wedding video on their website and some elements from the ceremony raised eyebrows. At one point, the pastor turned to Jill and said, "You have the responsibility ... to submit to Derick." The preacher went on, "It's an act of worship on your part. ... Your submission is expressed to Derick through your respect of him." After signing a covenant license, they shared their first kiss at the altar.
Derick proposed only two months before, in April of that year, with Derick following the tradition of asking her dad, Jim Bob Duggar, for permission. The couple had a very practical gift registry, directing guests to Walmart and Bed Bath & Beyond and even had grocery items on their wish list. Years later, a Reddit user found footage from their wedding reception showing Jill licking Derick's fingers after they fed the wedding cake to each other. The moment threw off many Reddit users, as they were not used to seeing the two show any PDA whatsoever. One Redditor wrote, "Even Derick looks completely taken aback lol." Certainly a surprising moment.
The couple is really into international ministry
Derick Dillard and Jill Duggar Dillard have a lot in common, especially when it comes to outward manifestations of their faith. The couple is deeply and publicly committed to international ministry, which should be unsurprising since the Duggar family first came across Derick while on a mission trip to Nepal. Not only that, but Jill and Derick plainly state on the front of their blog page that they're all about mission trips. "God has placed international missions on our hearts," the couple wrote. "We pray you'll be blessed as you hang out on our site and get to know us a little bit better!"
With a newborn baby in tow, son Israel David Dillard, Jill and Derick announced that they were going on a mission trip. "God has put a desire in our hearts to serve Him internationally for longer than the typical short-term mission trip," Derick wrote on their couple's blog (via People). "Earlier this year God brought about an opportunity much earlier than either of us was expecting." So in July 2015, the couple and their baby boarded a plane for a long-term mission trip.
But it's not all good wishes. In 2015, Radar reported some fans accused Jill and Derick of asking for donations to do missions only not to do actually do any mission-related work in the two months that they were away. To make matters even more awkward, their donation page offered refunds to those who had previously donated money to their cause.
How they keep their relationship fiery with three kids
Jill Duggar Dillard and Derick Dillard are proud parents to three boys: Israel, Samuel, and Frederick. Being a busy mom and dad, how do the two keep the spice in their lives? Worry not. The couple has actually shared with surprising candidness how they stay busy. On their YouTube channel in February 2021, the couple filmed a date in the car while driving with their boys. While eating a salad in the front seat, Jill and Derick began talking to their sons using the euphemism of "dates" for intimacy.
Derick asked his sons in the back of the car, "Do you know how you got born? We had a date and then you started growing inside of mommy's tummy." Then Jill said, "We had a bunch of dates." Okay, you two. Derick gave the grand finale with, "We did have four dates in one day I think... that one time." Jill then turned to the camera and whispered, "We have a good sex life." We had no idea. 
If we thought that was the end of their candidness, we were wrong. On their blog, Jill wrote suggestions on how to love one's husband. Her first tip? "Have sex often! You both need this time together regularly (3-4 times a week is a good start. lol)," Jill wrote. She also added that wearing perfume or scented lotion is a way to give her spouse the signal. 
The Dillards can get pretty personal on social media
While Jill Duggar Dillard and Derick Dillard are happy to share their sexual journey, fans have occasionally found some of these suggestions unsavory. For their fifth wedding anniversary, Jill shared several photos from their weekend getaway on Instagram. In addition to some cute couple selfies while taking in the sights of Branson, Missouri, they posted a black and white photo of a bedroom scene, including a candle, candies, and a Win It In A Minute Bedroom Edition, a series of games to get couples feeling playful and frisky. But that wasn't all. On the table, Jill and Derick had a copy of "The Little Black Book of Kama Sutra."
Their more conservative fanbase found the "Kama Sutra" an incongruous touch, so much so that Jill jumped back into her post to add the edit: "We are not recommending the Kama Sutra. We believe marriage is ordained by God and husbands and wives should filter everything they read and hear together through the lens of the Bible and not practice anything unbiblical."
Fans also jumped on Twitter to push back against some of Jill's other relationship tips, which included wearing makeup to bed. "Jill Duggar wants me to wear makeup to bed and a bunch of other weird stuff that will supposedly keep my marriage fresh," someone wrote. "Doesn't really mention all the things women should do to keep themselves happy, but whatev." Another fan wrote that her advice sounded too submissive. 
Why is Jill Duggar no longer a midwife?
Jill Duggar Dillard started to pursue midwifery thanks to the many childbirths happening all around her. In 2013, she wrote on a TLC blog (via Romper), "Although I had attended two of my siblings' births, being able to work as an active part of my friend's birth made me interested in learning more. I became friends with a doula/labor coach who worked in the area, and started going to home and hospital births with her... Over the course of the next several years, these midwives would call on me periodically for help at home births."
In 2015, with Derick Dillard at her side, Jill posted a photo when she received her certificate of professional midwifery on Instagram. Critics came out of the woodwork to take to the comment section and call her midwife certification into question. The long and short of it: some people didn't believe she was actually qualified to call herself a midwife. One person got really salty and wrote, "THIS S**T PROVES NOTHING. IT TAKES 8 YEARS TO BE A MIDWIFE. THE BIT** DONT EVEN HAVE A [HIGH SCHOOL DIPLOMA]." The individual was referring to the fact that the Duggars homeschool their children using a conservative education program. In a Q&A from 2020, Jill confirmed she was not working as a midwife, but was staying home with the kids while Derick was in law school.
They left the TLC series in 2017
Jill Duggar Dillard and Derick Dillard ended up leaving the family's TLC show, "Counting On." For the record, the show had originally been called "19 Kids and Counting," but TLC decided to rebrand the reality show after allegations aired that Josh Duggar molested his younger sisters, per Deadline. Jill and Derick stayed on with the family's show until 2017, when they had to exit the series in the wake of some comments Derick made online.
Derick spoke out against "I Am Jazz" star Jazz Jennings, a transgender reality TV personality. "A 'reality' show which follows a non-reality," Derick posted online, according to New York Daily News. "'Transgender' is a myth. Gender is not fluid; it's ordained by God." Derick didn't stop there, despite the backlash he received. Rather, he dug his heels in and wrote that he felt pity for Jazz and said that she had been manipulated as a kid. "It's sad that ppl would use a juvenile this way," Derick said.
As such, TLC announced that they were cutting Derick's storyline from "Counting On." "We want to let our viewers know that Derick Dillard has not participated in 'Counting On' for months and the network has no plans to feature him in the future," the network stated. "We want to reiterate that Derick's personal statements do not reflect the views of the network." So that was the end of the couple's time on TLC.
If you or anyone you know has been a victim of sexual assault, help is available. Visit the Rape, Abuse & Incest National Network website or contact RAINN's National Helpline at 1-800-656-HOPE (4673).
The Dillards distance themselves from the Duggars
Jill Duggar Dillard and Derick Dillard didn't just cut ties with TLC; they cut ties with Jill's family in a big way. In 2020, on one of their YouTube Q&A sessions, Jill and Derick answered a fan question about her relationship with her family. Jill admitted, "We're not on the best terms with some of my family. We've had some disagreements, but we're working towards healing, definitely, and restoration. But we're having to just take some time and heal, and [do] what's best for our family right now." Jill said they were putting it all in God's hands, and wanted to leave it at that. Fair enough. The couple also shared that they'd benefited from going to therapy.
Josh Duggar molested both Jill and their sister, Jessa Seewald. During Megyn Kelly's interview with the family for Fox News' "The Kelly File," Jill spoke about what happened when she was 12. "I was shocked," she said (via USA Today). "And I'm sad because this is my older brother who I love a lot. I was angry at first. I was like, 'How could that happen?'" In Touch reported at the time that Jim Bob and Michelle Duggar took one year to speak to a police officer and they only admitted to one case of Josh's molestation, omitting the fact that it had happened several times in their home.
If you or anyone you know has been a victim of sexual assault, help is available. Visit the Rape, Abuse & Incest National Network website or contact RAINN's National Helpline at 1-800-656-HOPE (4673).
They went through a miscarriage
In October 2021, Jill Duggar Dillard and Derick Dillard shared with their fans that they'd gone through a miscarriage. As Jill shared to Instagram, the loss happened shortly after she found out she was pregnant with her third child, whom they decided to name River Bliss.  
Jill and Derick wrote about the tragic experience on their blog in a post called "Happiness Turns to Heartbreak," and shared that their two sons, Israel and Samuel, were psyched to become big brothers. "They were full of questions and so excited as we talked about the pregnancy and how they would get to be involved along the way and after baby was born," they wrote. 
Though they did not yet know the sex of the baby, they picked the name River Bliss, as they felt the name was universal. Jill and Derick landed on the first name River because they liked that it represented peace, tranquility, and life. The couple added, "And we chose Bliss for a middle name because our baby is living in perfect bliss with the Lord and was such a gift that brought immense joy and happiness to us even though only with us here on earth for a short time."
What has Derick Dillard said about his brother-in-law?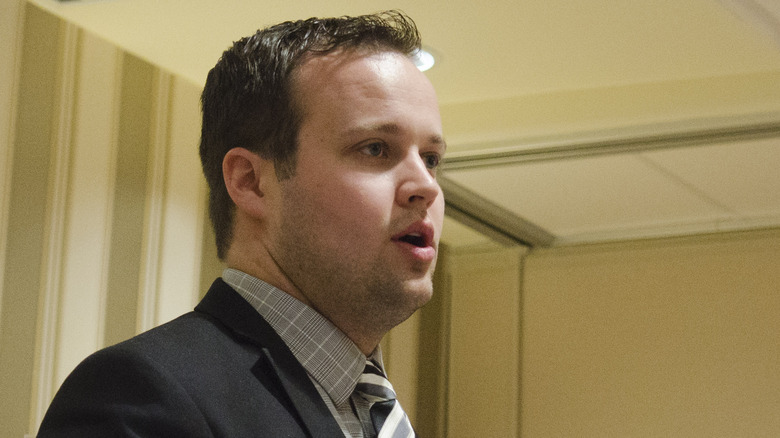 Kris Connor/Getty Images
Jill Duggar Dillard and Derick Dillard have spoken out about Josh Duggar's charges for receiving and possessing child pornography. When news broke in April 2021 that Josh had been arrested, Jill and Derick briefly said to People, "We just found out this information yesterday. It is very sad." At Josh's trial in December 2021, Derick was a frequent face in the courtroom, as noted in a later publication by People, and sat next to Josh's wife, Anna Duggar. On December 8, Derick tweeted, "Praying for justice this morning." Meanwhile, Amy Duggar King, cousin to the Duggar family, responded to Derick by saying, "Praying as well. Lord may justice be served ice cold."
Justice was served and Josh was sentenced to 12 years in prison, per The Sun, with wife Anna staying by his side. Meanwhile, one fan on Twitter responded to Derick's post with a photoshopped image of Jill and Derick walking away from an explosion, hand in hand. Clearly, Jill and Derick's decision to distance themselves from her family and to focus on their own lives after leaving "Counting On" was a great move according to many fans. Considering Jill's own history of abuse from Josh, many fans were pleased that Derick was supportive in her decision to take a step back from it all. "Yes! Prayers for justice. Sending love and prayers to Jill and Joy. And bless you Derick for standing up for Jill," another fan tweeted. Clearly, he's got his wife's back.
They relocated for Derick Dillard's career
Derick Dillard's Twitter profile gives us a pretty clear picture of his identity. He writes in his bio: "Jesus follower, Husband, Father, OSU Cowboy, Razorback, Missionary turned attorney." Years ago, Derick obtained a degree in accounting from Oklahoma State University, per PopCulture, and nearly ten years later, went back to get his law degree from the University of Arkansas School of Law. Good for him. 
With Derick's new career, he and his family had to pick up and move. On Instagram on April 19, 2022, Jill announced that they were selling their home in Arkansas to start a new life. "Derick was recently sworn in as an attorney in Little Rock, AR and then started the transfer process for his new public service job as a prosecutor in Oklahoma!" Jill wrote on their blog. She added that their new home was in Siloam Springs, which is technically still in Arkansas but right on the border of Oklahoma.
In May 2022, Jill shared photos of their new home on Instagram, complete with charming yet simple renovations. "We are so excited to show y'all a sneak peek of our new house!!" she added in the caption, giving a shout out to the local painting crew who helped make their home ready. To make matters even more exciting, Jill was pregnant with their third child during the move, a son named Frederick.
How they parent differently from the other Duggars
Jill Duggar Dillard and Derick Dillard have always moved to their own drum beat, especially when compared to the more conservative members of the Duggar family. While they were raised to wear long dresses and skirts, Jill has veered away to wear shorter dresses and even — wait for it — pants. While this might not seem significant to some, fans of the show realize what a tremendous milestone that is. Derick posted a cute photo of Jill in some lovely, black slacks and a fan commented,"I LOVE that you're wearing pants!!! Yay." See, they get it.
They also make their own decisions when it comes to parenting and have clearly decided to write their own rules. In a Q&A session on their YouTube channel, Jill and Derick shared how they decided to send their son, Israel, to public school, a marked departure from the homeschooling education that Jill received. Jill said that Derick went to public school. "We were both open to both options," Derick admitted."We felt like this was the right timing for us. We moved right next to a really good school in a good community so... it just made sense for us," Jill shared. "It's important for every family to take into consideration their own circumstances," Derick added, saying that they had to do what was best for their family. Derick and Jill also shared that they like to imbibe every now and again, so they're even enjoying a little celebratory alcohol. Cheers, indeed.