Is Whitney Cummings Still Close With Chris D'Elia?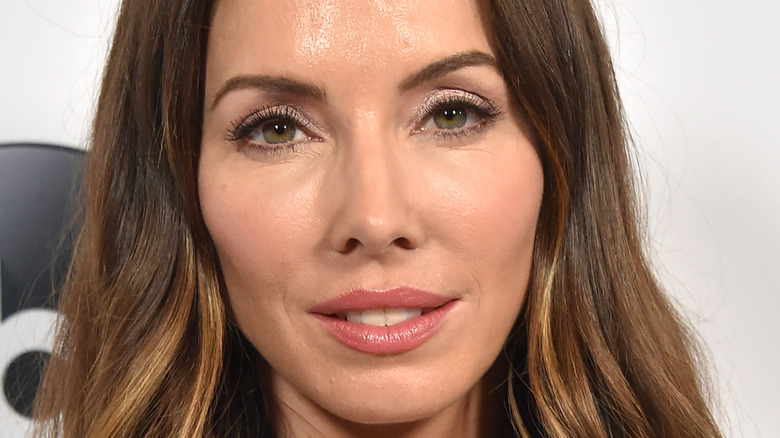 DFree/Shutterstock
The following article includes allegations of sexual assault and discussions of addiction.
Few onscreen actors have had as much chemistry as Chris D'Elia and Whitney Cummings, the standup comics who starred in Cummings' self-created 2011 series, "Whitney." Perhaps that chemistry is why they became such close friends — or the result of their friendship.
Cummings and D'Elia were friends long before they were sharing scenes in her sitcom. "Chris and I have been very close for six or seven years now," Cummings said in a 2012 Huffington Post interview. "We came up together." Though D'Elia played Cummings' boyfriend in "Whitney," a role she wrote for him, the two have never dated. D'Elia joked that the secret to their chemistry might be "the fact that [they] haven't had sex." Cummings thinks it's because they're so close, saying, "We feel very safe with each other when we're acting, and I think that's a big part of it."
But are they still close? Cummings, though sometimes crass, is often fiercely feminist in her standup. And D'Elia recently faced serious legal troubles, denying allegations of inappropriate sexual behavior and grooming of women younger, sometimes underage girls. In June 2020, a woman tweeted about "the irony" of D'Elia's appearance as a pedophile on Netflix's "You" and shared how D'Elia had messaged her soliciting photos. Other women came forward, eventually resulting in a sexual exploitation lawsuit against him in March 2021, per The Hollywood Reporter. However, Radar Online reports the woman dropped the suit a month later. Still, perhaps it's unsurprising that Cummings would speak out about her friend.
Whitney Cummings spoke out against Chris D'Elia during his legal troubles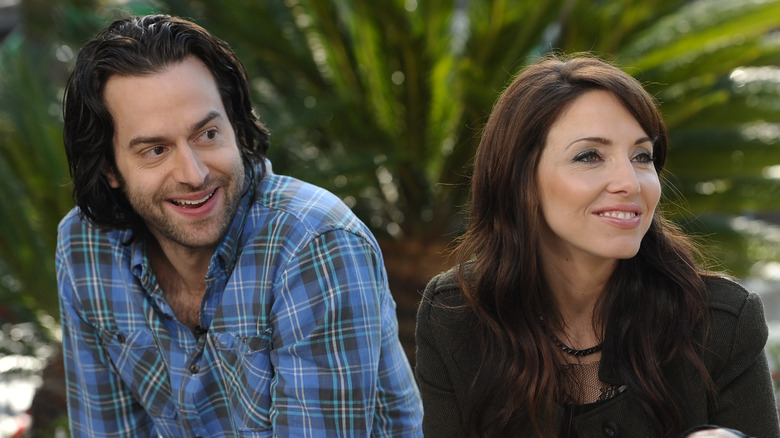 Noel Vasquez/Getty Images
As the allegations came out, Chris D'Elia made an official statement, per Deadline. "I know I have said and done things that might have offended people during my career, but I have never knowingly pursued any underage women at any point," he said, confirming his relationships have been "both legal and consensual." He also apologized, blaming his behavior on being "a dumb guy who ABSOLUTELY let myself get caught up in my lifestyle." He promised to do better.
Three days later, his friend Whitney Cummings spoke out on her social media — but not in his defense. "I'm devastated and enraged by what I've read and learned," she said on Twitter about the allegations against her friend. "This is a pattern of predatory behavior. This abuse of power is enabled by silence. Now that I'm aware, I won't be silent." She continued, pointing out that fans should be allowed to express their admiration without the risk of sexual harassment. "It's the adult's responsibility to be an adult."
Though there hasn't been much reported recently about their relationship, it appears the two are no longer that close. In a July 2022 episode of D'Elia's "Congratulations" podcast, the comedian explained how Cummings, a fierce pitbull activist, got upset after he tweeted negatively about the animals. D'Elia said he deleted the tweet because "[Cummings] used to be my friend," implying that the two are no longer.
Whitney Cummings and Chris D'Elia both have experience with addiction
Tinseltown/Shutterstock
Perhaps one reason Chris D'Elia and Whitney Cummings became friends, according to Distractify, is because D'Elia says he has never touched alcohol or drugs — something many find hard to believe. Cummings, who has discussed her experiences growing up in an alcoholic family as well as her own issues with eating disorders, perhaps finds D'Elia comforting because he doesn't imbibe. Not drinking also allows him to observe others, possibly leading to his highly entertaining depictions of drunkenness in his standup and on "Whitney." However, given D'Elia's recent allegations, some claim that his abstinence from drinking is more nefarious.
In any case, D'Elia has admitted that he does have an addiction — to sex. On an episode of his podcast, D'Elia repeated that all his "relationships have been consensual and legal," but he also spoke frankly about sex, admitting that it "controlled" him. "I had a problem, and I do have a problem," he said. Sounding contrite and looking on the verge of tears, he admitted, "That's not the guy I want to be, and I'm sorry for that." He also explained that he had been in recovery for some time.
On a later episode, he explained, "I have a year's sobriety, and I can't believe I'm saying that." He acknowledged the difficulty in discussing his addiction, as he felt insecure and vulnerable, but said he hopes the conversation can be helpful to others.
If you or anyone you know has been a victim of sexual assault, help is available. Visit the Rape, Abuse & Incest National Network website or contact RAINN's National Helpline at 1-800-656-HOPE (4673).