Hugh Jackman's Celebrity Man Crush Is Very Relatable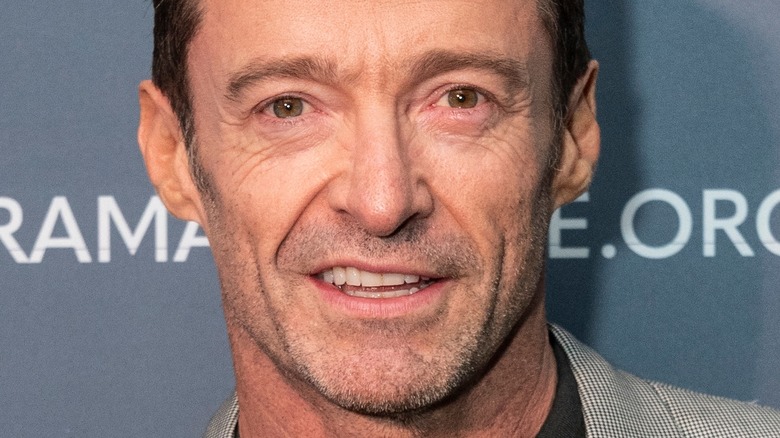 lev radin/Shutterstock
Hugh Jackman is unarguably one of the most attractive people in all of Hollywood. The actor was crowned People's Sexiest Man Alive of 2008, and has caught the eye of millions everywhere, including his female peers, who couldn't help but nurse a massive crush on him. Halle Berry, who has worked with Jackman in films "X-men" and "Swordfish," has even joked about hating the fact that he is already married. The "Catwoman" star said, as reported by Female First, "He's so good looking, and so nice. I hate that he's got a wife." Even Nicole Kidman, who is a co-star and longtime pal of Jackman (they're both Aussies) has openly gushed about her "Australia" leading man, telling People in a past interview, "Oh my God. Women's jaws drop when Hugh walks into a room." 
That being said, it's not only female stars who crush hard on the "Logan" actor. Canadian star Taylor Kitsch, who appeared in "Wolverine" starring Jackman, has also admitted to admiring his co-star, describing Jackman as an "enigma." "He's a hard guy not to like," Kitsch said during a press junket for "John Carter," via MTV. "If you don't, there's something wrong with you." He went on to credit Jackman as a huge influence in his life. "In or out of the business, if you meet a guy like that, you do what you can to stay around a guy like him," he added. But while everyone's crush on Jackman is totally understandable, Jackman himself has confessed to having his own man crush in the industry, too — and his is just as relatable.
Hugh Jackman might have a crush on George Clooney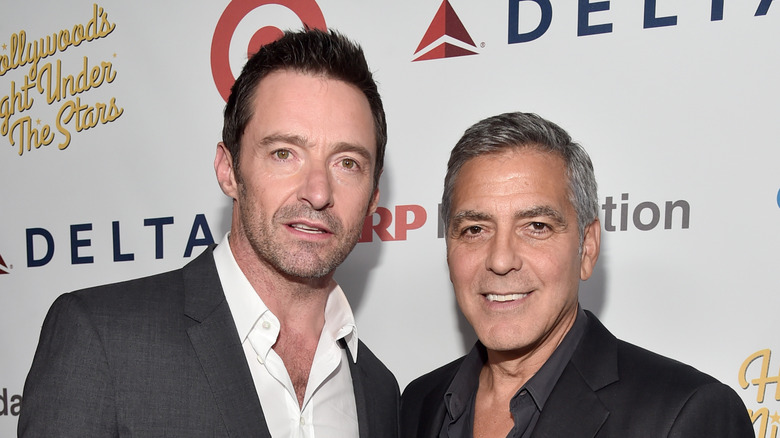 Alberto E. Rodriguez/Getty Images
What do Hugh Jackman, Brad Pitt, and Channing Tatum have in common? Aside from their handsome good looks and successful careers, they all have a man-crush on George Clooney. While promoting his film "Pan" in 2015, Jackman revealed his "crush" on Clooney by naming him as the celebrity he would date if he were a woman. "Ps sorry Amal," he tweeted referring to Clooney's wife. Explaining why he chose the "ER" star, Jackman said, "I reckon George Clooney because he's fine, and he's naughty, and he's kinda cheeky. And he just looks like fun."
Jackman is in fact great friends with Clooney, despite the actors never having worked on a film together. In 2008, after he was named Sexiest Man Alive, Jackman jokingly told People that two-time winner Clooney "hazed" him over the coveted title. "George Clooney rang me at two in the morning. I was half asleep and I said to him, 'Ah, George sweetie, good to hear from you,'" he recalled. "He goes, 'Shut up, Jackman! I know what you did! You started this big campaign that's been going on and [you] took the title away from me.' I thought that was unnecessary."
At the time, the "Logan" actor also poked fun at Clooney as he talked about his campaign strategy as the then-new Sexiest Man Alive. "The theme of my campaign was definitely change. Because George Clooney's won it for about 13 years in a row," he said, in jest. "I think now 14 years, and that's only because Brad decided not to run for many of them." 
Hugh Jackman also has a crush on this famous star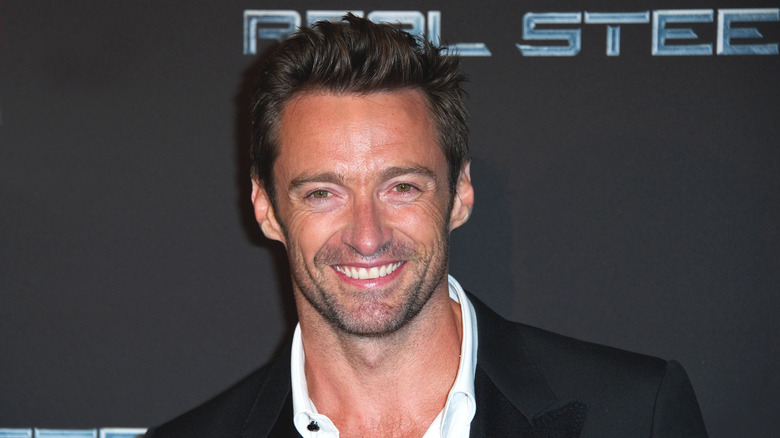 Frederic Legrand - COMEO/Shutterstock
When it comes to his ultimate celebrity crush, Hugh Jackman has been open about his admiration for the late screen and music icon Olivia Newton-John. According to Jackman, his crush on Newton-John started when he was really young, after seeing her on the 1978 movie musical "Grease" with John Travolta. Jackman confessed that he'd kept a poster of Newton-John on his wall which he would "literally kiss" every night, "maybe even practiced tongue-kissing on," per ET Online. Jackman, who's been married to Deborra-Lee Furness for over 26 years, also told Magic Radio in 2017, "If you find a photo of my wife at about the same age as Olivia Newton-John in like, 'Xanadu' or 'Grease'? Very similar. So careful what you wish for."
Unfortunately, the first time he met Newton-John was a disaster. "Okay, I was a little overwhelmed. I was doing a film with John Travolta, and he said, 'Hey, come in and have some lunch in my trailer.' So I went in, and as a surprise — because I'd told him about Olivia  — Olivia was there," said Jackman. He added that he made the the mistake of telling Newton-John about his poster collection. "I blurted out the story, and she was like, 'Right.' She totally was looking at me like, 'This is a stalker, this is my worst nightmare.' And I was like, 'Why did I say that?'" said Jackman. "So when you meet your celebrity crush, don't tell them."