Tori Spelling Returns To Work Following Alleged Breakdown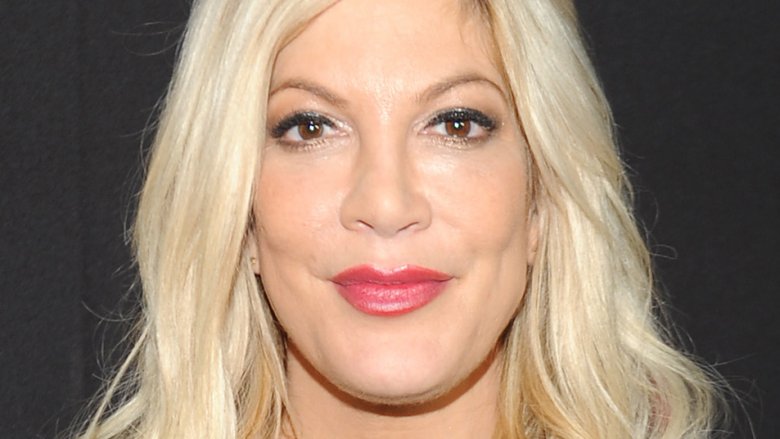 Getty Images
The Beverly Hills, 90210 star is headed back to work.
On Saturday, March 10, 2018, Tori Spelling, who reportedly suffered a breakdown earlier in the month, took to Instagram to announce that she and her former co-star, Jennie Garth, are collaborating on a new project together.
"#back2work great creative day yesterday with my #partnerincrime @jenniegarth," she captioned a selfie and snapshot of the CBS Studio Center, adding the hashtags, "#90210vibes #donnaandkellyforver #besties."
The 44-year-old actress didn't elaborate on what this project will entail. However, she later shared an inspirational message on her Instagram Story, posting a graphic which read, "I'm strong, I'm amazing, I'm beautiful, I'm wonderful, I'm worthy, I'm loved, I'm brave, I'm sweet, I'm happy, I'm me" (via Entertainment Tonight).
As Nicki Swift previously reported, Spelling's husband, Dean McDermott, called 911 on Wednesday, March 7, to have police check on his wife's well-being after she left their home with at least one of their five children. Cops later arrived at Spelling's doctor's office in Thousand Oaks, Calif. However, they left shortly afterwards since both she and her children were fine and no crime had actually been committed.
Earlier in the month, someone called the police regarding Spelling's alleged strange behavior, claiming that she was being aggressive and appeared to be suffering a nervous breakdown following a verbal dispute between two people at her home. 
As the Los Angeles Police Department PIO told Us Weekly at the time, "Officers are not on the scene any longer, but we did get confirmation that the investigation revealed that it was a domestic incident in which there was no crime, no arrest, and no transport."
However, the incident was reportedly a "huge wake-up call" for Spelling to focus on her health, a source told Entertainment Tonight. The night before, she had called the cops herself because she was afraid someone was breaking into her house. However, it ended up just being McDermott.
According to a People source, Spelling has been "in a tough place" recently. "The last year has been really tough on Tori," the insider said. "She has a ton of pressure and stress, with the kids, work and her marriage. She internalizes a lot of her anxiety and she knows it's not healthy for her. Of course she's going to get to a breaking point eventually."