The One Word Meghan Markle Wouldn't Use To Describe Her Relationship With Prince Harry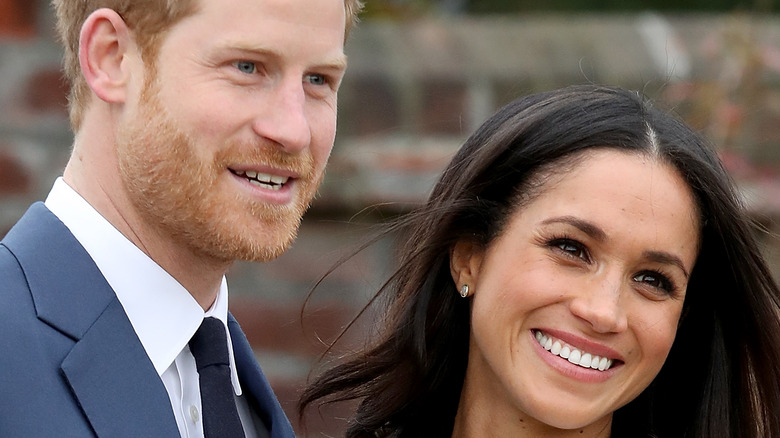 Chris Jackson/Getty Images
Back inNovember 2017, when the Duke and Duchess of Sussex, Prince Harry and Meghan Markle, announced their engagement, it might have seemed to some to have happened rather quickly. They announced their nuptials with a very joyous video where they stood in the rain and beamed at each other. But they had only made their first public appearance together a few months earlier in September, when they showed up together at the Invictus Games in Toronto, where Markle was living and filming her TV show, per The Toronto Star. Despite the short amount of time between the two, according to the future Duchess of Sussex, they had actually dated for way longer than anybody in the public actually knew. 
"We were very quietly dating for about six months before it became news," she told Vanity Fair that year. All in all, they were dating for just over a year and a half before they decided to tie the knot, per BBC, and as the former "Deal or No Deal" star told Vanity Fair, she believes their romance was "special" because it was "just ours. Personally, I love a great love story."
But there is one word she won't use to describe their great love story.
Don't call Harry and Meghan's relationship a whirlwind, thank you very much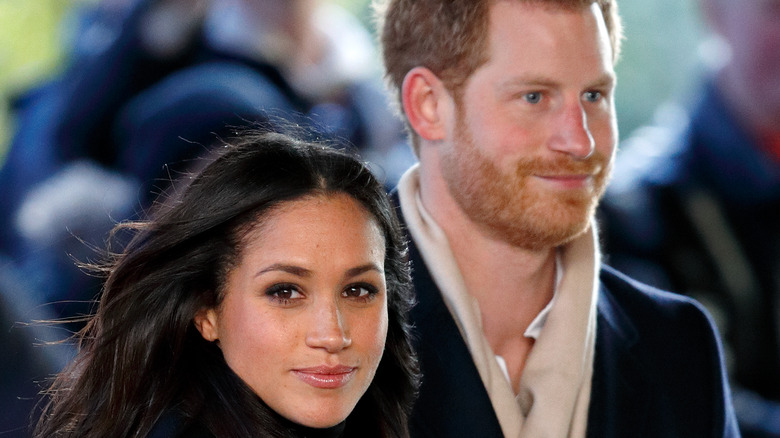 Max Mumby/indigo/Getty Images
After  Clarence House announced the engagement of former British army captain Prince Harry and American actor Meghan Markle, the couple shared their thoughts on their public persona. During their firsts sit-down interview with the BBC upon announcing their engagement, Markle made it clear why that word "whirlwind" doesn't their dynamic or trajectory. "I don't think that I would call it a whirlwind in terms of our relationship [...] We had a good five, six months almost with just privacy, which was amazing. But no, I think we were able to really have so much time just to connect and we never went longer than two weeks without seeing each other." 
The couple went on to explain that with their busy schedules, they made each other a priority quickly, and it was that rapidity that served as a good omen. Later in the same interview, Prince Harry gushed, "The fact that I fell in love with Meghan so incredibly quickly was a sort of confirmation to me that everything, all the stars were aligned. Everything was just perfect. It was this beautiful woman just sort of that — she tripped and fell into my life; I fell into her life."
Now the couple have been married for four years and have two children, Archie and Lilibet.
Their bond only grew through some tough times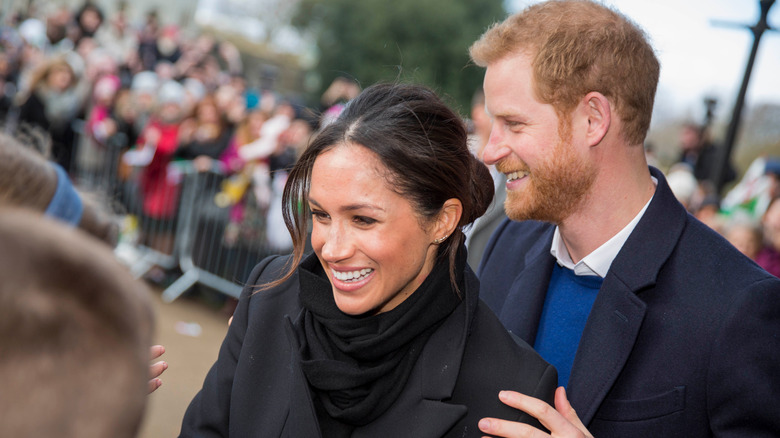 ComposedPix/Shutterstock
The Duke and Duchess of Sussex have a new Netflix docuseries airing on December 8, titled "Harry & Meghan," according to Hello!, and if the trailer is anything to go by, they have a lot of things to say about their time in the royal family, and also about their reasons for officially stepping back as senior members of the royal family. 
The trailer suggests that Meghan Markle was the subject of racism, in addition to the bombshells the couple already dropped in their now-famous interview with Oprah Winfrey in 2021, where the couple revealed that an unnamed member of the royal family questioned what skin color their children might have. 
Despite the discrimination, and the mental health struggles they say have come with it, per CNN, that hasn't stopped the power couple from pushing forward, living their life on their terms, and pursuing their passions. One of those passions has been producing and hosting their own podcast called "Archetypes," where they discuss everything from the "angry Black woman" trope to other hot topics. The podcast is so powerful that it was named Pop Podcast of 2022 at the People's Choice Awards on December 6, per The Independent.