What Really Happened Between Jennifer Aniston And Paul Rudd?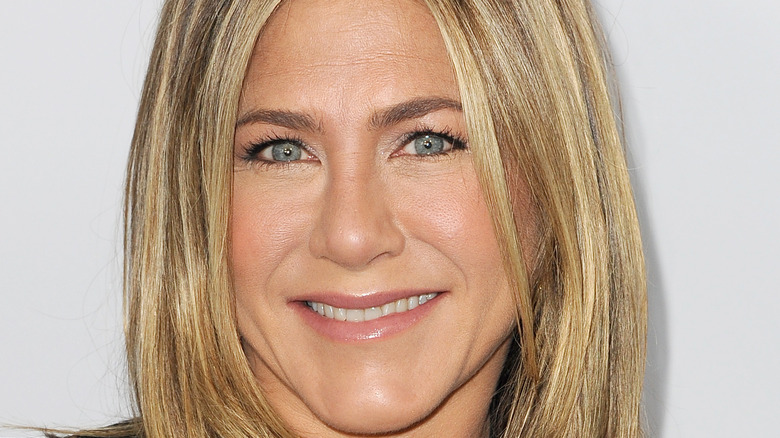 Tinseltown/Shutterstock
If one thing holds true, it's that Jennifer Aniston's fans know every detail about her love life. People are enamored with Aniston's happiness and her journey to find everlasting love, which largely stems from their obsession with the hit television show "Friends." According to Fandom, the situational comedy "became the 'most popular sitcom of its time" and had a 10-year run. Many adored Aniston in the role of Rachel Greene as the character showcased how relatable the down-to-earth actor truly is. A major storyline that continued throughout the show was Rachel's journey to find love, which somewhat lent a hand in Aniston's loyal fanbase becoming heavily invested in her love life IRL.
"I think there was something about unrequited love and really investing in those (relationships)," the California native shared with Today. "You were investing in something that was very relatable: the one that you never could have or the one you wanted to be with but they couldn't quite get it together." As fame grew for the "Cake" actor, so did the interest in her romantic relationships. From Brad Pitt to Justin Theroux, Aniston dated some of the hottest men in the industry, but what exactly is she looking for in a partner? 
"What she looks for above everything these days is kindness, humor, and good looks, of course, but more than anything, she's after chemistry," an insider revealed to Us Weekly in August 2021. Bearing that in mind, we can totally see how Paul Rudd once checked all these boxes for Aniston.
Jennifer Aniston and Paul Rudd dated briefly
Michael Ochs Archives/Getty Images
Jennifer Aniston and Paul Rudd are two Hollywood favorites who had chemistry on and off the screen. The pair initially met in 1998 while starring in the rom-com "The Object of My Affection," a film surrounding two friends who "develop romantic feelings" for one another, per IMDb. Their chemistry was undeniable, which had many people questioning if the pair ever dated in real life. According to CheatSheet, their connection was reportedly too strong to ignore, and they decided to enter into a relationship shortly after meeting.
As Page Six outlined, the "Dumplin'" actor admitted that the pair were "together when we were, like, 12." All jokes aside, a relationship between the beloved stars was not meant to be, as their chemistry was better left on-screen. In an interview with GQ, the two joked about the fact that they've kissed "for decades." Despite Aniston and "Ant-Man" not having a romantic relationship, the two continued to shine together on screen as they later re-connected while filming Season 9 of "Friends." 
Rudd joined the cast for two seasons as the love interest of Lisa Kudrow's character Phoebe. In June 2020, Rudd shared with Insider that it was "very interesting" to be part of the show due to its "profound impact on pop culture." While it's not a romance for the books, it's clear that Rudd and Aniston still adore each other in a platonic manner and enjoy working together.
Jennifer Aniston and Paul Rudd are closer than ever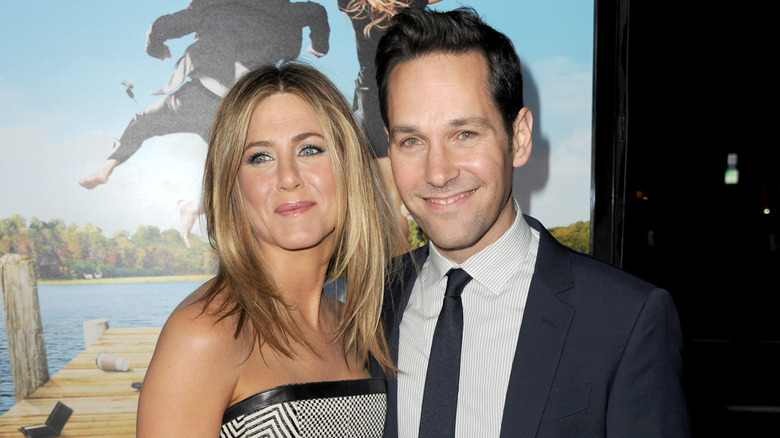 Kevin Winter/Getty Images
Jennifer Aniston and Paul Rudd's romantic relationship may have dwindled quickly, but their friendship is pure goals! The pair continuously support one another in their professional endeavors as well as their personal lives. Rudd was People Magazine's "Sexiest Man Alive" in 2021, a title that fans of the beloved "Clueless" star thought was well deserved. Aniston was also ecstatic to hear the news of her longtime friend taking such a reputable title. In screenshots obtained by Entertainment Weekly in November 2021, the 53-year-old beauty took to her Instagram stories to share her support and love for Rudd, in addition to the fact that the Marvel star "does not age".
"This makes me so happy," she exclaimed. "We've ALWAYS known this, but Paul Rudd is officially people's Sexiest Man Alive!" In the clip, the "Morning Show" star also shared a cute video from Rudd's photo shoot and a snap of the two of them cuddling in their romantic comedy. Rudd, of course, took a more humble approach to the news. In a chat with People for the famed title in November 2021, the star shared that he didn't have "false humility," but "there are so many people that should get this before me."