Solange Knowles' Health May Have Had Something To Do With Her Divorce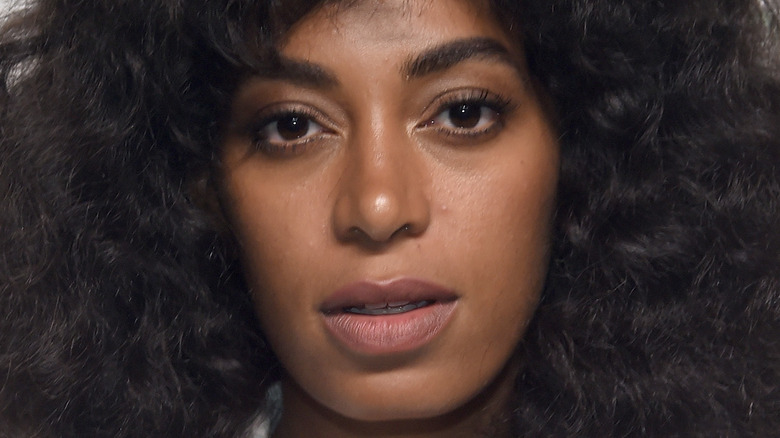 Jamie Mccarthy/Getty Images
Solange Knowles has been quite candid about her health struggles in recent years. In 2017, she revealed that she was diagnosed with an autonomic disorder or dysautonomia, which affects a part of the nervous system that controls her heartbeat, digestion, and other body functions. "The past five months I have been quietly treating, and working through an autonomic disorder," she said, as reported by Us. "[It's] been a journey that hasn't been easy on me. Sometimes I feel cool, and other times not so cool at all." Knowles didn't elaborate on her diagnosis further, but said that it was "complicated." "I'm still learning so much myself," she then said of her condition.
In 2021, the "Almeda" songstress shared a bit more about her health journey as she reflected on making her 2019 album "When I Get Home" amidst her health battle. "I was quite literally fighting for my life," she wrote on Instagram, adding that she was "in and out" of the hospital with "depleting health and broken spirits." At the time, Knowles was not only dealing with a major health crisis, but also with the collapse of her marriage to her second husband, Alan Ferguson. She announced their separation in November 2019, after being married for almost five years, according to Billboard.
And while she didn't go into great details about their split, it seems that the singer's health struggles may have played a part in their decision to call it quits.
Solange Knowles said she went through 'a physical transition' during her divorce
Josh Brasted/Getty Images
Solange Knowles announced her split from her husband Alan Ferguson in a lengthy statement on social media on November 1, 2019. "11 years ago i met a phenomenal man who changed every existence of my life. early this year we separated and parted ways," she said in part, via Billboard. Knowles married Ferguson — a music video director and U.S. Army veteran — in a ceremony in New Orleans on November 16, 2014. The pair started dating in 2008 after meeting through Janelle Monae and were reported to be engaged in mid-2014. As fans may recall, Knowles was previously married to her high school sweetheart Daniel Smith, who is also the father of her 18-year-old son Julez. They divorced in 2007 after three years of marriage, per ET Online.
While she'd kept things rather vague, Knowles mentioned going through a "physical and spiritual transition" in the years leading to her divorce from Ferguson — hinting that her health struggles may have played a role in her decision to end her second marriage. "My body left me with no choice but to listen and be still within that stillness. I begin my journey in confronting my worst enemy, fear," she mused. Stressing that she "ain't perfect," Knowles said, "But im leaning into the fear of the unknown and all the glory and power i know exist within god and the universes grace. may all of your transitions no matter how big or small, be kind to you and filled with incredible love and light!"
Solange Knowles on how her health battle changed her life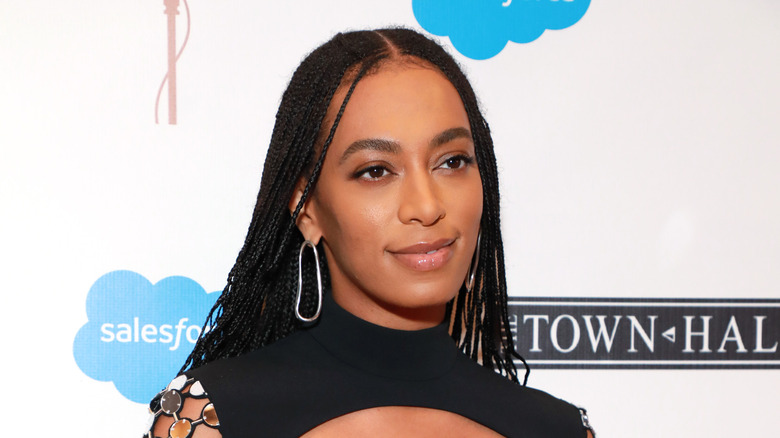 Jason Mendez/Getty Images
Solange Knowles dove deeper into her health journey and how deeply it has impacted her in an interview with i-D magazine in 2019. While promoting her studio album "When I Get Home," the Texas-born singer shared that her autonomic disorder diagnosis led to a personal re-discovery.
"Going through a transition where things were happening to my body that were out of my control, I got to the place where there was no fear surrounding my body, and it belongs to me in a whole new way," she explained. "It's been a beautiful love affair that took me time. I've always been connected to my sexuality and sensuality, but so much of that was re-grounded during this time." Knowles said she got to experience "freedom," adding, "[It] was amazing. I learned you can create those spaces; you don't need anyone else to have your moment."
These days, it seems that the "Cranes in the Sky" singer is doing better than ever both in terms of her health journey and love life. Since her split from Alan Ferguson, Knowles has moved on with jazz composer and Standing on the Corner co-founder Gio Escobar, ET Online reports. A source told the outlet that the pair has been "dating for a while" and "are very happy together," noting that they "make for a very sweet couple." Knowles has seemingly confirmed her new romance by sharing a snap of her and Escobar on her Instagram Stories in November 2020.