Cowboys Star Micah Parsons Ignites Twitter Over His Reaction To Brittney Griner's Prison Release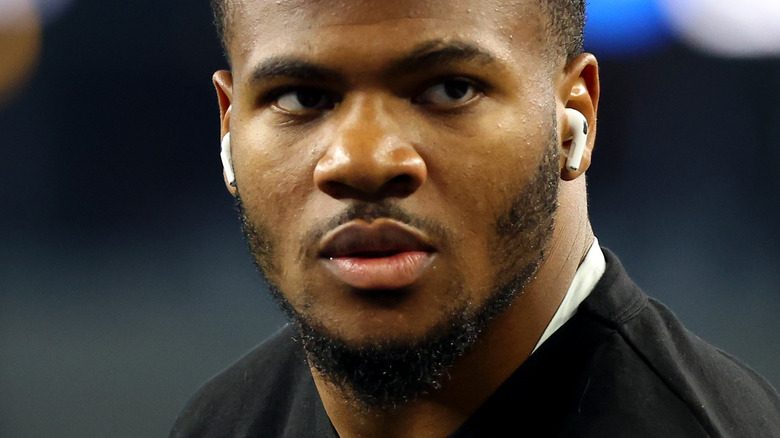 Richard Rodriguez/Getty Images
At last! Brittney Griner, the WNBA star sentenced to nine years in a Russian penal colony, has been freed in a prisoner swap and is on her way home. This should be nothing but good news, right? Well some, notably NFL Cowboys' star Micah Parsons, wanted to know why the Biden administration wasn't also able to secure the release of Paul Whelan, another American still being held by the Russian government. 
Whelan, who is a former marine, has been in prison in Russia for nearly four years but was not part of the prisoner exchange that freed Griner. His family told NBC that they had been warned ahead of time that Griner would be released, and stated that her case had nothing to do with Whelan's. "It is so important to me that it is clear that we do not begrudge Ms. Griner her freedom," brother David Whelan said. "As I have often remarked, Brittney's and Paul's cases were never really intertwined. It has always been a strong possibility that one might be freed without the other." 
This was apparently not immediately clear to Parsons, who wrote in his initial tweet, "Wait nah!! We left a marine?!! Hell nah," setting off an immediate firestorm of online backlash. 
Twitter dubbed him 'MAGA Parsons'
Twitter's response to Micah Parson's tweet about Brittney Griner was as comical as it was swift, even earning the linebacker new nicknames. "That Micah Parsons tweet was insane but the jokes have been hilarious. They called that man Pass Rush Limbaugh and Maga Parsons and I'm dying laughing," reads one viral tweet. Another Twitter user agreed, writing, "MAGA Parsons is funny, but Pass Rush Limbaugh is hilarious." Yet another person enjoying the nonstop hilarity tweeted, "I don't care what y'all say ... Micah Parsons now has the best nicknames in all of sport. MAGA Parsons is okay. NRA Lewis is good. Tackle Carlson is great. But fam ... Pass Rush Limbaugh is ELITE." 
While one corner of the internet was ROFL, others had more serious critique, including sports journalist Jemele Hill who tweeted, "The tiniest bit of reading really could have helped you not tweet something so uninformed," with a screenshot of the Whelan family's statement.
Having apparently seen the "MAGA Parsons" jokes, the football star tweeted, "My last tweet was no shot at Brittney Griner," and clarified he was the "furthest thing from a Trump supporter." Soon after that, he tweeted a full-blown apology. "Just spoke to some people that I respect and trust. I should have been more educated on the topic and not tweeted out of emotion for my family and other who have served. For that I apologize." Live and learn. Or tweet and learn, in this case.