The Tragic Death Of My Big Fat Fabulous Life Star Babs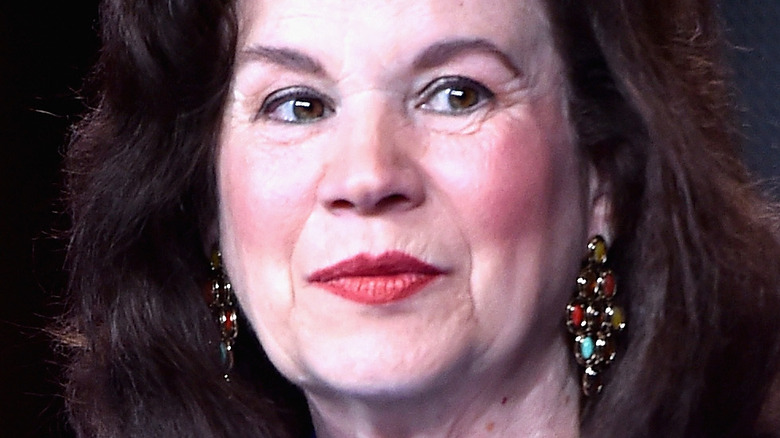 Alberto E. Rodriguez/Getty Images
Barbara "Babs" Thore was known as the sweet and fun-loving mother on the TLC reality show "My Big Fat Fabulous Life." The series followed her daughter, Whitney Thore, and her journey to loving and embracing her body as she navigates life, per TLC. From the very moment the show aired in 2015, Barbara has been at her daughter's side supporting her in everything she does.
In seasons past, fans have witnessed Barbara struggle with various health issues, including a stroke in 2017, per Entertainment Tonight. The reality star was able to recover and get back to the mom everyone knows and loves. Unfortunately, in 2022, things took a turn in Barbara's condition after the 72-year-old suffered both a stroke and a COVID-19 diagnosis. The difficulty it took on the family was documented in season ten of "My Big Fat Fabulous Life."
The season finale aired in October, and sadly two months later, Babs passed away. Whitney shared the news on her Instagram. According to the post, Barbara died on December 7th with her loving family by her side. Whitney shared, "My mother is our family's greatest gift. We could never love, revere, or value another person more."
Whitney thanks fans for loving Babs
Barbara "Babs" Thore died at the age of 76, per TMZ. Her daughter, Whitney Thore, posted the news on Instagram explaining how her mother passed away. She said, "My mom had cerebral amyloid angiopathy, which is an untreatable progressive condition caused by proteins in the blood vessels of the brain that can cause dementia, seizures, or like in my mom's case, brain bleeding (hemorrhagic strokes)."
There's no doubt while watching "My Big Fat Fabulous Life" that Babs was immensely loved by her family. The reality star's admiration went beyond just family as she brought joy to many fans' lives, which Whitney acknowledged in her post. She said, "If you're reading this, you're familiar with her magic: her southern charm, her hilarious sense of humor, her well-timed witty remarks, her beauty, and her ability to make everyone around her feel comfortable and cared for." Whitney continued to share how her mother's love went beyond from what fans saw on television and expressed how thankful she is to viewers "for loving" her mother.
The reality star also revealed in the post that this past year, although difficult, was "the best of our lives." Opening up that Barbara and the entire family experienced a lot of joyous moments in the last year. Despite her passing, Whitney hopes fans will continue to honor and cherish the memories they experienced with her mother. Whitney ended the post with a heartfelt and resounding message that read, "I love you, Mommy."