Did Meghan Markle Inherit Any Of Princess Diana's Jewelry?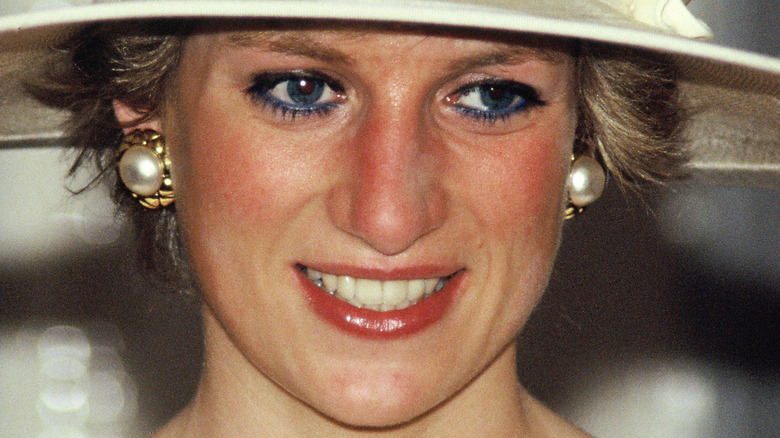 Georges De Keerle/Getty Images
Prince Harry and Meghan Markle left the royal family behind thanks to the money Harry inherited from Princess Diana, he revealed in their March 2021 interview with Oprah Winfrey. "My family literally cut me off financially ... I've got what my mum left me, and without that, we would not have been able to do this," he said (via The New York Times). Four years before Lady Di tragically died in Paris on August 31, 1997, she signed the last version of her will. Unsurprisingly, she left the bulk of her estate to her sons, Harry and Prince William, CNN reported in 1998.
Subtracting taxes, Diana's sons inherited a combined $21.3 million, which was to be split equally between the two, the will noted. That puts the amount left for Harry at just over $10 million, according to Forbes. Harry believes Diana had a feeling he might depend on the inheritance down the line. "It's like she saw it coming, and she's been with us through this whole process," he told Winfrey (via The Telegraph).
But money isn't all Diana left for her heirs. In a separate document accompanying the will, Diana laid out what she wanted done with her personal belongings, according to Trust and Will. As it turned out, Diana wanted Harry and William to inherit her jewels so they could gift them to their wives. Markle may not have gotten the chance to meet her mother-in-law, but they have a connection through some of Diana's jewelry.
Meghan Markle has several of Diana's jewelry pieces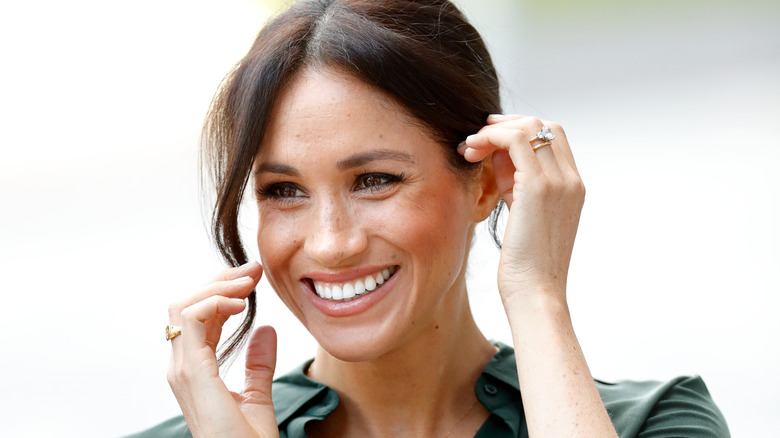 Max Mumby/indigo/Getty Images
Princess Diana's wish that her future daughters-in-law inherit her jewelry via her sons did materialize. Kate Middleton and Meghan Markle both possess several of Lady Di's jewels, which they have worn in public over the years. One of the most emotionally-charged pieces the Duchess of Sussex owns is her engagement ring, seen in the picture above. 
The ring itself didn't belong to Diana, seeing that Prince Harry designed it himself, Brides reported. But Harry picked out two smaller diamonds that belonged to his mother's collection to feature on either side of the center stone, a three-carat diamond sourced from Botswana, the destination of the couple's first vacation together, according to People. While it's hard to estimate the value of the piece, many put it at around $200,000, Harper's Bazaar noted. Meghan additionally owns the aquamarine ring she sported on her wedding reception, which contrasted perfectly with the white Stella McCartney gown, according to Harper's Bazaar.
Markle also inherited non-wedding-related pieces from Diana. Among them are her diamond tennis bracelet, a Cartier wristwatch, butterfly earrings Markle wore on her first royal tour in 2018, and a cuff bracelet featuring blue gemstones, British Vogue reported. In total, Markle owns an estimated £125,000 (a little more than $150,000) from Diana's collection, according to the Express. Although that value's far from meager, it pales in comparison to the nearly $500,000 Middleton inherited. The Princess of Wales also owns a sentimental piece that could've been Markle's.
Prince Harry previously owned Kate Middleton's engagement ring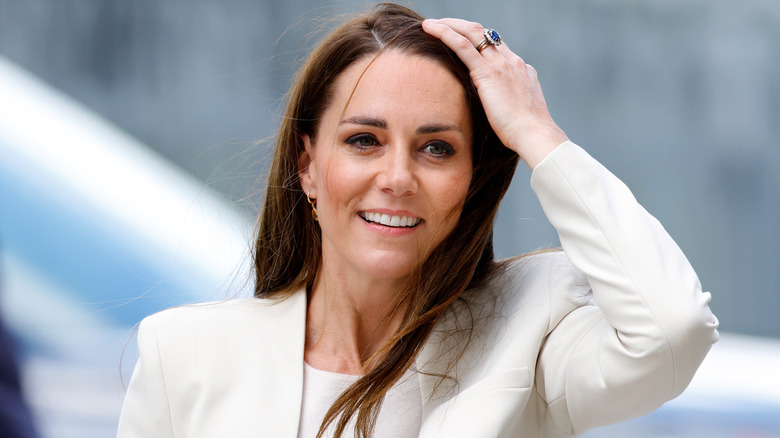 Max Mumby/indigo/Getty Images
Following Princess Diana's death, Prince Harry and Prince William inherited her jewelry collection to divide how they saw fit, according to The Sun. The youngest brother selected his mother's famous sapphire engagement ring. Yes, the one Kate Middleton has been rocking since their October 2010 engagement, when the prince proposed in Kenya, BBC reported. How did the piece that belonged to Harry end up with Middleton?
Well, Harry believed his mother's ring should one day return to the British throne, according to Vogue. "Harry said to William: 'Wouldn't it be fitting if she had mummy's ring?'" the princess' former butler Paul Burrell said in the Amazon Prime documentary "The Diana Story" (via The Sun). William agreed, so he offered to swap their mom's beloved Cartier watch for the engagement ring, which explains how Markle ended up with the meaningful piece, Vogue noted.
It is unclear how Markle feels about Middleton inheriting Diana's ring, but we know she added her twist to her own — something she probably would have been unable to do with Diana's. When she was pregnant with Archie, Markle reportedly used the opportunity of needing to have her ring resized to redesign the band, swapping the former thick yellow gold for a slimmer diamond pave version, Vogue noted. "The heavier, plain band is a more traditional style, whereas a more delicate pavé band reflects her modern, fashion-forward aesthetic," Fenton & Co.'s Laura Lambert said.