Why Ellen DeGeneres And Portia De Rossi's Zodiac Signs Don't Match
Tinseltown/Shutterstock
Ellen DeGeneres is a longtime comedian and actor, who began her career doing stand-up, per Us Weekly. DeGeneres made it big when she appeared on "The Tonight Show Starring Johnny Carson" in 1986 and made the audience laugh with her stand-up routine. After her set, the host told her she had an "open invitation" to come back anytime.
DeGeneres' career took off when she landed her sitcom, "Ellen," in 1994. Three years later, DeGeneres came out as gay, and her character did as well on the show, amid much controversy. According to Mental Floss, ABC and DeGeneres received a lot of backlash from the conservative public, but the network went through with airing the episode where her character reveals she's gay.
That same year, DeGeneres and actor Anne Heche made headlines when they showed up at a red carpet event together, per Distractify. After three years together, the couple broke up. DeGeneres moved on with another actor, Portia de Rossi, whom she had met in 2000, per Insider. But it wasn't until 2005 that DeGeneres and de Rossi went public with their relationship. The two went to get married in 2008, and are still together, despite the odds stacked against them.
Ellen DeGeneres and Portia de Rossi are both Aquarians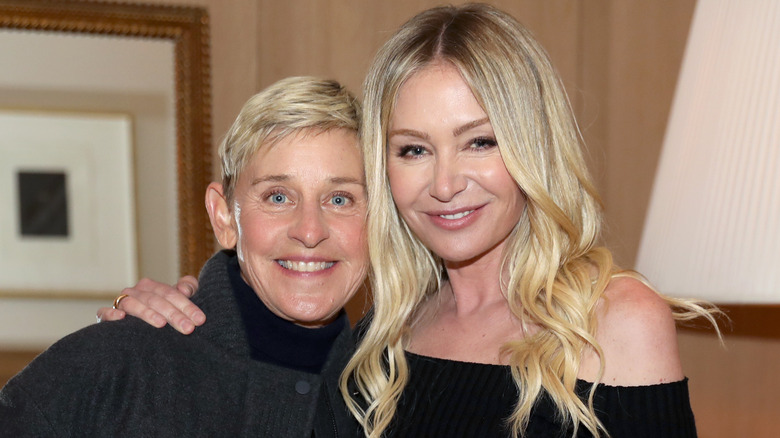 Kelly Sullivan/Getty Images
While astrology isn't categorized as science, many look toward their charts to gain insight into their relationships and the future. According to Elite Daily, Ellen DeGeneres and Portia de Rossi are both Aquarians and are therefore incompatible. Those who are born between January 20 and February 18 fall under the sign of Aquarius, per Britannica. DeGeneres was born on January 26, 1958, while de Rossi was born on January 31, 1973.
DeGeneres and de Rossi's matching star signs could mean their relationship is not all smooth sailing. Aquarians tend to be self-sufficient and need their space, InStyle described of the water sign. They are also a fixed sign and tend to think of things as "black and white," which could cause issues in a relationship. Bustle described Aquarians as fiercely independent and while they value their friendships, romantic relationships aren't high on their list of needs. However, astrologers Michelle Welch and Ashlie Daniel told the outlet that two Aquarians can have a successful relationship. "Aquarians in general feel like an outsider, they feel misunderstood," they explained. "So, to have a partner with the same sun sign gives a sense of relief that they 'get you.'"
Ellen DeGeneres and Portia de Rossi are still going strong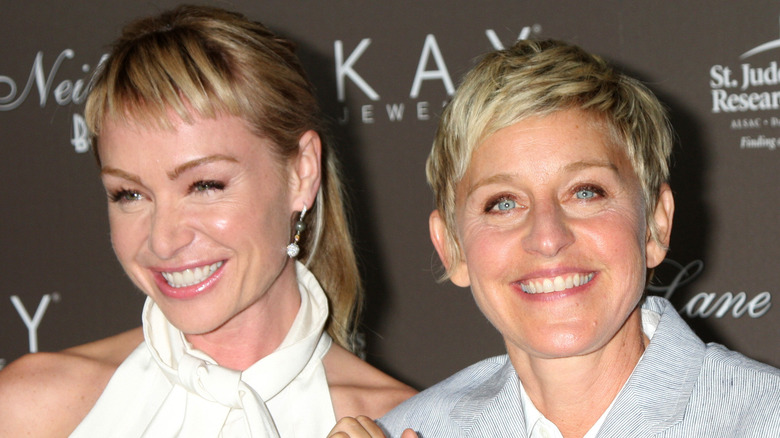 Kathy Hutchins/Shutterstock
Although Ellen DeGeneres and Portia de Rossi's astrological signs spell incompatibility, the two are still happy after almost 20 years together. In 2016, DeGeneres opened up to Parade regarding rumors that she and her wife were splitting. "[We've] been followed recently by the paparazzi, and we found out it's because there's a story out there that we're getting divorced. We don't know why. We're together all the time. We genuinely love each other."
In August 2022, the happy couple celebrated their 14th wedding anniversary. "The Ellen DeGeneres Show" host posted a tribute to her marriage with de Rossi on her Instagram with a montage of videos of them together. "'It's good to be loved. It's profound to be understood,'" she wrote, echoing de Rossi's vows to her during their wedding ceremony. De Rossi commemorated their anniversary by posting a picture on her Instagram feed of the iconic TIME magazine cover in which DeGeneres came out as gay. The "Ally McBeal" actor wrote, "I married an icon. I married my idol." It seems the two Aquarians are not letting their astrology signs get in the way of their relationship and are as close as ever.