How Being With Ellen DeGeneres Changed Portia De Rossi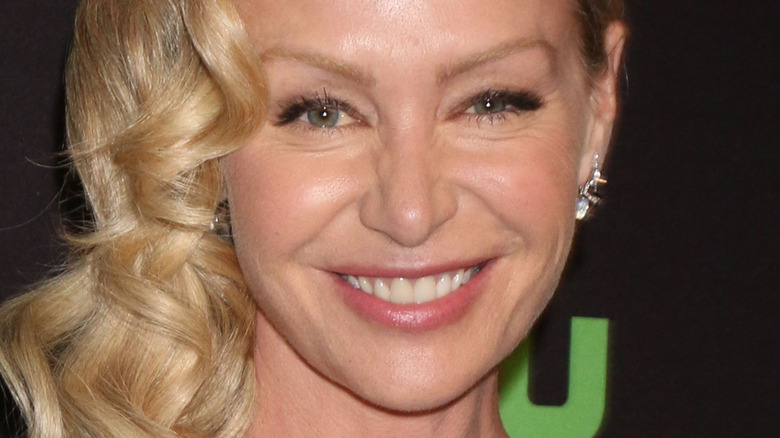 Kathy Hutchins/Shutterstock
The enduring love story between Ellen DeGeneres and Portia de Rossi is one of fairy tales. The longtime talkshow host and the "Arrested Development" star are fiercely protective of their love and always gush about the good in each other. When DeGeneres was blasted by employees and in the media for fostering a toxic work environment behind the scenes at "The Ellen DeGeneres Show," de Rossi showed nothing but solidarity for her wife and life partner, posting on her official Instagram a banner that proudly read, "I Stand By Ellen."
The 'gram has also been one of DeGeneres' favorite tools for gushing about her wife. In 2017, the funny woman celebrated the couple's ninth anniversary by posting a snap of the pair on their wedding day in 2008, captioning it, "Being her wife is the greatest thing I am."
In 2022, the couple will celebrate their 14th wedding anniversary, and in that time, de Rossi has revealed that their relationship has been a force for change in her own life. She's also shared that DeGeneres has taught her some lessons on the best way to approach life in general.
Ellen taught Portia De Rossi about vulnerability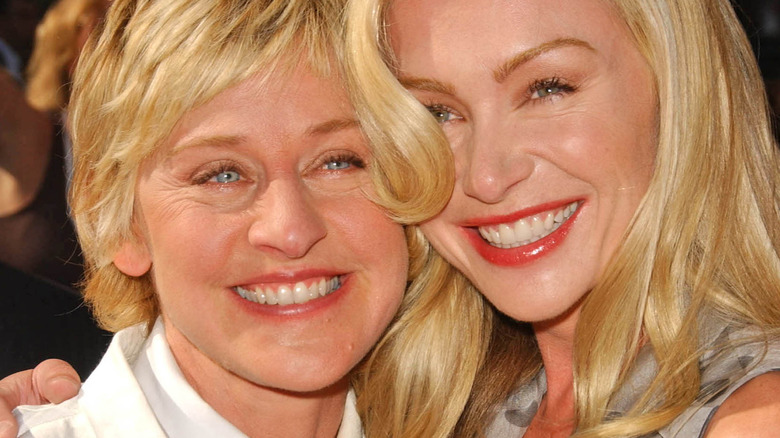 s_bukley/Shutterstock
Portia de Rossi appeared on "The Ellen DeGeneres Show" in 2010 to promote her memoir, "Unbearable Lightness: A Story of Loss and Gain," which details her struggles with an eating disorder. In a video segment that aired during that appearance, de Rossi said, "I've changed so much as a person since I met Ellen. I used to think that the way to be strong was to be tough ... to be independent was to not need anyone. ... She's taught me that the more vulnerable you are and the softer you are and the more you allow people into your life and into your heart, the happier you are and the more valuable you are to other people."
The actor and author then went on to say that being with the comedian has helped her ignore what others think about her, adding, "She's taught me that who I am is perfectly good enough." Those feelings of finding strength from their relationship were echoed in de Rossi's comments in a 2005 interview with The Advocate, in which she said, "My feelings for her overrode all of my fear about being out as a lesbian. I had to be with her, and I just figured I'd deal with the other stuff later."
Ellen DeGeneres says she is 'lucky' to be with Portia de Rossi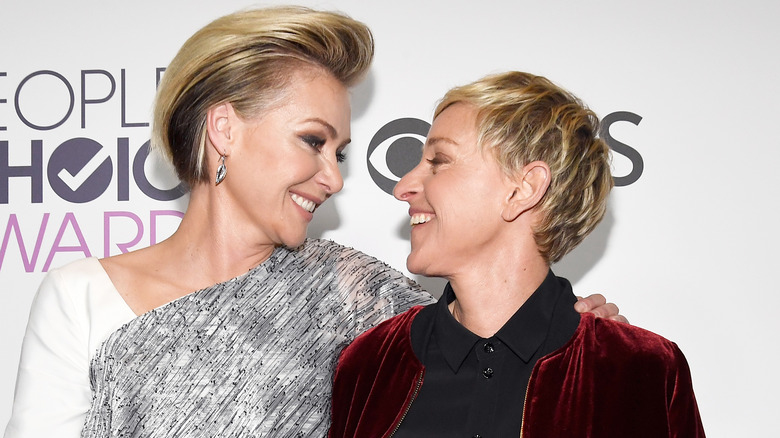 Kevork Djansezian/Getty Images
Hollywood is renowned as a place where romances never last, and queer couples are not immune to those effects. There have been some notable queer couple breakups that have rocked Tinseltown, including Rosie O'Donnell and wife Kelly Carpenter, Miley Cyrus and Stella Maxwell, Anderson Cooper and Benjamin Maisani, and yes, Ellen DeGeneres and Anne Heche. So it's refreshing to see that DeGeneres has also often gushed in the media about her wife, actor Portia de Rossi, saying that after all this time, their special bond still brings out the best in them. The "Ellen" host told People in 2016 that their marriage works because, "Portia and I constantly say to each other, 'We are so lucky.' Sometimes it's lying in bed at night before I go to sleep, and I just say thank you to whatever, whoever is out there."
The comedian also revealed the very private vows that the couple exchanged when they tied the knot back in 2008, after the U.S. Supreme Court struck down Proposition 8 that prohibited same-sex marriages in California. She told Good Housekeeping in 2017 that de Rossi said during their vows, "It is good to be loved. It is profound to be understood." Fam, find someone who gushes about you the way Ellen gushes about Portia!