The Uncomfortable Interview With Ellen DeGeneres That Made Taylor Swift Upset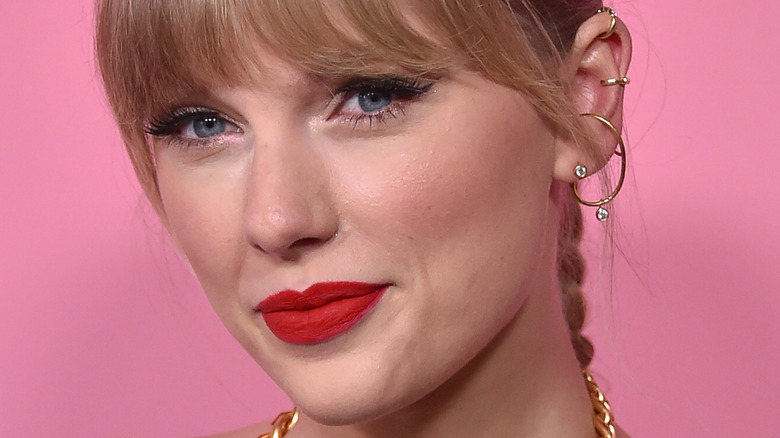 DFree/Shutterstock
Taylor Swift's dating history is no secret. She's been romantically involved with big stars, such as Taylor Lautner, John Mayer, and Jake Gyllenhaal. Swift even had a brief fling with her famous music video co-star. She once told Seventeen (via MTV), "I'm not the girl who always has a boyfriend. I'm the girl who rarely has a boyfriend." Yet the media has portrayed her as quite the opposite. In addition, her songs typically focus on themes of relationships and breakups. In 2010, she appeared on "Late Show with David Letterman" to talk about her songwriting process. Swift confirmed that her songs are about her love life. When Letterman asked if it becomes tricky to date men she ends up writing about, Swift replied, "This is the third album that I've been doing this. So, they had fair warning at this point."
While Swift has reflected on her lyrics and ex-boyfriends before on talk shows, she's also shown to have boundaries in how much she reveals. In 2013, the singer was upset by Ellen DeGeneres' behavior toward her when she visited her talk show. As DeGeneres seriously pushed the envelope regarding her ex-boyfriends, Swift grew increasingly uncomfortable and just couldn't shake it off.
Ellen DeGeneres once pushed Taylor Swift to her limit
When Taylor Swift appeared on "The Ellen DeGeneres Show" in 2013, the interview didn't start off on a promising note. DeGeneres immediately called Zac Efron her past boyfriend, which clearly made Swift feel awkward. When Swift emphatically contested her claim, DeGeneres asked, "Why do you deny it?" Swift replied, "'Cause we didn't." Fans thought DeGeneres would drop the topic, but the talk show host wouldn't let up about Efron.
A little later, DeGeneres decided to share some photos of Swift posing with various male celebrities. She instructed Swift to ring a bell to identify the famous men she dated. Swift responded, "I don't know if I'm going to do this. This is the one thing that I have. It's like the one shred of dignity that I have." DeGeneres wasn't sensitive to Swift's discomfort and continued to show the photos. Nearing tears, Swift begged her to stop. Swift explained, "This makes me feel so bad about myself everytime I come up here...It makes me really question what I stand for as a human being."
In 2021, a TikTok user posted a video titled, "Someone who deserves an apology Talk show edition." Fans were clearly upset with DeGeneres' treatment of Swift. One user commented, "This was brutal to watch." Another person wrote, "she's on the brink of tears and everyone is laughing and ellen is ignoring all her requests to stop." Yup, that sums up this uncomfortable interview.
Taylor Swift hasn't always avoided discussing boyfriends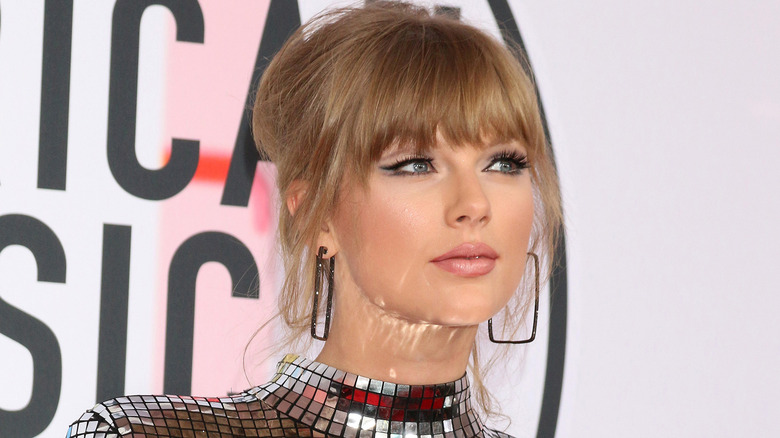 Kathy Hutchins/Shutterstock
While Taylor Swift has frequently avoided discussing her love life, she has opened up before. In 2012, she appeared on "The Ellen DeGeneres Show" to promote her album "Fearless," which included a breakup song about Joe Jonas. Unlike her interview with DeGeneres the following year, the singer was more than willing to talk about her past relationship. She revealed, "That guy's not in my life anymore, unfortunately... That's ouch." Swift went on to talk about finding her ideal person. Then, referring to Jonas, she confessed, "When I look at that person, I'm not even going to be able to remember the boy who broke up with me over the phone in 25 seconds when I was 18." Wow! Let's just say that this "Ellen" appearance had a completely different tone than Swift's 2013 one.
This wasn't the only time Swift shared secrets about her songs. A 2022 Elle piece revealed that her "Midnights" album opening track "Lavender Haze" is about her relationship with Joe Alwyn. She explained the phrase, saying, "If [you're] in the 'lavender haze,' then that meant you were in that all-encompassing love glow." She added, "Like my relationship for six years we've had to dodge weird rumors, tabloid stuff, and we just ignore it. So this song is about the act of ignoring that stuff to protect the real stuff." When it comes to sharing details about her romances, Swift clearly wants to do it on her own terms.