Hallmark Star Will Kemp's Dance Skills Earned Him A Unique Nickname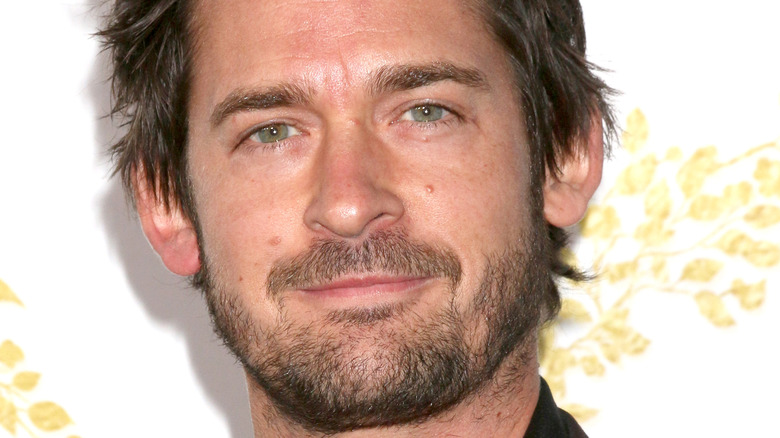 Kathy Hutchins/Shutterstock
While watching a channel like Hallmark, with its endless supply of lighthearted, romantic holiday movies, you'll likely encounter a few familiar faces. Hallmark boasts a roster of once-popular stars who seemingly vanished only to reappear on the network. From Lacey Chabert to Candace Cameron Bure — who recently left after 14 years with the network — and from Samuel Page to Luke McFarlane, you're bound to see a few repeat performances.
One of Hallmark's new up-and-comers is handsome British actor Will Kemp. Kemp's acting career took off when he was 26 with 2004's "Mindhunters" — which he told The Grace Tales was a "Hollywood baptism of fire." That same year, he starred as werewolf Velkan opposite Hugh Jackman and Kate Beckinsale in "Van Helsing." He also starred on stage in the 2007 West End theater revival of Peter Shaffer's "Equus," opposite Daniel Radcliffe. Although Kemp now has some 40+ credits on his IMDb page, with appearances in series like "Girlfriend's Guide to Divorce," "Nikita," and "Doom Patrol," acting is actually his third career.
Before he got into acting, Kemp appeared in The Gap's iconic "For Every Generation" ad campaign, which earned him a lot of attention. According to TV Insider, he turned down a few modeling gigs, including one for Giorgio Armani, to focus on acting instead. However, before modeling and acting, Kemp had a different career, which also earned him a unique nickname. 
Will Kemp's dancing brought comparisons to James Dean
One of Will Kemp's many acting opportunities was in the 2008 dance film "Step Up 2: The Streets" — an opportunity he landed partly because of his extensive dance background. In fact, Kemp's first career was in ballet.
British-born Kemp began ballet classes at age 9, according to Hallmark, before he eventually attended London's prestigious Royal Ballet School. According to Backstage, after graduating in 1995, he joined the Adventures in Motion Pictures (AMP) dance company under famed choreographer Matthew Bourne, known for his avant-garde productions experimenting with traditional gender roles. Kemp said he worked with Royal's principal dancer, Adam Cooper, who joined AMP at the same time. The two dancers shared the starring role of the Swan in Bourne's all-male "Swan Lake." Kemp played the part on and off for four years, both in the U.K. and on Broadway. The head of Paramount Studios, Sherry Lansing, attended one of his performances and was so taken with him that she dubbed him "the James Dean of Ballet."
Kemp is grateful to his parents for his ballet career. "There was a period when I wanted to stop dancing for a number of reasons but they said they had paid for the rest of the month, so I had to keep going," Kemp told The Grace Tales, explaining that he decided he still loved dancing by month's end. "Thank goodness they didn't just let me just stop on an adolescent whim."
You'll be seeing a lot more of Will Kemp on Hallmark soon
Will Kemp learned ballroom dancing for his starring role in the 2020 Hallmark film "The Christmas Waltz." According to TV Insider, Kemp isn't alone, as his costar Lacey Chabert was required to pick up the new skill. "People think that when you dance, you dance [anything]," Kemp said. "Ballroom is a different technique, so I was nervous. Lacey did tremendously — just so brave."
Fortunately, fans of Kemp's Hallmark movies, like "Christmas Waltz," "Love, Romance, and Chocolate," and "Royal Matchmaker," have reason to rejoice: Kemp recently signed a deal with the Hallmark Channel to continue making films for the network. Deadline reports the dancer-turned-model-turned-actor has signed a new contract with the network for multiple movies. Starting with his latest film for Hallmark, "Jolly Good Christmas" (sometimes called "Christmas in London"), which premiered October 29 as part of Hallmark's annual "Countdown to Christmas" celebration, Kemp is set to appear in more holiday films. In addition to starring, Kemp will develop and produce new projects.
"I'm beyond thrilled to be collaborating with the Hallmark team. I've so enjoyed working on heartfelt romantic and holiday-themed projects and look forward to creating new stories that will bring my creative talents and passions to life," Kemp said to Deadline. "Everyone at Hallmark has made my experiences so incredibly special and can't wait to create unique and memorable content for Hallmark's devoted audience together." Hopefully, we can look forward to seeing more dancing in Hallmark films.