What We Know About Bill Hader And John Mulaney's Friendship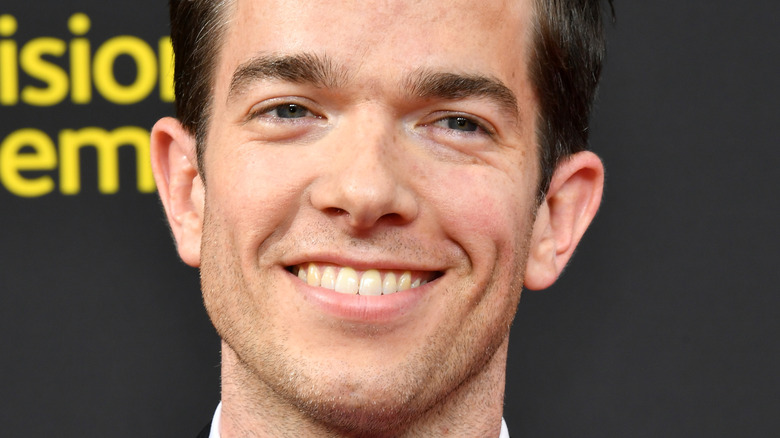 Amy Sussman/Getty Images
Before he ruled the world of stand up, John Mulaney started as a writer for "Saturday Night Live." During his stint on the show, the comedian created a number of memorable characters, but none stand out as much as Stefon, the nightlife correspondent of the series' news segment, "Weekend Update." Wearing an Ed Hardy shirt and sporting a fringe, Stefon is one of the most outlandish characters in "Saturday Night Live" history. He describes the hottest clubs in New York with a list of attributes that grows stranger and stranger with each new comment. The skit is made possible by cast member Bill Hader, one of the most talented impressionists in the show's run. 
Combining Hader's performance, Mulaney's writing, and Seth Meyers' deadpan responses to Stefon's outrageous claims, the sketches are debatably some of the most iconic of the Meyers era of "SNL." As a result, it's natural for audiences to wonder what went on behind the scenes — especially in regard to the real story of how Stefon cemented the friendship between Hader and Mulaney.
Bill Hader and John Mulaney worked together at Saturday Night Live
Bill Hader was a breakout star on "Saturday Night Live." Every character he played showcased his talent, from Stefon to Herb Welch. On the other side of the camera, John Mulaney penned many of the skits that made Hader shine, per Vulture. The partnership they shared made for comedic magic.
Mulaney apparently first conceptualized Stefon after receiving a bizarre email. Hader revealed that "the email said, 'This club has everything' — it had that rhythm to it. And one of the things in the email was the club had a room full of broken glass." Mulaney shared the email with Hader, and the two laughed at the absurdity, but it stuck with them. According to Huffington Post, Hader was then further inspired by a barista who gave him similar energy. The end result was a character who became so popular that he got the biggest send-off in "Saturday Night Live" history: A wedding with Seth Meyers.
Since Hader left the show, Stefon has returned a few times, and more recently, Mulaney made a cameo as Stefon's lawyer. However, just because someone's work relationship was on point, doesn't mean they're automatically friends in real life. In the case of Mulaney and Hader, though, they most definitely are.
How Bill Hader and John Mulaney really feel about each other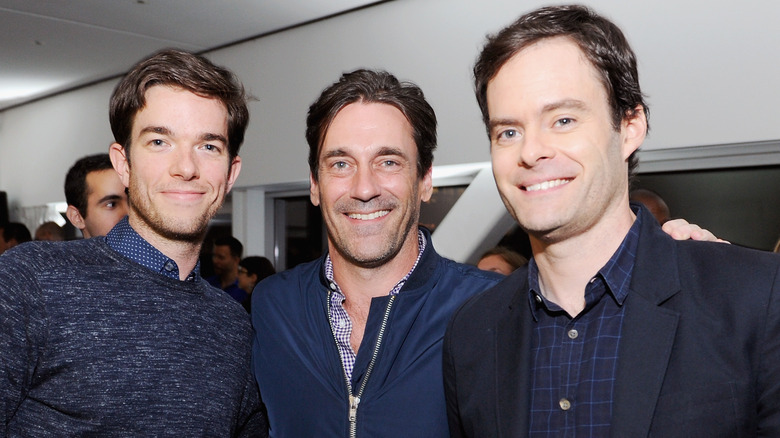 Craig Barritt/Getty Images
Despite no longer working together, John Mulaney and Bill Hader remain close friends. In fact, when Mulaney faced personal struggles, Hader was one of the people who stepped up to help. In 2020, Mulaney relapsed, and he ultimately chose to go to rehab after an intervention. Hader participated, dialing in via Zoom despite his busy filming schedule (via The Things). 
Though their relationship started at "Saturday Night Live," clearly Mulaney and Hader are more than just work buddies. Mulaney praised the "Barry" star in an interview with The Hollywood Reporter, attributing Hader's talent to his "insane, voluminous and complete" knowledge of comedy. The 40-year-old went on to say that Hader is successful because he "has a strong sense of what he likes and dislikes." However, Mulaney also explained that the "Adventureland" actor is more reserved than his comedy implies. "There's this really endearing quality to him that is like, he's still a kid with parents and two sisters who doesn't want to go outside in Tulsa and wants to go downstairs and watch DVDs."
As for Hader, he considered Mulaney his inspiration in a lot of ways. "I just want to make John laugh," he said in a sit-down with Mulaney. Hader said performing for the Chicago native made it easier because he knew he could "fail in front of him." Their glowing words show off how close the two actually are, proving that some friendships just click.
If you or anyone you know is struggling with addiction issues, help is available. Visit the Substance Abuse and Mental Health Services Administration website or contact SAMHSA's National Helpline at 1-800-662-HELP (4357).