Here's What Valerie Bertinelli Really Looks Like Without Makeup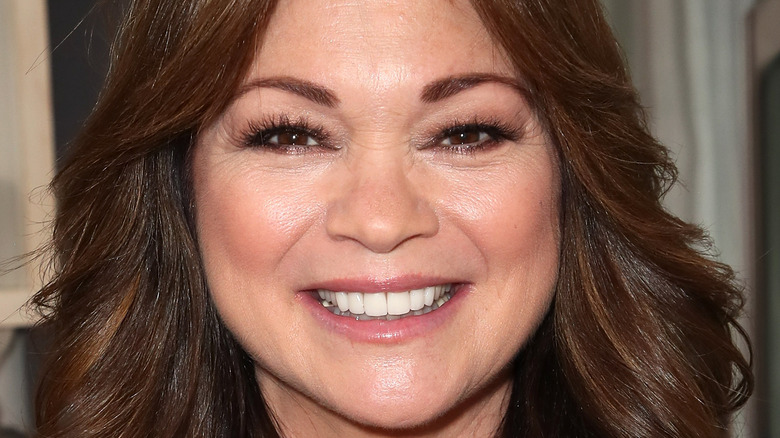 David Livingston/Getty Images
Valerie Bertinelli is a natural beauty and never lets her fans forget it. The multi-talented star sure has a lot to smile about these days. For starters, she has a successful career that is showing no signs of slowing down. The 62-year-old first started making appearances on television screens in the late 1970s, and she took home the Golden Globe for best supporting actress for her role in "One Day at a Time" twice in the 1980s, per IMDb.  Although she is widely known for her entertainment career, the star has gained notoriety most recently for her social media presence. 
From her quick-witted replies to discussing her beauty routine, nothing is off limits for the star to share with her 1.1 million fans. In fact, the "Hot in Cleveland" alum recently donned a fresh face after receiving a vampire facial which garnered the attention of many. Bertinelli shared a fun take on the results from the non-invasive procedure on her Instagram Story in October 2021 (via Health). "It's a little redder than last time," she said in the video. "It feels like a really, really bad sunburn." Aware of how intense the facial appeared, the star took a lighthearted approach by saying, "What's the old joke: 'Does your face hurt, 'cause it's killing me.' Ohhh vanity."
The "Touched by an Angel" star is looking more radiant than ever these days, though. The star has tossed her makeup brushes and is serving natural beauty on her terms, and fans can't get enough!
Valerie Bertinelli often opts to ditch the makeup and celebrate her natural beauty
Valerie Bertinelli is once again the center of the conversation. From her acting career to highlighting her passion for cooking with her latest shows, the multi-faceted star is simply glowing. She often has fans wondering about her beauty secrets and what she truly looks like without makeup. A quick scan of her Instagram will further support the notion that "Sydney" alum loves to be vulnerable and honest with her fans, which includes often posting videos sans makeup.
The star is also taking over TikTok, and she's got everyone talking about her fresh-faced posts. In a short clip posted to the beloved social media site in July 2022, the "Food Showdown" host is makeup free and looks radiant as ever. Fans quickly took to the comments to discuss their thoughts on the eye-catching video."You've got that ageless beauty," one fan wrote. While another added, "I have to be honest when I see you, I still see the girl from my favorite TV show! You look amazing, beautiful inside and out." What's even more impressive is Bertinelli's flawless complexion. Wearing oversized glasses, the cookbook author opted to ditch the makeup and give a glimpse of her natural beauty when playing with the fun TikTok filter.
The secret to her youthful glow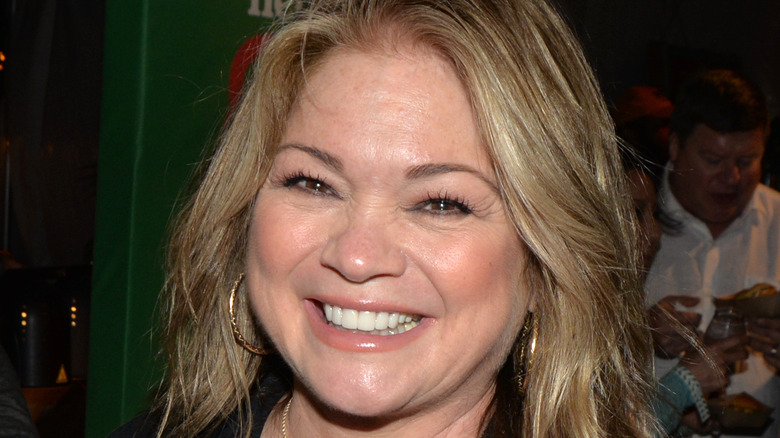 Manny Hernandez/Getty Images
Valerie Bertinelli has had her fair share of body shammers over the years. From her love life to ever-changing beauty standards, Bertinelli has faced it all. Despite being the topic of conversation, she has continued to rise above the noise, stay true to herself, and maintain a good routine when it comes to her beauty regime.
"Clean your skin at the end of the day, no matter how tired you are," the Delaware native shared to Self in January 2010. "The main thing is to get in some cardio: A good sweat gives your skin a healthy glow. And drink lots of water!" Many fans applaud the actor for her down-to-earth personality and relatability, which shines on and off the screen. The "Family Food Showdown" host is excited about the road ahead due to her new approach to life, which feels particularly poignant consider that she has been through a lot on her journey to embrace happiness. 
While Bertinelli admits that her journey to self-love hasn't been easy, it's worth it. "[L]ook at your life the way it is right now and find the joy and find the good," she told Shondaland in January 2022. "Don't focus on the negative. It all comes back to love." Makeup or not, Bertinelli is proof that embracing your natural beauty goes a long way toward happiness.