Will Ferrell's Sons Are Growing Up To Look Just Like The Star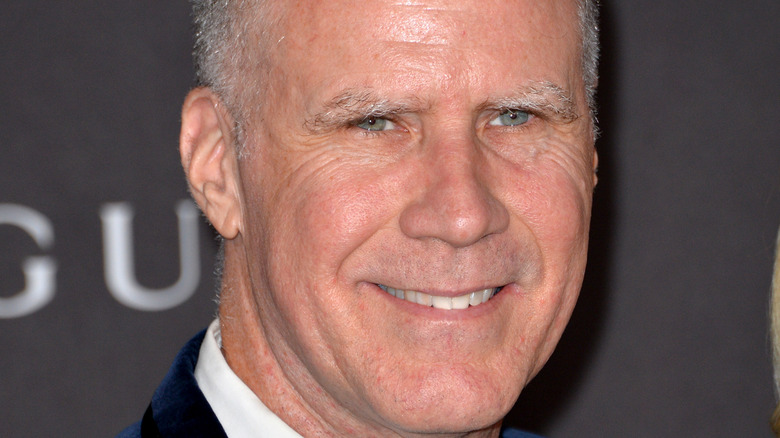 Featureflash Photo Agency/Shutterstock
Celebrated for his starring roles in hit films such as "Elf," "Anchorman: The Legend of Ron Burgundy," and "Step Brothers," Will Ferrell is a household name and comedic treasure. The beloved actor is also a proud dad who shares three kids with his wife Viveca Paulin. Their sons Magnus, Mattias, and Axel were born in 2004, 2006, and 2010, respectively, per HollywoodLife. According to Heavy, all three kids made cameos in the Sea World scene in "Anchorman 2: The Legend Continues."
Though Ferrell is typically a lighthearted goofball on-screen, the star has admitted that he can be tough as a father. In a 2020 Instagram clip from "The Ellen Show," Ferrell told Jennifer Aniston, "As a parent of three boys, it's a lot of chaos. And all parenting rules go completely out the window." He joked and exaggerated about his parenting style, adding, "It's like running a small correctional facility." So, what else is there to know about Ferrell's sons? And in what ways do they take after their father?
Will Ferrell and his sons have similar features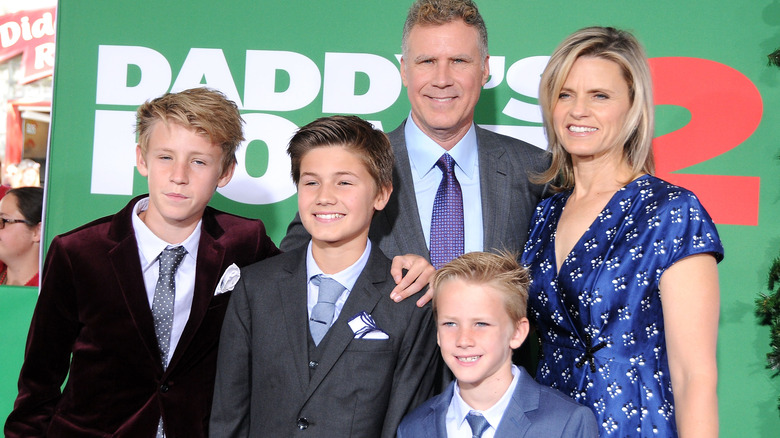 Barry King/Getty Images
At the 2013 Emmy Awards, Will Ferrell brought his three sons on stage as he presented the award for "Outstanding Comedy Series." Magnus, Mattias, and Axel played off their dad's sense of humor, as Ferrell joked to the audience, "No, you cannot play Angry Birds right now." As young kids, they looked a lot like their father. Although there aren't many recent pictures of the Ferrell family, photos from a HollywoodLife article showed just how much Ferrell and his sons' Magnus, Mattias, and Axell actually look alike. At the 2017 "Daddy's Home 2" premiere, Ferrell and his sons matched in dress suits and ties. With their subtle smiles, light hair, and deep-set eyes, their features are similar to those of their father.
Lately, Ferrell's oldest son bears a strong resemblance to his dad, as evidenced through Magnus' Instagram. Magnus, a musician, often casually plays the guitar, piano, and sings on his social media page. Not only is he a spitting image of Ferrell, he clearly shares his dad's artistic talent!
Will Ferrell and his sons share a sense of humor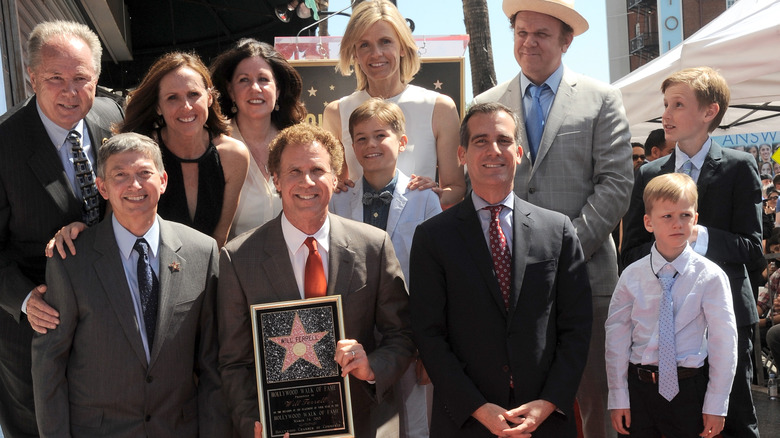 Albert L. Ortega/Getty Images
Will Ferrell and his sons Magnus, Mattias, and Axel have more in common than their looks. In a 2018 Parade article, Ferrell shared how his son Magnus, who doesn't wear glasses, once wore another kid's glasses for a school yearbook photo. Ferrell explained, "There he is with this very serious look with glasses on. Like 'Magnus, that is so subversive and funny. Totally my sense of humor.' He's like, 'Am I in trouble?' Like, 'No, you've got to do it every year! Fantastic!'" He continued to note the commonalities between him and his sons, remarking, "Very similar to me, they're good kids at school and yet they like to try to be funny."
While Ferrell clearly finds his kids humorous, are his sons laughing at their dad's on-screen shenanigans? On Comedy Central's Stir Crazy with Josh Horowitz, Horowitz asked, "Do your kids find your characters funny?" to which Ferrell replied, "They've kind of grown up with a relatively discerning eye. No, I think they do, but they're not obsessed with me on any level." It sounds like Ferrell's sons are keeping their famous father humble.