Why Nick Carter Got A Restraining Order Against His Brother Aaron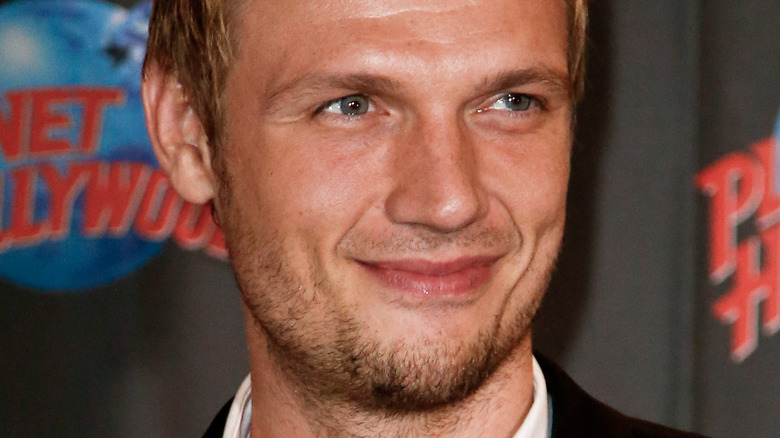 Debby Wong/Shutterstock
Nick Carter and his late brother Aaron Carter had a complicated relationship. The two were in the spotlight since the late 1990s with their respective music careers, and Aaron once opened for the Backstreet Boys for their 1997 tour, per Billboard. At the time Aaron was 11 years old and told MTV, "He's always wanted me to do this job that I'm doing right now. He just looks out for me a lot."
In 2013, Nick hinted at trouble within his family when he spoke about skipping his sister Leslie Carter's funeral. "I wanted to be at my sister's funeral, but my family has always had a complicated dynamic," he told E! News. The following year, Aaron skipped Nick's wedding to Lauren Kitt, although it appeared to be unintentional. As reported by Us Weekly, Aaron wrote Nick an apology via a now-deleted Instagram post and blamed his absence on technical problems.
Things appeared to take a turn between them when Aaron was arrested for DUI in 2017 and Nick tweeted, "To my brother: I love u no matter what & if u feel the need to reach for help, I am here and willing to help you get better." Aaron slammed his brother for reaching out to him in a "public forum" and using him for "PR," per USA Today. Although things seemed to settle between the brothers, two years later, a surprising accusation was made by Nick against Aaron.
Nick Carter claimed Aaron threatened his pregnant wife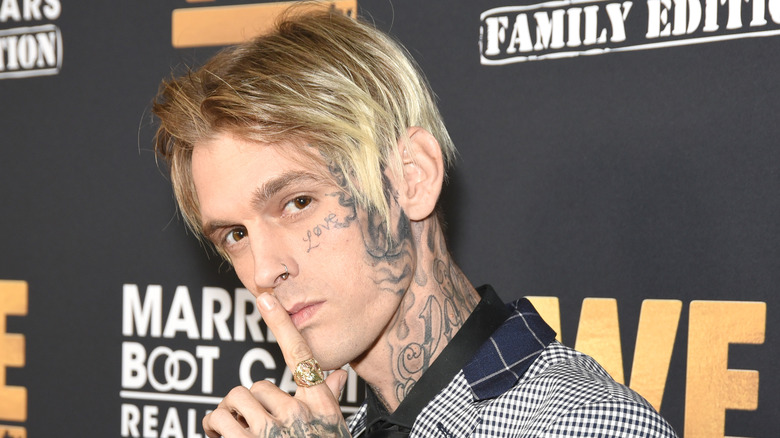 Presley Ann/Getty Images
On September 17, 2019, Nick Carter tweeted, "After careful consideration, my sister Angel and I regret that we were required to seek a restraining order against our brother Aaron today. In light of Aaron's increasingly alarming behavior and his recent confession that he harbors thoughts and intentions of killing my pregnant wife and unborn child, we were left with no choice but to take every measure possible to protect ourselves and our family." Nick ended his statement by saying that he still loves Aaron and hopes he gets help.
Aaron Carter responded by tweeting, "So my brother just got a restraining order against me. And I was just served lol." In a later tweet, he claimed Nick was trying to place a 5150 hold on him. He then shared a clip of a fight between him and Nick during their 2006 reality show "House of Carters." Aaron repeatedly told Nick to stop spitting in his face and was pushed by his older brother several times. "LEAVE ME ALONE. FOR THE REST OF MY LIFE ... PLEASE," Aaron wrote in his tweet, adding that Nick "bullied" him his whole life.
Nick was granted a one-year restraining order against Aaron, which prohibited him from contacting him and Angel, per E! News. Aaron was also ordered to give up any firearms he owned, as the judge deemed the late singer "too dangerous." Two years later, their drama continued.
Aaron Carter accused his ex-fiancee of talking to his estranged family
s_bukley/Shutterstock
Although Aaron Carter was banned from communicating with his family, in 2021, he publicly slammed his ex-fiancee Melanie Martin for allegedly talking to Nick Carter and his twin sister Angel Conrad. "I have the most conniving deceiving family and Melanie has been lying to me the whole time communicating with my twin sister and family members who tried to put me in prison and who tried to get a conservatorship on me in court," he tweeted. "I don't have a family now. I was deceived and lied too. I can't believe she betrayed this way," he wrote in another tweet.
Martin later told TMZ that Aaron's family had no plans of placing him under a conservatorship and they have never spoken about the matter. Sources close to Nick also echoed Martin's statement and told TMZ that Nick and his wife Lauren Kitt haven't been in contact with Aaron's ex-fiancee.
Sadly, Aaron died on November 5, 2022 at 34 years old, per CNN. Fortunately, he and Nick were in "a good place" at the time, according to his rep, per HollywoodLife. "[Aaron] was on the path to making amends with so many people in his life, and he had made amends and made peace with Nick," his rep stated. Following Aaron's death, Nick gave a touching tribute to his brother on Instagram that read, "Even though my brother and I have had a complicated relationship, my love for him has never ever faded."