The Truth About Aaron And Nick Carter's Relationship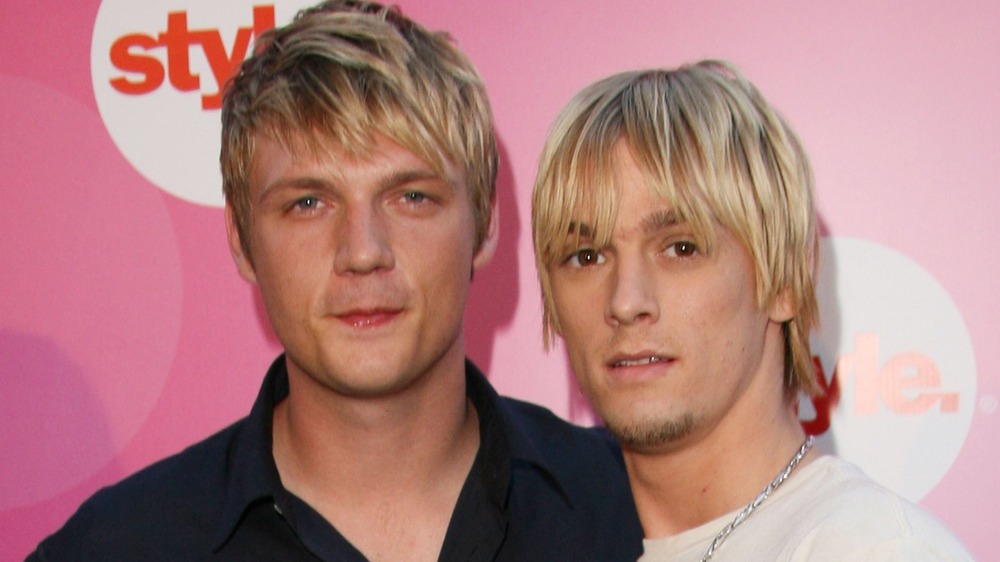 Chad Buchanan/Getty Images
Nick and Aaron Carter were seen as pop sensation royalty in the early 2000s. With Nick being a lead vocalist in the chart-topping boy band Backstreet Boys and Aaron's string of hits praised by tweens around the world, the two brothers were every big and little sister's dream at the time. To his credit, Nick helped pave a lane for Aaron's introduction into the music business. As part of the Backstreet Boys, Nick released a number of platinum hits, including "Quit Playing Games (With My Heart)" and "Everybody (Backstreet's Back)" before going on to dominate the charts with the group's multi-platinum 1999 album Millennium, which birthed the worldwide smash "I Want It That Way".
Amid BSB's boy band phenomena in the late 90s, Aaron made his first solo appearance at age 9 as the opening act for the Backstreet Boys in Berlin in 1997, per HuffPost. That same year, Aaron went on to sign his first recording contract and released his first single, "Crush On You". His self-titled debut album achieved overseas success and set the stage for his triple-platinum 2000 release Aaron's Party. However, after dominating the pop scene as a child pop star with hits like "Aaron's Party (Come Get It)" and "I Want Candy", Aaron didn't see the same success in his adult years and filed for bankruptcy in 2013, per HuffPost. 
Along with his financial struggles, Aaron's battle with addiction and chronic health issues made way for some dramatic encounters with his older brother.
Why Nick and Aaron Carter are 'done for life'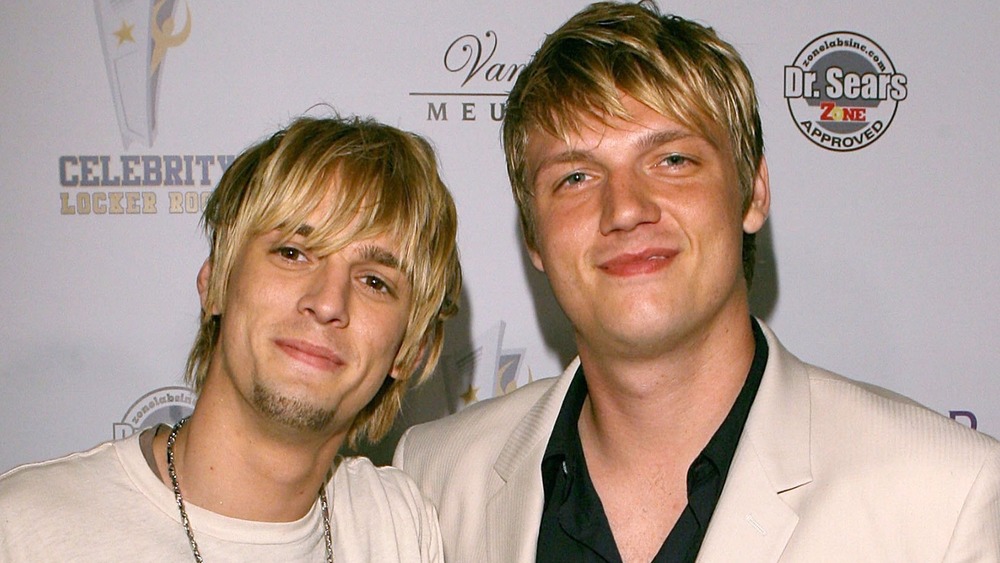 Michael Buckner/Getty Images
In September 2019, Nick Carter filed a restraining order against Aaron Carter, per Page Six. The Backstreet Boys star had taken to Twitter to release a statement following a series of vicious messages Aaron tweeted and deleted regarding his brother. "After careful consideration, my sister Angel and I regret that we were required to seek a restraining order against our brother Aaron today," Nick tweeted at the time. 
He continued, "In light of Aaron's increasingly alarming behavior and his recent confession that he harbors thoughts and intentions of killing my pregnant wife and unborn child, we were left with no choice but to take every measure possible to protect ourselves and our family." He ended by sending love his younger brother's way. "We love our brother and truly hope he gets the proper treatment he needs before any harm comes to himself or anyone else." 
Once Aaron caught wind of the statement, he fired back at his brother, seemingly writing him off for good. "I haven't seen him [Nick] in four years. And I don't intend," one tweet read, before he added, "Take care. @nickcarter we're done for life." To make matters worse, Aaron went on a Twitter tirade against his brother, accusing him of sexual assault and using the #MeToo movement as ammunition. While Nick has remained silent about Aaron's accusations, he went on to increase his security as a result and the brothers haven't been mentioned together since. 

If you or someone you know is struggling with mental health, please contact the Crisis Text Line by texting HOME to 741741, or call the National Alliance on Mental Illness Helpline at 1-800-950-NAMI (6264).
If you or someone you know has been the victim of sexual assault, you can call the National Sexual Assault Hotline at 1-800-656-HOPE (4673) or visit RAINN.org for additional resources.