Sister Wives' Janelle Brown Drops Bombshell About Status Of Her Relationship With Kody
Things are changing for the Brown family, the polygamist family of 23, who have starred in TLC's hit show "Sister Wives" since 2010. Fans were shocked to learn that Kody Brown's marriage to his second wife Christine was coming to an end. The entire family was rattled by Christine's decision to leave Kody, as it stood in the face of the nontraditional life they had all decided to build together.
Christine was far from the first wife to have a problem with Kody. Per his own admission, Kody and his first wife Meri are amicable, but "separated," per Entertainment Tonight. As Kody sees it, they're no longer romantically involved, but they remain spiritual partners in marriage and parenthood. That unorthodox standard worked well for Kody and Meri, but the same can't be said for his other wives. Christine was the first to officially pull the plug on her union with Kody. After years of complaining that Kody wasn't working hard enough to make their marriage work Christine officially filed for divorce and left the compound, moving into her own place for the first time in years. As of October 2021, Christine lives in a swanky new million-dollar duplex in Arizona, per The U.S. Sun.
Kody's marriage problems didn't stop with Christine, though. Thanks to a bombshell new trailer, viewers have learned Janelle Brown and Kody have also separated.
Janelle and Kody have been 'separated for several months'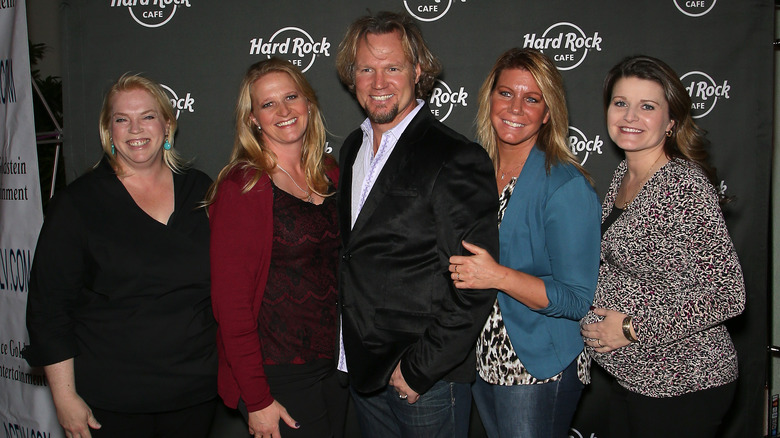 Gabe Ginsberg/Getty Images
During a sneak peek for a three-part tell-all interview with the cast of "Sister Wives," Janelle Brown confirmed that she and Kody were separated. "We've been separated for several months," Janelle said. As for Kody, he also confirmed the split — though, in more emotional terms. "Janelle has made it pretty clear she wants nothing to do with me," he explained.
It's not entirely surprising that things have taken a turn for Kody and Janelle. After all, the past few years have been tumultuous, to say the least. "I never thought that I would ever be in a place where I would be questioning my relationship, but the last few years, I began to wonder if we're compatible anymore," Kody said in an episode that aired a few weeks before the tell-all trailer dropped, per Page Six. The onset of the COVID-19 pandemic was when things turned sour. Janelle didn't agree with Kody's strict rules about quarantining, which led to a fallout between some of the children she shares with Kody and their father. "It feels like I'm being forced to choose between my children and this group," Janelle said during a recent episode, per Us Weekly. "I don't feel like my children are welcome."
We may not know the full details of Janelle's new life as a single woman until the tell-all airs, but fans are excited about the change. As one enthusiastic tweet read: "Janelle and Kody separating is the best news I've heard all year tbh"