How Close Is Meghan Markle With Sophie, Countess Of Wessex?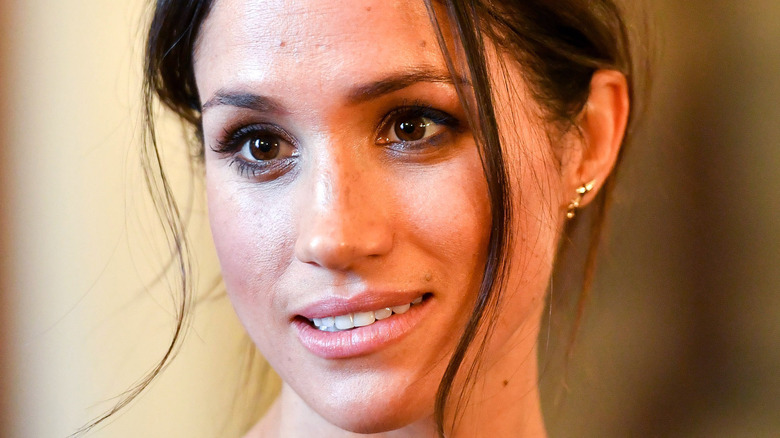 Wpa Pool/Getty Images
There's always been interest in Meghan Markle's relationship with members of the British royal family. Before she and Prince Harry, Duke of Sussex, took a "step back" from royal duties, per BBC, Meghan had a unique proximity to everyone from the late Queen Elizabeth II to King Charles III, Prince William, and Kate Middleton. Depending on who you ask, Meghan, Duchess of Sussex, fared better with some members than others. For instance, the former "Suits" star is close to Princess Eugenie, whom Meghan knew before she and Prince Harry got involved, according to People. Meghan's relationship with Kate, Princess of Wales, on the other hand, is more layered. The California native once shared that the princess made her cry while planning her wedding, though Kate later apologized. 
In light of Meghan's new Netflix docuseries with Prince Harry — where the couple airs out their grievances with the institution — it seems safe to say that some of these relationships are strained today. However, one of the Duchess of Sussex's lesser talked about dynamics involves Sophie, Countess of Wessex, the late queen's daughter-in-law. The countess, who's been married to Prince Edward for over two decades, isn't nearly as visible as higher-ranking members. Though reportedly, she may soon take up more stock in the family, per Express, and Queen Elizabeth II supposedly had a great relationship with her. Once Meghan joined the royal family, she allegedly struck up her own relationship with Sophie, however, their bond appears to be a bit complicated.
Meghan Markle reportedly rejected Sophie, Countess of Wessex's mentorship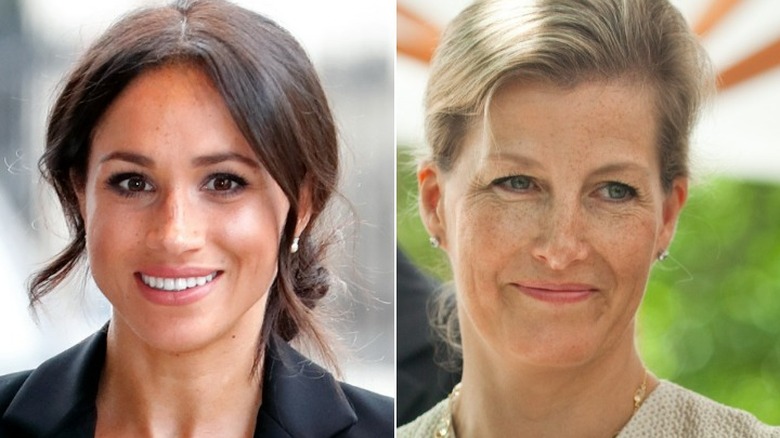 VILevi/Shutterstock & Max Mumby/indigo
Marrying into the royal family is an experience few people can relate to. That's why the late Queen Elizabeth II reportedly implored the help of Sophie, Countess of Wessex, to help Meghan Markle, Duchess of Sussex, transition into the royal family. "The Queen likes the idea of Sophie being an unofficial mentor to Meghan," an anonymous insider shared with Grazia in 2019. "Sophie is often at Windsor taking the kids riding on the Queen's horses and playing at the castle. It's a quiet lifestyle, very much the kind Harry and Meghan want for their little one," the source added. 
However, according to royal journalist Gyles Brandreth, Meghan didn't want Sophie's help or mentorship. "The Queen also said to Meghan 'you're new to this,'" wrote Gyles (via the Independent). "'Coming into the royal family, it's not easy for everybody. Sophie Wessex, the last one to come in, maybe she can be a kind of mentor. She could advise you, help you,'" Brandreth said of the queen's conversation with Meghan. He added, "But Meghan said 'no, I don't think I need that, I've got Harry.'" And while Sophie never addressed these claims, she did express sympathy when asked about the duchess' decision to step down from royal duties in 2020. "Remember I'd had five years to adjust," she shared with The Times, adding, "I just hope [Meghan and Harry] will be happy."
Sophie Wessex may have tried to make peace with Meghan Markle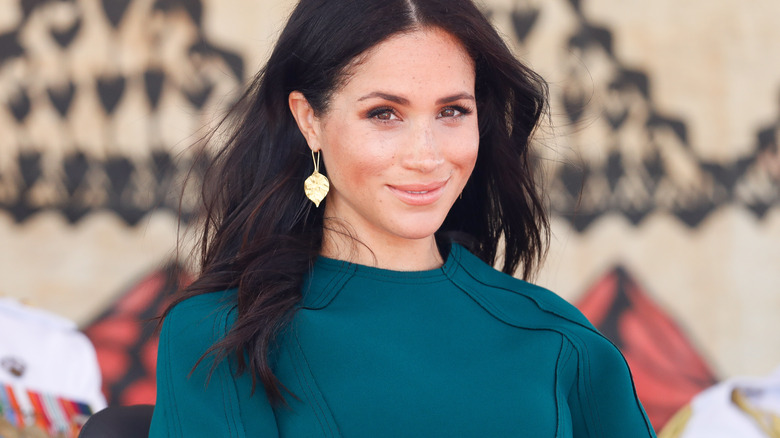 Chris Jackson/Getty Images
Even if reports of Meghan Markle turning down Sophie, Countess of Wessex's mentorship are to be believed, that apparently didn't impact their interactions following the death of Queen Elizabeth II. According to Us Weekly, Sophie and Meghan rode in the same car during the queen's funeral procession. And while Hello! reports that Sophie and the Duchess of Sussex didn't have much choice in riding together — as the car pairings were determined by where the ladies ranked within the royal family — another report suggests there may be some hope for the pair's relationship. 
According to royal journalist Rebecca English (via 7News), Meghan was visibly uncomfortable during the funeral due to her recent estrangement from the royal family. Once she noticed, Sophie helped close the gap and struck up a conversation with the former actor, which helped Meghan relax. However, in the past, Sophie didn't seem too pleased with the 41-year-old following her and Prince Harry's interview with Oprah. When asked about the debacle, the countess, along with her husband Prince Edward, pretended to not be familiar with Oprah's body of work, according to The Telegraph. There's no word yet on her opinion about their Netflix docuseries, "Harry & Meghan."