What Really Happened To The Challenge's Yes Duffy?
Dimitrios Kambouris/Getty Images
Yes Duffy was one of the fiercest competitors on "The Challenge," and many fans may recall that he first got his reality television start on "Road Rules: Semester at Sea," per Us Weekly. After his MTV debut, Duffy went on to compete in "Challenge 2000," where he took home the big win, per For The Win. Duffy tried to win the "The Challenge" champion title yet again in "Battle of the Seasons" and "Battle of the Sexes" but he was eliminated in both seasons.
2003 was the last fans saw Duffy for a long while. After 17 years, Duffy returned to compete in "The Challenge: All Stars," per E! News. The show, which was dreamed up by MTV vet Mark Long, featured older competitors of "The Challenge" that fans wanted to see back. Having been out of the game for so long, Duffy was rusty with the social aspect of competing. "A lot of them knew each other, they were roommates and stuff for many years. I didn't know many people. I was worried," he shared with Us Weekly. In fact, Duffy's last appearance on "The Challenge" was so long ago, he had never even met the host TJ Lavin, per E! News. So what has Duffy been doing all these years?
Yes Duffy is an award-winning architect and activist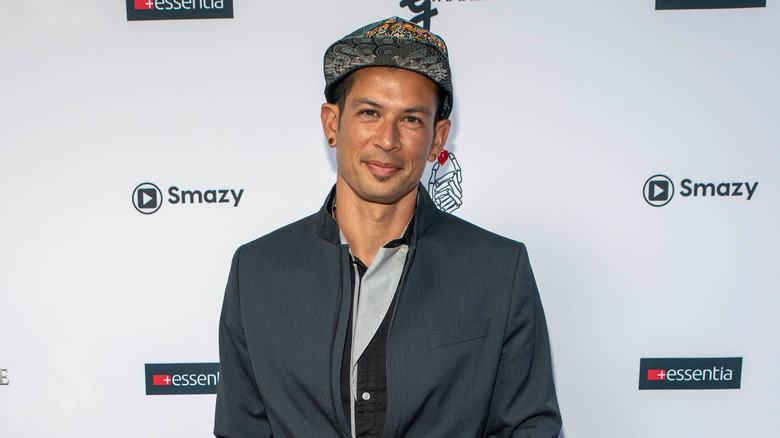 Eugene Powers/Shutterstock
According to his LinkedIn profile, Yes Duffy started his career as an architect in 2005. He worked with various companies while also teaching at the University of California, Berkeley. In 2019, Duffy formed his own company called Yes Duffy Architects and he uses his skills to help those in need. After winning "All Stars," he told For the Win that he would use the money for good. "[As] an architect and activist, I've started working or a number of non-profits aimed at fighting for social justice through designing of affordable housing. I think of this money kind of like a grant that will accelerate the social impact of our work," he shared.
Among his passion for providing affordable housing to the public, Duffy is also a fighter for women's rights. In June, he shared an Instagram video of himself making a sign with the words, "Reproductive Rights," "Voting Rights," and "This is pro-life." Another video showed him making a sign that read, "Abolish male privilege." But while the former "Road Rules" star is passionate about many things, his wife and kids are at the top of his list.
Yes Duffy is a dedicated husband and father
According to Stars Offline, Yes Duffy married Nicki Bush in 2008. Together, they went on to have children Madron and Cipher. On August 2022, Duffy gave Bush a shoutout on his Instagram feed. "Happy birthday to my wife and best friend. I am so glad you asked me to marry you," he wrote while sharing a series of pictures of them together. That July, he posted a video of the two dancing closely together and wrote, "She walks like sunshine." In May 2022, they celebrated 18 years of marriage. "My #rideordie. My teammate in life. My reason for all of the things," he wrote on Instagram. He went on to say that their relationship wasn't perfect and they had many "trials and tribulations," but there was no one else he'd rather be with.
Duffy's wife and kids were the main source of inspiration for him during his time on "The Challenge," and picturing them helped him win "All Stars." The winner told E! News, "When I saw my kids we just cried and we hugged. I had never left them for more than four days. So it was a big deal. We really missed each other. They really needed me, I needed them." Duffy shared that his kids' wishes for if he won were a go-kart and a fishing boat. Duffy has come a long way since his days as a student on "Road Rules" in 1999 and has much to be proud of.