Bella Poarch Is Related To Another Famous Social Media Star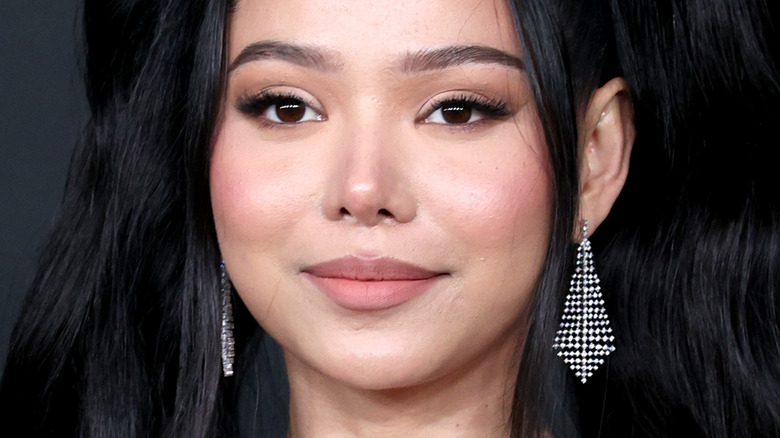 Kevin Winter/Getty Images
There are a few things about TikTok sensation Bella Poarch that many people still may not know despite her massive popularity. For example, did you know that her real name is not actually Bella Poarch, but rather Denarie Taylor? Or that apart from being a social media star, she's also a U.S. Navy Veteran? Yep, Poarch enlisted in the military right after graduating from high school and served for four years. She eventually left at 23 after struggling with her mental health, according to her interview on "The H3 Podcast" in 2021.
"I didn't really have an option because my mental health was getting really bad in the military. So my doctors decided, we don't think you should renew your contract. I think you should just take a break," she recalled. "I was really depressed, like, very depressed. And my PTSD was getting worse."
Another fact about Poarch was that she wasn't born in the U.S., but rather in the Philippines to Filipino parents. A white American veteran and his Filipino wife adopted Poarch from her grandmother and brought her to California along with her adopted siblings, per Rolling Stone. This makes Poarch a full-blooded Filipino immigrant, just like one beauty influencer and YouTube star to whom, as it turns out, she's related to by blood!
Bella Poarch and Bretman Rock are cousins
Bella Poarch and Bretman Rock revealed their surprising family connection in a vlog posted on Rock's YouTube channel in June 2021. While making tie-dye sets together, Rock said he and Poarch first met when they were kids in the latter's birthplace of Pangasinan, Philippines. "We're actually cousins, you guys," he then revealed. "We met all the way back in Pangasinan where she's from. She's Ilocano as well." (Ilocano is what Filipino people who speak the Ilocano language are called.)
As his fans may already know, Rock was born in the Philippines province of Cagayan before he moved to Hawaii with his family when he was 7 years old. His parents separated early on and Rock, along with his two siblings, were raised singlehandedly by their mother, Mercedita Sacayanan. Speaking to CNN Philippines, Rock credited his upbringing as a huge factor as to why he has such an enormous fanbase. "I think what attracts me to world is the fact that I grew up in the Philippines, and I grew up with the values of a Filipino and I think people could relate to me," he said.
Because of their similar background and surprising connection, Poarch and Rock have established quite a close relationship. They would often appear in vlogs and TikToks together, while Rock has also been featured in music videos for Poarch's hit songs, including "Build a B*tch" and "Dolls."
What Bella Poarch and Bretman Rock have in common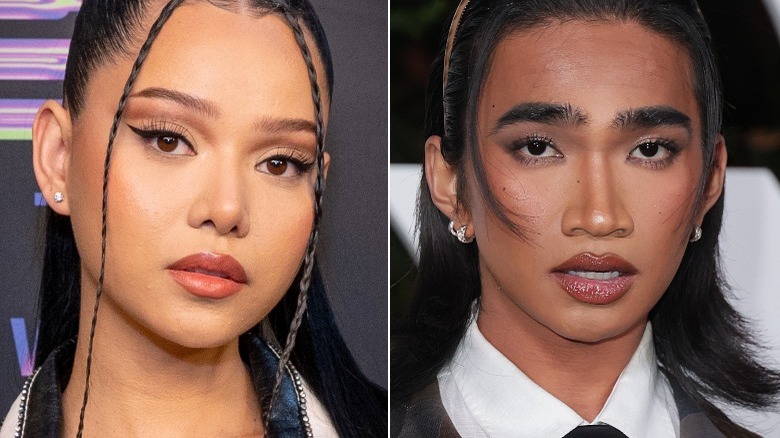 Emma Mcintyre & Momodu Mansaray/Getty
Beyond being social media stars and Filipino immigrants, cousins Bella Poarch and Bretman Rock have a lot of things in common. Both are creatives with a penchant for high fashion and makeup looks, and a loud and unique sense of style. As noted by Tatler Asia, Rock is "a master of genderfluid fashion", while Poarch is best known for her "animé, kawaii culture, and the goth aesthetic", per Nylon Manila.
And like Rock, Poarch is also proud of her Filipino roots. Despite her traumatic childhood, which she spoke about in detail as she appeared on "The H3 Podcast," Poarch said she still shares her pride for the nation with rising Pinoy artists. "I'm just so happy that a lot of Filipinos are coming up right now ... just representing the Philippines," she said on "Updated with Nelson Canlas." "I felt like growing up, there wasn't much representation for us, but I'm happy now that we get to do that and show the world we Filipinos are here."