Why Meghan Markle's Baby Shower For Archie Was So Over-The-Top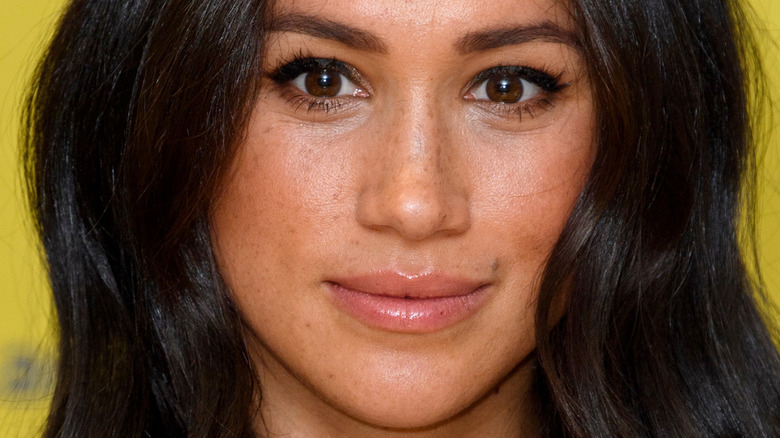 Pool/Getty Images
The baby shower for Meghan Markle and Prince Harry's son, Archie, was definitely filled with the ultimate royal treatment. As we have seen with celebrations in the royal family, they know how to throw a good party. From parades to dinners, their special events are carefully thought-out. So, as you might expect, Meghan's baby shower was anything but ordinary.
Even though the Duke and Duchess of Sussex have lived a mostly private life since they departed from the royal family, they made sure to splurge on their child. There were a lot of typical baby shower attributes — but it didn't have the cost of a typical one. According to Tatler, the location of the baby shower alone cost $75,000, which Meghan's BFF and famous tennis star, Serena Williams, covered the cost. In fact, Williams, George Clooney, and Amal Clooney were reported to have hosted the glamorous event.
The outlet reports that Williams carefully selected the hotel, The Mark, in Upper East Side New York, after visiting several other locations. The hotel's penthouse is said to be the largest in the United States, with two floors, five bedrooms, and six bathrooms. If that wasn't enough, the room also came with stunning views of iconic New York City locations. So, the price tag might match the penthouse, after all. This was just the beginning, as Meghan's baby shower for Archie was filled with other glamorous features that will leave you speechless.
Meghan's expensive activities had purpose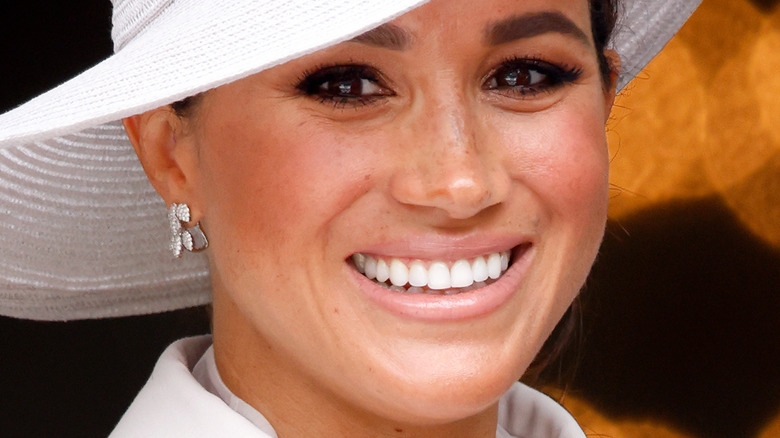 Max Mumby/indigo/Getty Images
Meghan Markle didn't play typical baby shower games like the diaper change relay race or guessing the due date. Instead, the Duchess of Sussex opted for something more elegant and heartfelt.
According to Vanity Fair, Meghan decided to have a "flower-arranging lesson" with fellow guests. Fans got an inside look into the activity when Gayle King, a guest at the shower, shared details about the intimate event on "CBS This Morning." King said, "I hope she won't mind me sharing this because I've never seen anything like this at a baby shower ... They had flower arranging, they brought in somebody to explain how to arrange flowers." The talk show host explained that each guest got to make a vase filled with flowers, but for King, that wasn't the best part.
Some may think this was too much for a shower, but Meghan worked with a business called, Repeat Roses to salvage the arrangements once completed, per The Daily Mail. The outlet reports Repeat Roses charges a heavy amount (in the thousands) for their services to "​​breakdown events and will then donate the flowers to patients in hospices, cancer treatment centers" and more. True to what many have said about the Duchess of Sussex, Markle wanted the arrangements to have a purpose even after her baby shower. King told the CBS Morning show, "It just speaks to who she is. She's kind. She's very generous. And a really, really sweet person."
Meghan's baby shower gifts were extravagant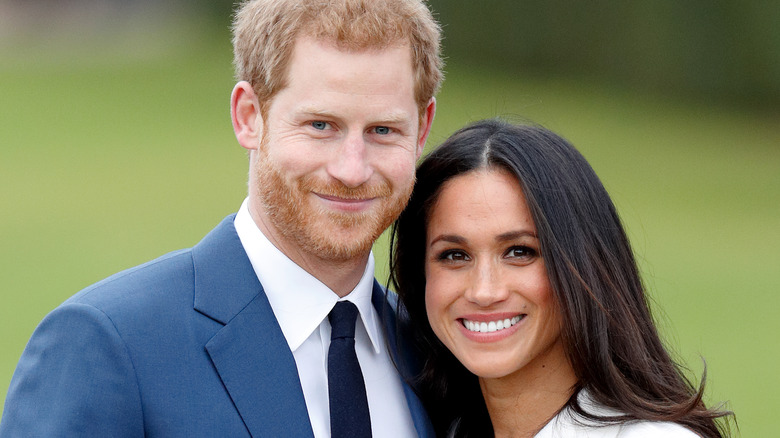 Max Mumby/indigo/Getty Images
Being of royal lineage, it's no surprise that Prince Harry and Meghan Markle's first-born, Archie, received nothing but top-of-the-line gifts at the baby shower. When pried about gifts on "CBS This Morning," Gayle King shared that the Duchess of Sussex opted not to open the presents at the baby shower. Instead, Meghan wanted to wait until she and Harry could open them together. Still, with all the media and paparazzi surrounding the event, fans caught glimpses of the gifts.
Many guests could be pictured attending events with gift bags, including a "luxury home goods store," per Brides. One gift was an eco-friendly Hudson crib that retails for about $300, Hello! magazine reported. While this may seem expensive, Meghan did receive two other lavish gifts that were sure to make the baby shower even more memorable.
According to the Daily Mail, the former "Suits" actor was spotted rocking an 18-carat necklace after the shower. Many believed someone gifted Meghan the piece of jewelry because it had the word "mommy" on it — a nod to her new title. It was made by Jennifer Meyer and priced at $850, but that wasn't the most expensive gift from the shower. The outlet reports that Amal and George Clooney let Meghan borrow their private jet to fly to England to meet her husband. The cost of that gracious gift was a whopping $125,000. It's safe to say the Duchess of Sussex had a one-of-a-kind baby shower!