What Prince Harry And Meghan Markle's Son Archie Wants To Be When He Grows Up
Pool/Getty Images
Archie Harrison Mountbatten-Windsor is not like other kids. For one, he was born into royalty, with Prince Harry being his dad and Meghan Markle being his mom.
The Duke and Duchess of Sussex's eldest child was born in May 2019, and from the get-go, he has already been doted on by his parents. "It's very important to me. I love doing it," Meghan said of raising her children (via Reader's Digest). "It is so much work to be a mom when you are just trying to be a conscious parent to raise good, kind human beings... to do that solo is the most impressive, admirable thing on the planet." Harry feels the same way about parenthood. When asked by "Today" host Hoda Kotb what he likes most about being a father, he didn't hesitate with his response. "All of it," he shared (via the Independent). "The chaos, the learning, the reminder of just every element of yourself, your soul."
Little Archie is quite lucky to have parents who support whatever he does, and apparently, that includes his career choice. He may only be a tiny tot, but his parents said that he already knows what he wants to be when he grows up.
Archie wants to be an astronaut and a pilot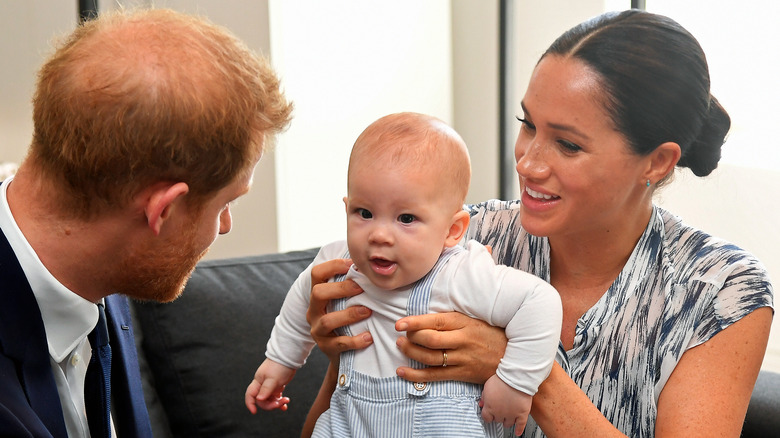 Pool/Getty Images
Archie Harrison Mountbatten-Windsor doesn't have any dreams of claiming the throne someday (at least not yet, anyway), but his profession of choice proves that he really is Prince Harry's kid.
During the opening ceremony of the Invictus Games in April, Harry told the audience what Archie's career aspirations were. As it turns out, he wants to be a lot of things. "When I talk to my son Archie about what he wants to be when he grows up, some days it's an astronaut, other days it's a pilot — a helicopter pilot obviously," the royal shared, per People. These aren't really surprising since most kids want to go to space, but the desire to be a pilot is probably thanks to Harry, who was the best front-seat pilot in his class in the British Army, per ABC News. According to the press release from the British Defense Ministry, the duke was "up to the challenge of operating one the of the most sophisticated attack helicopters in the world." Not bad, Harry!
Hilariously enough, Archie has one more dream career, and according to his dad, it's "Kwazii from Octonauts," he mused. "If you're laughing, then you've seen that."
Does Meghan Markle want her kids to go into showbiz?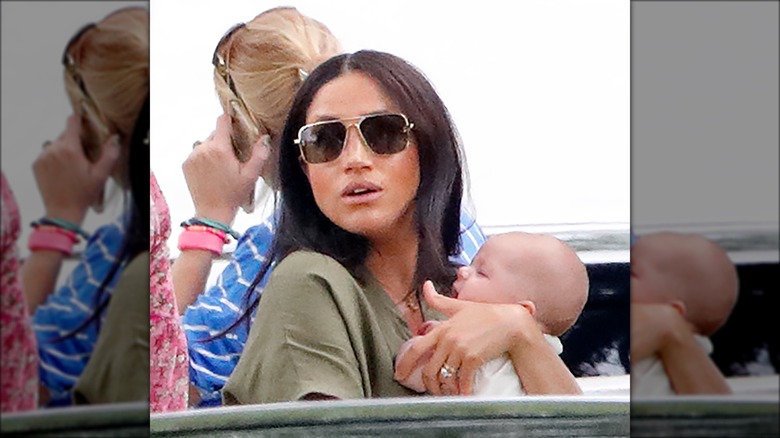 Max Mumby/indigo
Before marrying Prince Harry, Meghan Markle notably left the entertainment business behind. Not only did she quit acting, but she also gave up her lifestyle project, The Tig. But while she has long left that life for years now, she wouldn't have any problem if Archie and Lilibet wanted to explore a career in entertainment when they grow up.
"I would say, 'Great!'" the Duchess of Sussex told Variety. "When you become a parent, you genuinely want your kids to find the things that bring them complete joy. They're our kids, obviously, and they're part of a legacy and a tradition and a family that will have other expectations. But I want them to be able to carve out their own path." She also noted that, while their kids may have a lot of opportunities handed to them, she knows they will still need to work hard to get what they want. But that's not a problem since they're raising them to stand on their own two feet. "There are so many people that will talk about what opened the door for my children. But it still takes talent and a lot of grit," Meghan added. "We're creating multidimensional, interesting, kind, creative people."
Archie seems to be moving in the right direction, because apparently, he's one inquisitive kid. "Archie, at the age he's at, is asking all the questions," Prince Harry said on "Today." He said his toddler "questions of the why, he's into the why thing. 'Why this? Why that?' And instead of trying to just move it on, I give him the most honest answer that I can," he added.