Who Is Bam Margera's Wife, Nicole Boyd?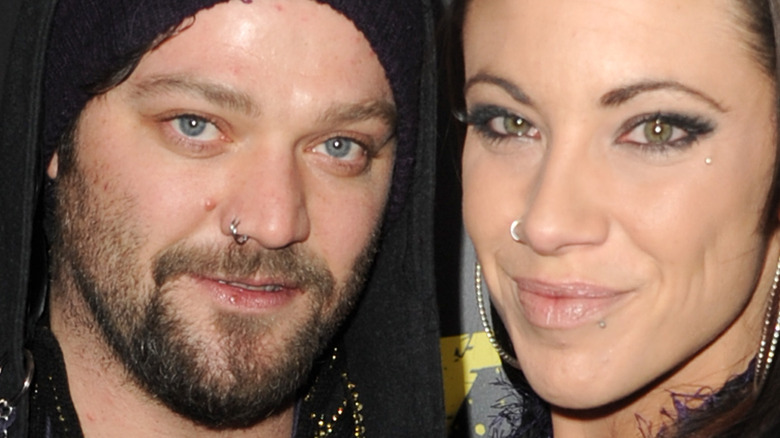 Kevin Winter/Getty Images
This article includes mentions of addiction, substance misuse, and mental health issues.
Bam Margera is a pro skateboarder who rose to fame in the early aughts as one of the stars of MTV's infamous stunt series, "Jackass." The show, which ran for three seasons, spawned a film franchise and numerous spin-offs, including Margera's own "Viva La Bam" and "Bam's Unholy Union" and "World Domination." Through the years, the Pennsylvania native has openly battled mental health issues and substance addiction, which led to him being axed from "Jackass Forever" after testing positive for the drug prescription Adderall, per Complex. It resulted in a legal drama between Margera and the show's creators, with the TV star claiming that he was wrongfully terminated from the project. However, he ultimately dropped the lawsuit after reaching a private settlement with Johnny Knoxville and Paramount Pictures in April, according to People.
Additionally, Margera has been in-and-out of rehab for many years. He's been going to rehab since 2009, and during a recent court-mandated stay, Margera reportedly fled the rehabilitation facility twice. In spite of his personal struggles, however, the "Jackass" alum has had the unwavering love and support of his family and friends over the years, most especially his wife Nicole Boyd, who's remained deeply committed to supporting Margera in his recovery. Here, a look at their whirlwind relationship and everything you need to know about Margera's wife.
Nicole Boyd is an experienced model
Bam Margera and his wife Nicole Boyd have been married for nearly a decade. The two met at a concert in Petaluma, California in 2012 — amidst Margera's divorce from his first wife, Melissa Rothstein — and tied the knot during the Random Hero Festival in Iceland after less than a year of dating. Since then, the couple has become parents to a son named Phoenix Wolf. They welcomed Phoenix in December 2017, several months after Margera announced his wife's pregnancy. The "Jackass" alum told People at the time, "We named the kid already, Phoenix Wolf... It'll be fun teaching him how to skate. I have mixed feelings about teaching him my stupid Jackass stunts."
Whereas Margera is known as a pro-skater and a TV star, Boyd is an experienced model and an aspiring actor. She took her modeling and acting classes at the Julie Nation Academy in California, and has been modeling since she graduated at 18 years old. A native of Los Angeles, Boyd has done countless shoots with renowned photographers and magazines such as Inked and Sports Illustrated, according to her Model Mayhem bio. She's also walked the catwalk for several brands and artists, including Stanley Mouse. In 2009, she and Margera starred in the music video of "Dead N' Gone" by Finnish metal band The 69 Eyes. While she continues to model, it appears that Boyd has now become more focused on her role as a wife to Margera, and mother to their four-year-old son. 
Bam Margera and Nicole Boyd's marriage woes
Bam Margera and his wife Nicole Boyd have had more than their fair share of struggles in their marriage. In 2019, the star of "Viva La Bam" reached out to Dr. Phil and admitted that his "family is in shambles" following a series of substance abuse issues and rehab stints. "It's been worse than it's ever been," Margera said. "I have an 18-month son and he's the best and I love him to death, and [Nicole] knows that. And if we separate, I know she's gonna use him as bait." He ended up facing with his wife on "Dr. Phil" and accused Boyd of being stubborn and of wanting to see him "go down in flames." "I want you to leave me alone!" he told his wife.
Amid Margera's struggle with addiction, Boyd in 2021 filed a petition seeking full custody of their son, according to TMZ. She's since remained married to the TV star, however, and continued to stand with Margera despite their marital issues. In June this year, Boyd expressed her support for her husband amid reports that he had fled rehab again to see their son. "We love Bam, both as a husband and father," she said in a statement. "We pray that he will give it all he has this time at this new rehab facility, so he can complete his treatment and come home to the family that loves him."
If you or anyone you know is struggling with addiction issues, help is available. Visit the Substance Abuse and Mental Health Services Administration website or contact SAMHSA's National Helpline at 1-800-662-HELP (4357).