Bam Margera's Actions After Leaving Rehab Early Have Many Worried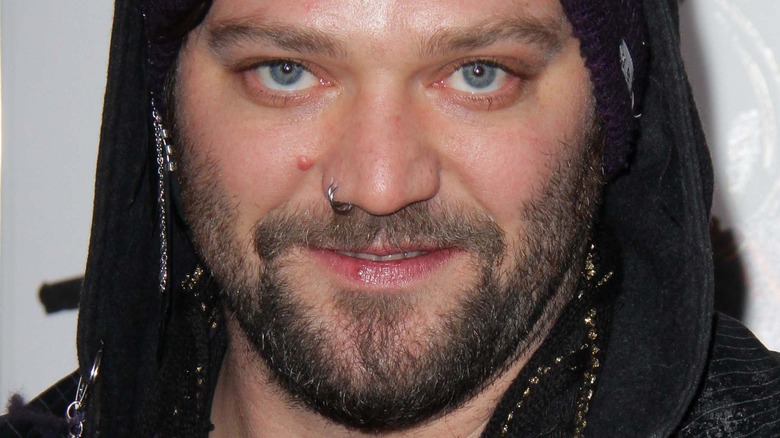 s_bukley/Shutterstock
Bam Margera is no stranger to controversy. Over the years, he's had multiple rehab stints for his substance abuse issues. As of late, the popular skateboarder and "Jacka**" star hasn't been making headlines for his stunts. This past June, Margera left a rehab center in Florida, according to TMZ. Several days later, he was discovered at a hotel nearby. Photos released by the outlet showed Margera visiting some bars in the area. Apparently, he had stopped taking his prescribed medication, leaving his team concerned about his recovery efforts.
Since Margera's return to rehab in June, he hasn't been in contact with his estranged wife, Nikki Boyd. However, she has talked to his team about child support and custody for their son, Phoenix Wolf. Boyd previously filed for full custody of Wolf. Insiders cited Margera's childcare arrangement as a reason for his rehab departure and overall frustration.
Whatever the reason, history seems to be repeating itself, with Margera recently rebelling against his rehab orders. 
Fans express their concern for Bam Margera
On September 5, Bam Margera was spotted with an unknown woman at a bar, as seen in a video acquired by TMZ. According to sources, he is currently residing at a family friend's house in Florida. Insiders also shared that while in rehab, Margera made friends with a lawyer who advised him that he could avoid court-ordered rehab by exiting the state. Sources told TMZ about the likelihood of authorities attempting to bring Margera back to the treatment center, however, to further complicate the situation, Margera is reportedly not talking to his parents.
Margera's behavior following his rehab departure has left many people worried. A fan recently posted a couple photos with Margera outside a tavern on Instagram with the caption, "When you randomly meet Bam Margera at the bar after work." One user commented, "Nothing like a bunch of@loser 'enablers' to get drunk@with. So sad for Bams little boy. Great role model 'dad'." Another person wrote, "Wow. I'm sad for him."
If you or anyone you know is struggling with addiction issues, help is available. Visit the Substance Abuse and Mental Health Services Administration website or contact SAMHSA's National Helpline at 1-800-662-HELP (4357).