What We Know About Al Roker's Three Kids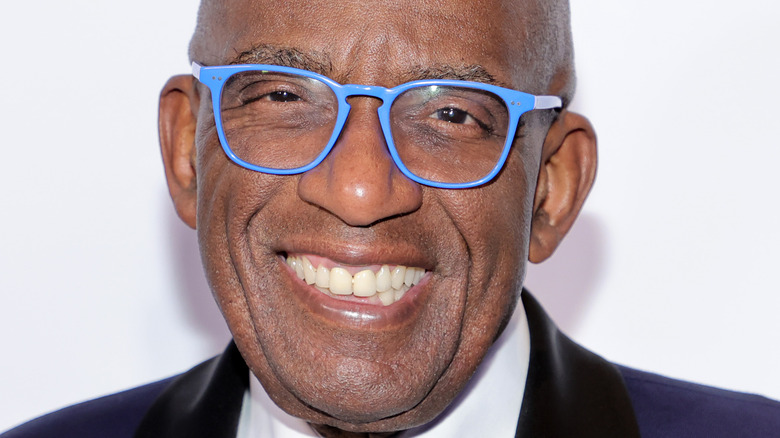 Theo Wargo/Getty Images
You know him best as a "Today" anchor, but when he is not sitting behind the flashing lights and cameras, Al Roker is a doting family man. In 1995, Roker married his wife, Deborah Roberts in a New York ceremony. Today, nearly three decades later, Roker and Roberts are still waxing strong. To celebrate their 25th wedding anniversary in 2020, Roberts took to Instagram, sharing a picture from their wedding, accompanied by a sweet tribute. "25 years of love, laughter, peaks, valleys, discovery, bewilderment, bliss, struggle and all that this journey offers," she wrote. "But through it all we've tried to remember those beautiful and profound words spoken at our wedding. 'Love is patient, love is kind...it bears all things, believes all things, hopes all things, endures all things.'"
Outside of being each other's partners, Roberts and Roker are also a team as parents to their three kids. "I think we're good cop, bad cop, depending on the kid and the situation," Roker once told People of their parenting style. Largely inspired by his father, Roker remains forever committed to being a support system for his children. "He had his faults and all of his issues, but one of the things I always remember, and I try to do, is that he really was my greatest advocate. And I try to be that for my kids," he said in an interview.
And while they are all threading different paths, Roker and Roberts simply couldn't be prouder of their brood.
Courtney Melissa Roker is a recipe developer
In May 1987, Al Roker welcomed his first child Courtney Roker with his then-wife, Alice Bell. On her LinkedIn page, Courtney describes herself as a Test Kitchen Manager/Recipe Developer at Chefman and CHEF iQ, a kitchen appliance company in New Jersey.  Speaking of Courtney's love for cooking, Roker recalled to MSNBC how she opted to have culinary training instead of finishing her college education. "It wasn't the path we'd expected for her, but at the end of the day it was better she made that choice and invested in it," he added.
According to her LinkedIn, Courtney has a diploma in Culinary Arts/Chef Training from the Institute of Culinary Education — a school she apparently enrolled to after dropping out of college in her sophomore year. "When she was in her sophomore year in college, she came to [my wife] Deborah [Roberts] and me and said, 'You know, guys, I don't think this is for me. But I'd like to go to culinary school,'" Roker told MSNBC.
When Courtney is not cooking up a storm, however, she is simply being a wife to her husband Wesley Laga whom she married in 2021, per People. "I celebrated my love for my husband, and felt the love from everyone," Courtney wrote on Instagram at the time. "My heart is filled with happiness and filled with joy. And I gotta say my husband's dance moves aint too shabby 😆. Now on to the honeymoon."
Al Roker shares two of his children with Deborah Roberts
A few years after their wedding, Al Roker and Deborah Roberts started their family. The pair welcomed their daughter Leila Ruth Roker in November 1998, while their son Nicholas Roker was born four years later in 2002, according to People. Following her parents' footsteps, Leila is currently pursuing a career in journalism. As listed on her website, Leila has previously written for publications like Forbes and WWD, and has also worked freelance for a number of networks including ABC and NBC.
Additionally, the 24-year-old has proved herself to be something of an activist. Following the tragic death of George Floyd in 2020, Leila shared her thoughts on racism and the need to keep up the fight against it. "You can no longer surround yourself with people who think things are okay right now," she said to People. "It's more important than ever to hold people accountable if you want to see real change." 
On the other hand, Nicholas is also making his parents proud with his numerous achievements while growing up with special needs. In August 2022, he started his first year at college, having graduated from high school earlier in the year. "Pride doesn't even begin to describe this day Nick Roker. The journey continues," Roberts proudly wrote in a sweet Instagram tribute to her son.