Here's What Gisele Bündchen Really Looks Like Without Makeup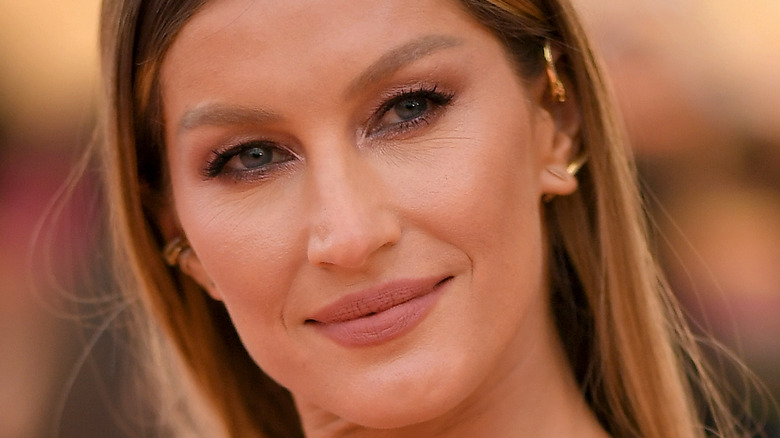 Neilson Barnard/Getty Images
Brazilian supermodel Gisele Bündchen has been receiving a lot of attention for her personal life — Fans have been processing the aftermath of Bündchen and Tom Brady's split. On October 28, 2022, the star-studded couple finalized their divorce, per TMZ. According to Bündchen and Brady, their marriage was "irretrievably broken."
As Bündchen's relationship with Brady has taken front and center, fans may have forgotten about Bündchen's incredibly successful modeling career. But there's a lot to know about Bündchen. Before she tied the knot with Brady in 2009, Bündchen was busy strutting down highly-coveted runways and flaunting her remarkable looks on the covers of well-known fashion magazines. In 2000, Bündchen signed a $25 million contract with Victoria's Secret, per Biography. According to The Guardian, designer Alexander McQueen referred to her as "the Body" and Dolce & Gabbana called her "the boobs from Brazil."
There's no doubt that Bündchen has been blessed with stunning genetics. But, what does she really look like without makeup? While the supermodel has experimented with various makeup products and had her share of glamorous moments for fashion shoots, she actually doesn't like to pile on the foundation in her everyday life. When it comes to Bündchen's makeup routine, simplicity is key.
Gisele Bündchen said 'I've always felt better with less makeup'
There's no shortage of makeup-free pictures of Gisele Bündchen. In 2020, Us Weekly compiled tons of casual photos of Bündchen wearing little to no makeup. Spoiler alert: she looks naturally stunning. In March 2020, Bündchen shared an Instagram selfie where she subtly smiled and appeared to be wearing no makeup. The photo highlighted her clear skin, gorgeous eyes, and chiseled facial structure. On multiple occasions, Bündchen has expressed her preference for minimal makeup. In a 2020 piece for Vogue, she shared, "I've always felt better with less makeup. I just feel more like myself." She added, "With my face, because it's angular, less is best for me."
But Bündchen doesn't just go sans makeup in her day-to-day life. In 2018, she shared her makeup-free Vogue Italia cover on Instagram. Yup, you heard that right. The supermodel ditched the products and showed off her glowing skin in the professional photos. In the caption, she confirmed, "Sunday early morning with no hair, no makeup at home for @vogueitalia."
Gisele Bündchen has shared her holistic beauty tips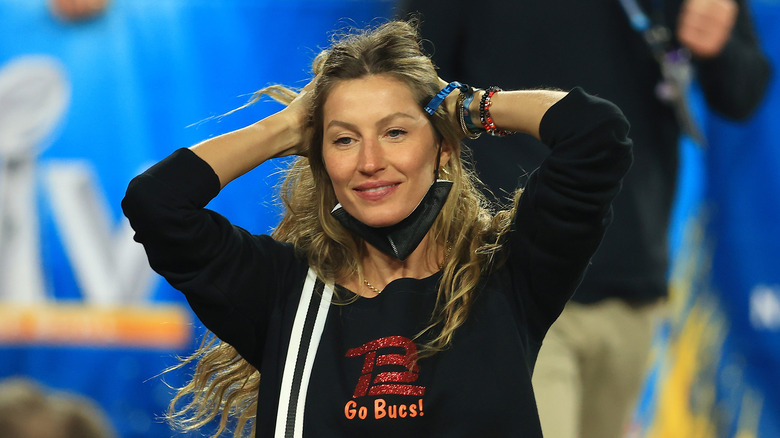 Mike Ehrmann/Getty Images
When Gisele Bündchen does wear products, what's her go-to look? In terms of her own makeup routine, the star likes to keep her look simple. She told Into The Gloss, "I really don't wear makeup that much, unless I have to go somewhere. I feel that it's better for my skin to breathe. Anything I do is very basic; I like RMS makeup." However, she does have one tip for healthy and radiant skin. She revealed, "But I think the best thing to do is to find a really great natural sunblock."
As shown in a video for Vogue Paris, Bündchen has lots of beauty tips. However, these helpful tricks for clear skin don't involve covering up with concealer or foundation. The supermodel believes in a holistic lifestyle that includes removing makeup with coconut oil, staying hydrated by drinking water, eating healthy food, getting proper rest, and incorporating deep breathing techniques. She summarized her self-care philosophy, explaining, "And I think it's so much it's not just what we put on our skin, but it's what we choose to put in our bodies, what we eat, what we think and all of that is very important."