Why Brittney Griner Returned Home With A New Look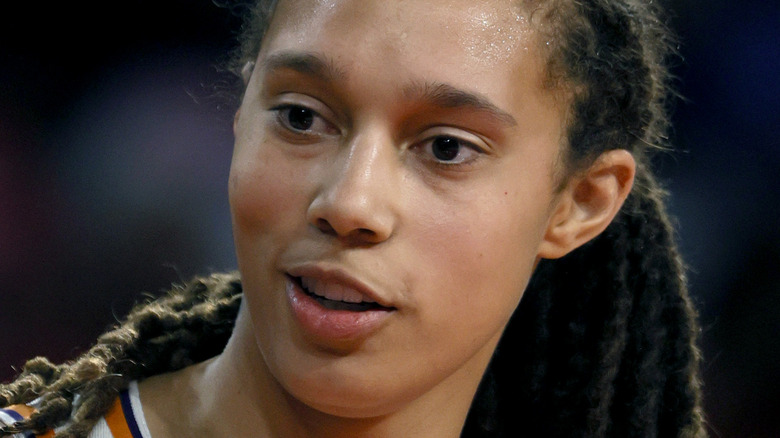 Ethan Miller/Getty Images
After being released from Russian custody on December 8, Brittney Griner remains in a state of transition while stationed at Fort Sam Houston in San Antonio. During her medical and mental evaluation, Roger Carstens, the presidential envoy for hostage affairs, told ESPN that Griner was well and "full of energy." According to the sports outlet, the WNBA player and her wife, Cherelle Griner, even enjoyed in a large meal of barbecue with their extended family on December 10.
The road to normalcy for Griner may take a while, however. As her agent, Lindsay Kagawa Colas, told ESPN, "There's no timeline on her return at this point. She's reintegrating into a world that has changed for her now," adding that Griner will be the one to make the announcement about her pro-ball future. With multiple sources reporting that Griner's mood has been consistently upbeat and friendly, Colas praised her client, saying, "She seems to have endured this in pretty incredible ways." 
Although Griner was reportedly working out already on Fort Sam's basketball court, another facet of her former life has changed dramatically. Here's what we know about the loss of Griner's famous dreadlocks.
Brittney Griner ditched her dreadlocks for a very practical reason
Upon her return stateside, some noticed that Brittney Griner was missing her signature dreadlocks. As it turns out, the drastic change was entirely the Phoenix Mercury player's decision. Maria Blagovolina, Griner's attorney, told ESPN on December 8 that Griner's long dreads kept freezing in the Russian cold. "Every time she washed her hair, she got cold and would get a chill," Blagovolina explained. While it can be painful to suddenly chop off one's long hair, Griner's agent, Lindsay Kagawa Colas, told ESPN on December 11 that it was a positive sign of Griner exercising her agency during imprisonment. "She thought she was going to be there a while," Colas said.
Understandably, a fresh trim was high up on Griner's recent list of priorities. As Colas also shared with the sports outlet, the WNBA star had the San Antonio Spurs' barber clean up her haircut just days after her return from Russia.
Overall, Griner's team has painted a tempered portrait of her time in Moscow's IK-2 prison. "She had honestly no complaints," Blagovolina told ESPN. "Things could have been much worse." Although Griner declined access to a basketball while imprisoned, Colas explained she simply wasn't ready to get back in the game at the time. Given that Griner was recently dunking again at Fort Sam in San Antonio, it is at least one step toward her re-acclimation into society.