Drake's Latest Bling Is A Cheeky Nod To All His Exes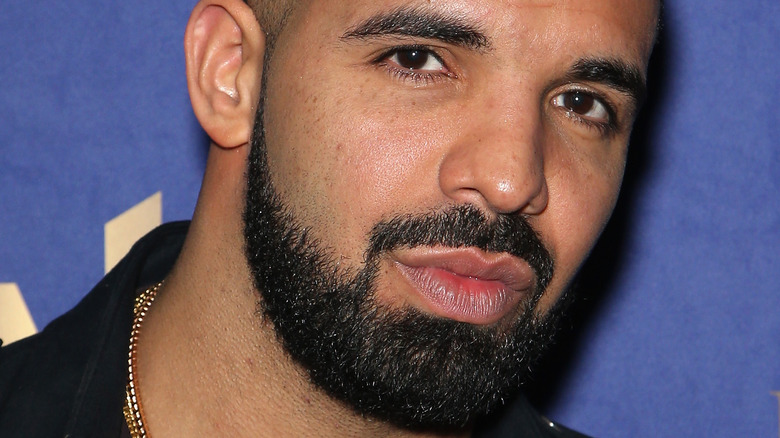 Gabe Ginsberg/Getty Images
There's always that big question after a breakup. What do you do with all the things that remind you of your ex? Do you keep on wearing that ring, or that bracelet, or do you get rid of all memories of that person? Well, if you're multi-millionaire Drake, you immortalize all your past lovers in giant diamonds, apparently.
We know the "One Dance" hitmaker has romanced some of the most eligible bachelorettes in Hollywood over the years, with Drake's list of rumored exes including the likes of Rihanna, Serena Williams, and even Jennifer Lopez – to name but a few. Drake has been pretty open about his dating life and how he likes to keep his options open too, admitting he's not been averse to seeing more than one person at a time. "I get in this habit of dating like four or five women to make one woman because I like these two things about each girl, and then I like what this girl does for a living," he explained on "The Howard Stern Show" in October.
So, with dating potentially up to five women at the same time, it's safe to say Drake has quite a handful of exes, right? Well, if his latest custom bling is anything to go by, there are quite a few women the rapper has at one time thought about settling down with before — and now he's giving them a cheeky nod via a serious "Rich Flex."
Drake's necklace represents 42 of his exes
Drake got a very unique piece of jewelry custom-made for him — and it represents his exes. Yep, the rapper got a necklace designed by New York jeweler Alex Moss called "Previous Engagements," which features 42 (very large!) diamonds. Moss shared a look at the piece on via Instagram on December 12, confirming the necklace features 351.38 carats of diamonds that represent all the times Drake thought about getting down on one knee and giving a partner a diamond — but didn't. The jewelry took a whopping 14 months to create, and each stone was hand selected to make the piece as flawless as possible.
Fans may notice that the piece features several similar round diamonds with a few more unique stones, including a teardrop diamond in the center with a square diamond underneath it. It also ends with a huge baguette diamond, which may or may not represent specific women Drake once dated (we're guessing at least one diamond has to be for Rihanna, the "Diamonds" hitmaker herself!).
As for if Drake could soon add a 43rd diamond to his gift to himself? Probably not anytime soon, as he confirmed in August he was very much single. "Okay, so, who's your girlfriend?" Nicki Minaj asked her fellow rapper on Queen Radio, to which he responded, "I don't have a girlfriend. You know that already." Who knows, though? Maybe his next love will get her diamond in ring form?